BITTEN BY THE FARMING BUG
BY ALEXIS KIENLEN • PHOTOS COURTESY OF CAMOLA FOODS
Edible insects are not to everyone's taste. It turns out, however, a surprising number of people purchase powdered crickets as a protein supplement. Claudio La Rocca and his partner Silvia Ronzani operate Camola Sustainable Foods in Edmonton, a business that produces the food ingredient as well as cricket-powder enhanced foodstuffs.
"Cricket powder is a versatile ingredient that can be added to any recipe or any food product that you make yourself," said La Rocca. He believes insects have a substantial part to play in the emerging alternative protein marketplace.
"The cricket powder has an umami flavour, with a bit of a salty taste. When it is added to sweets, it tastes more like coffee or chocolate," said La Rocca. Anecdotal evidence suggests the food crickets eat can affect their flavour.
La Rocca and Ronzani are graduates of the University of Alberta's Forest Ecology and Management program where a classmate introduced La Rocca to edible crickets. The couple launched their part-time insect enterprise in 2017 as La Rocca completed his studies. Rozani graduated in 2019. They initially purchased their insects from an Ontario cricket farmer.
"We started looking at what other [insect protein companies] were not doing, and what niches of the market were open. We experimented with recipes and flavour combinations," said La Rocca. From there, it was off to Edmonton farmers' markets to sell cricket powder packets as well as pancake mix, biscotti and Crick Chips, their chickpea-based snack complete with, you guessed it, cricket powder. They sold their products to shoppers familiar with insect protein and pitched its benefits to the uninitiated.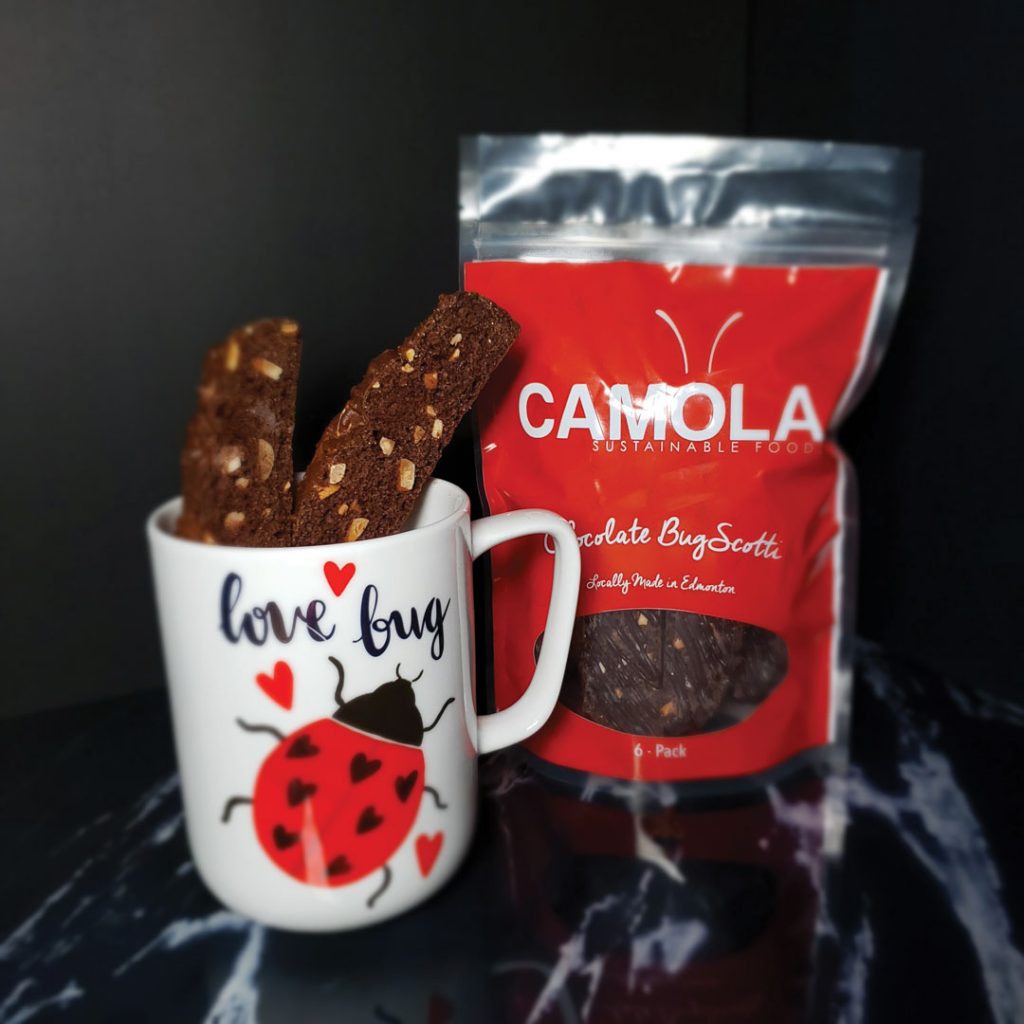 La Rocca and Ronzani also met a local farmer who offered them a location to raise crickets themselves. The two entrepreneurs set up a shipping container on the farmer's property where they continue to experiment with the insects' diet of pulses and cereals, which are grown on the farm. The insulated shipping container is outfitted with a heating system, humidifier and drawer units in which the crickets are raised. It takes four to five weeks to raise a brood of crickets at which time they are frozen, washed, dried and ground into powder in the couple's commercial kitchen.
"We think insect protein has its place in the market and it is going to grow. It might take some time, and some [consumer] education, but it is definitely very promising," he said. Customers who may have initially tried Camola products for their novelty continue to do so for the brand's local and environmentally friendly production methods. The insects are farmed without the use of pesticide and the cricket powder contains no additives or preservatives and is comprised of about 60 per cent protein. "It's just pure, natural protein," said Ronzani.
Camola now manufactures about 45 to 50 kilograms of cricket powder per month. Though business has increased annually, COVID-19 hampered sales in 2020. Post-pandemic, they will no longer do business at farmers' markets, but will concentrate on online sales through their website, camolafoods.com. They will also continue to sell their products at various Edmonton shops.
Eventually, the couple hopes to expand their cricket farming operation and ramp up powder production. While La Rocca is a lab technician and Ronzani works in a bakery, their dream is to eventually have one person operate the company full time.