STRAIGHT OUT OF SCI-FI
BY TREVOR BACQUE • PHOTO COURTESY OF AGCO
Pushing the technological envelope, the streamlined tractor cabs of today increasingly resemble the cockpits of Hollywood science fiction space ships. Luxuriously ergonomic and digitally decked out, they are often described by big manufacturers as control centres. The term suggests once you've eased into the seat of a cab, the universe is yours to conquer. GrainsWest talked with three manufacturers about how technological change is reshaping tractor cab features and controls.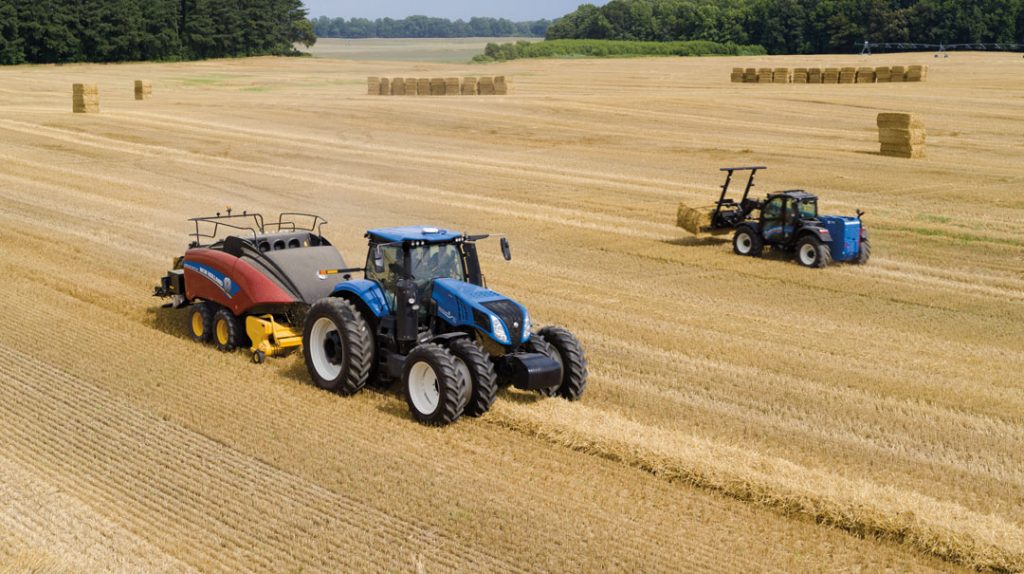 INTERSTELLAR PERFORMANCE
Over the last two years, New Holland has gutted the cabs of its flagship tractor models, rebuilding them from the ground up. The company's production tractor models T8 and T9 with PLM Intelligence now come pre-loaded with digital infrastructure to give the farmer greater in-field assistance.
"These cabs needed to be upgraded from a cosmetic and functional standpoint, but the cab's wiring just didn't have the bandwidth to keep up with the speed of technology that's happening," said Ken Paul, marketing manager for high horsepower tractors.
Chief among these upgrades, their remote abilities are designed to keep the farmer operating with minimal interruption. The corporation's dealers can, with the farmer's permission, tap into the tractor to remotely diagnose issues from virtually anywhere. When troubleshooting, the dealer should theoretically be able to discern the problem and make just one well-informed service trip to the farmer's field. For certain smaller issues, a dealer can even fix the problem from their office.
"The diagnostics could be a lot quicker because the dealer doesn't have to come out and see the customer," said Paul. "We can do service diagnostics within that display remotely. [Then] dealers come out with the right part, eliminating downtime."
Another leap for the company is its ISOBUS Class 3 compatibility. This digital dialect allows implements to communicate with the tractor. For instance, when New Holland's ISOBUS Class 3 compatible square baler is connected to the tractor, it senses and reports issues.
"It will gauge the high-low areas in the windrow and tell the tractor to speed up or slow down. It has a consistent feed of hay into that baler, so it creates the perfect bale," said Paul. "It's almost taking the operator out of the equation to let technology run the implement."
New Holland sees this as a priority area where farmers will want increasingly sophisticated machinery that will continue to maximize productivity.
With the machine's re-engineered armrest, farmers can control about 80 per cent of in-field operations without moving their arm. Depending on the task, they can change presets and re-program the interface to suit their agronomic needs. From moving forward and reversing to changing speeds, gears, hydraulics and more, the setup is aimed at operator convenience.
"That kind of customization excites me, where we can look at a customer and say, 'Yup, we get it,'" said Paul. He added that the company offers an unlimited number of user profiles.
Over the next decade, Paul believes further technological change will see machinery become easier to operate. "These operators may not be the most skilled. With that in mind, we need to make the controls—the functionality within the displays that hold a lot of our precision farming aspects of the operation of the tractor—as intuitive as we can," he said.
Paul also believes that by 2030, ISOBUS will continue to gain acceptance. "The vast majority of the implements will get to some type of ISOBUS class or smart implement," he said. "We're going to see a lot more within the next five to 10 years. The landscape is going to change quite a bit."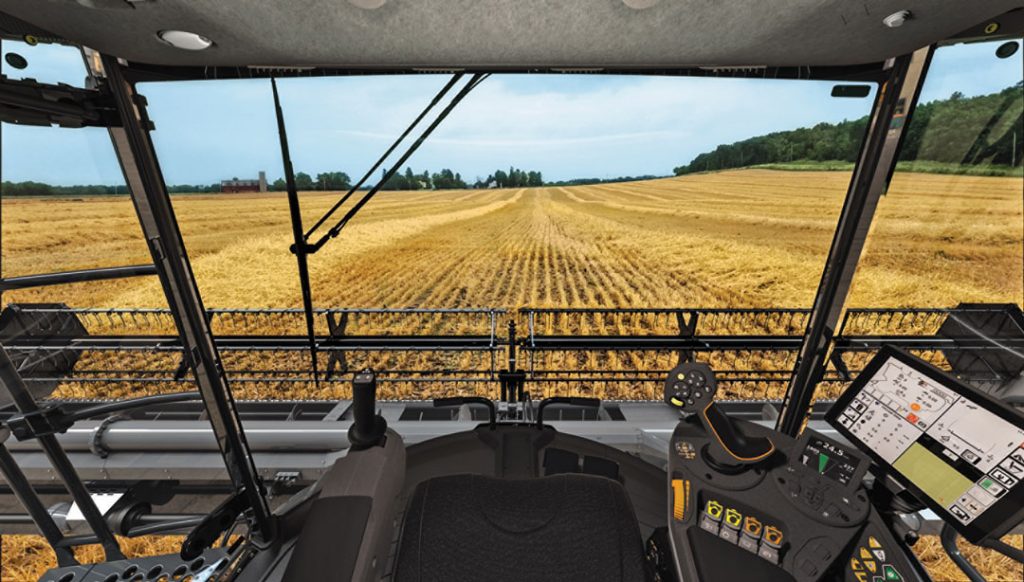 ADOPTING ALIEN TECHNOLOGY
Perhaps the biggest innovator in decades has been AGCO's Fendt, which launched its Ideal combine three years ago. The company applied its innovative approach to tractor cabs, too. Its bestselling tractor globally, the "next generation" 700 Vario series will feature a new user interface. With it, users can drag and drop items just as you would on a smartphone. The tractor is expected to be available by late 2020.
Fendt continues its push into the U.S. and Canada after decades operating in Europe. Richard Kohnen is marketing director for Fendt North America. While both markets demand progressive products, each has its own preferences.
"Europeans are willing to go into a bit more complexity, whereas the North American farmer is like, 'Hey, give me two or three clicks to get to where I want to go. Don't ask me to push 12 buttons,'" said Kohnen.
Customer demand has also pushed Fendt to take dramatic leaps in cab design. According to Kohnen, the joystick steering system for the Ideal combine was created in response to customers clamouring for better visibility and ergonomics. "If you've seen combine operators, they never sit straight," he said. "Quite often, they're sitting forward. It comes back to ease of operation."
With no steering wheel to grasp, operators can sit with improved posture. As smart farming continues to advance and machines do more of the thinking, there is progressively less need for operators to move at all.
Many Ideal combine operational functions are incorporated into the left-hand steering joystick. While there is a generational divide on the setups of old and new models, it appears Fendt has its eyes on the future. Younger operators are naturally more comfortable with the tap, swipe and pinch than the turn, flick and crank.
"Customers that run the prototypes really enjoy it," said Kohnen. "That steering column always felt like a seatbelt, something between me and the window. Now it's gone. You feel like you're about to fall out sometimes. The view is amazing. I have full control with the joystick steering whether I'm going 5 km/h or 30 km/h."
The new Fendt tractor's three-year or 3,000-hour warranty, maintenance and telemetry subscription package allows remote diagnostics. Operators can better calculate just how the machine will pencil out for them.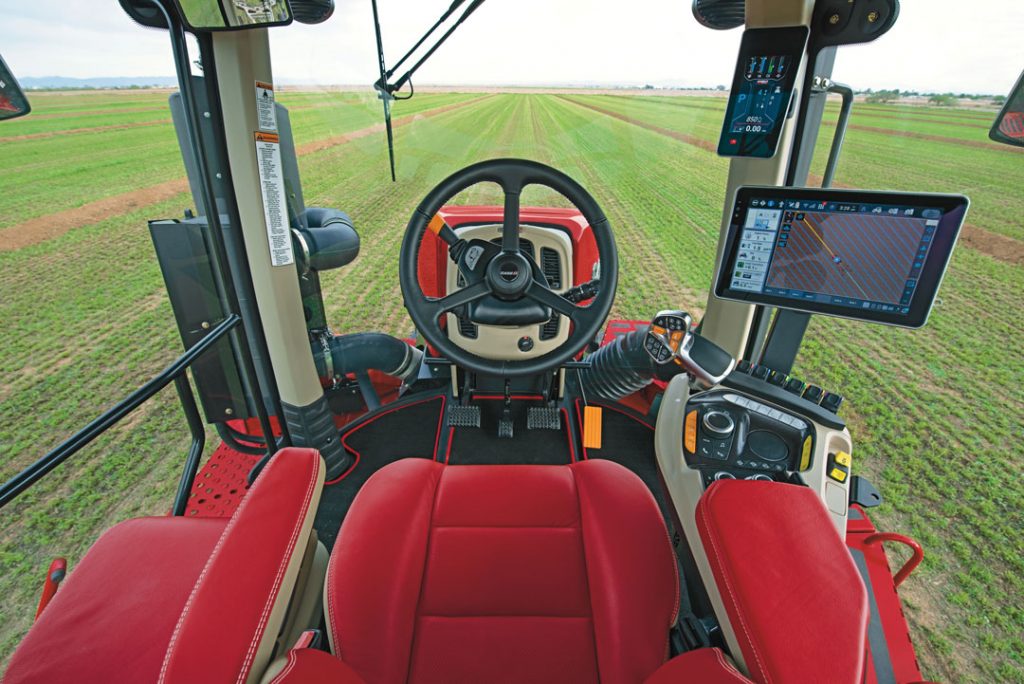 MAY THE FOTA BE WITH YOU
Tractor cab innovation at Case IH focuses on keeping farmers in the know. Its AFS Connect Steiger and AFS Connect Magnum series cabs connect through the company's app. "I can see that vehicle on my phone: location, fuel level, diesel exhaust fuel level," said Leo Bose, Case marketing manager for harvesting and precision farming products. "Now, with remote display access, I can remote in, see what that operator is seeing and coach them through what's happening."
In the cab, its AFS Pro 1200 30-centimetre (12-inch) LCD display is clearly visible on the sunniest of days. These tractors also have FOTA—firmware over the air updates—available from dealers on new Case models. This gives farmers more operating time with less waiting around for updates to finish before returning to work.
And through the AFS Connect portal, precision agronomic data can easily be downloaded and shared with a farmer's preferred third-party for analysis and interpretation. "We're always trying to create greater efficiencies and increase productivity, but we need to make that easy for the operator to consume in the cab," said Bose. The company utilized customer focus groups to direct these innovations. "What you see today is the fruit of listening to the customers," he said.
The streamlined right armrest features integrated three-point hitch control and electro-hydraulic remote levers.
The armrest also comes standard with nine programmable hot buttons, customizable to the operator's preferences.
Other straightforward but helpful changes the company offers to its AFS Connect Magnum operators include mounts for monitors and a glass door with no centre pillar for improved visibility. It features numerous USB charging ports as well as 12- and 120-volt outlets.
AFS Connect Steiger operators enjoy 21 square metres (68 square feet) of glass for a panoramic view while its multi-function handle can run 85 per cent of tractor functions. As well, the automatic differential lock is designed to give greater control and reduce compaction.
ROTTEN TOMATOES
Brian Tischler farms grain north of Mannville and operates a Case Steiger series tractor. He is also the brain behind AgOpenGPS, an open-source software platform that allows farmers to customize machinery function. Tischler has operated autonomous tractors and has for decades worked with the latest new-and-improved equipment tech as it has become available. It's why he smirks when he sees promotional material for today's machinery. These messages hype what seem to be limitless possibilities for the tractor cab.
"Really, what can they do?" said Tischler. "They can drive in a straight line. OK, we did that 30 years ago." His firm conviction is that machinery technology continues to advance simply because it gives economy to large manufacturers to collect data and, in turn, maximize financial margins.
"The collection of data, knowing how many pounds per acre farmers put down, when they did it, what their yield is, allows companies to critically price your product," he said.
He points to his first air seeder and how he would physically change its chain to vary the rate of product coming out of the tank. Today, the principle is the same, it's just the delivery is different. In Tischler's mind, this isn't so much high-tech as it is a simple progression of technology.
"Now, in a tractor cab, I can remotely change speed, but everything other than driving the roller is exactly the same," he said. "In 25 years, we've gone from a chain to an extremely complicated sensor-based, output-based system that converts it to electric that now needs hydraulic to drive that shaft. But it's the same roller from 1997."
Above all, Tischler cautions farmers not to be lured in by what seems to be cutting-edge technology, especially since many farmers may not need it or know how to best utilize it.
"Technology looking for an application is an extremely dangerous thing because it's easy to sell it as 'needed,'" he said. "The trap we are in is we go to a farm show, see all this wild new technology, then we look for how to apply it on our farms. It's a double-edged sword."