TECH FOLLOWS FARMERS
BY TREVOR BACQUE • IMAGES COURTESY OF DECISIVE FARMING, OPI SYSTEMS AND POINT FORWARD SOLUTIONS

An antidote to stagnation, innovation is the engine that drives all business sectors. In agriculture, farmers have continuously been at the centre of innovation. It's no wonder companies scramble to keep pace with farmers' often creative solutions to everyday problems.
We caught up with three agribusinesses and learned that the people behind them keep pace with the needs of farmers rather than telling primary producers what's what. The ideas and concepts these entrepreneurs have explored have been gradually taken up by customers. The curious and ambitious farmers they serve have used these new products and services to maximize financial and environmental sustainability.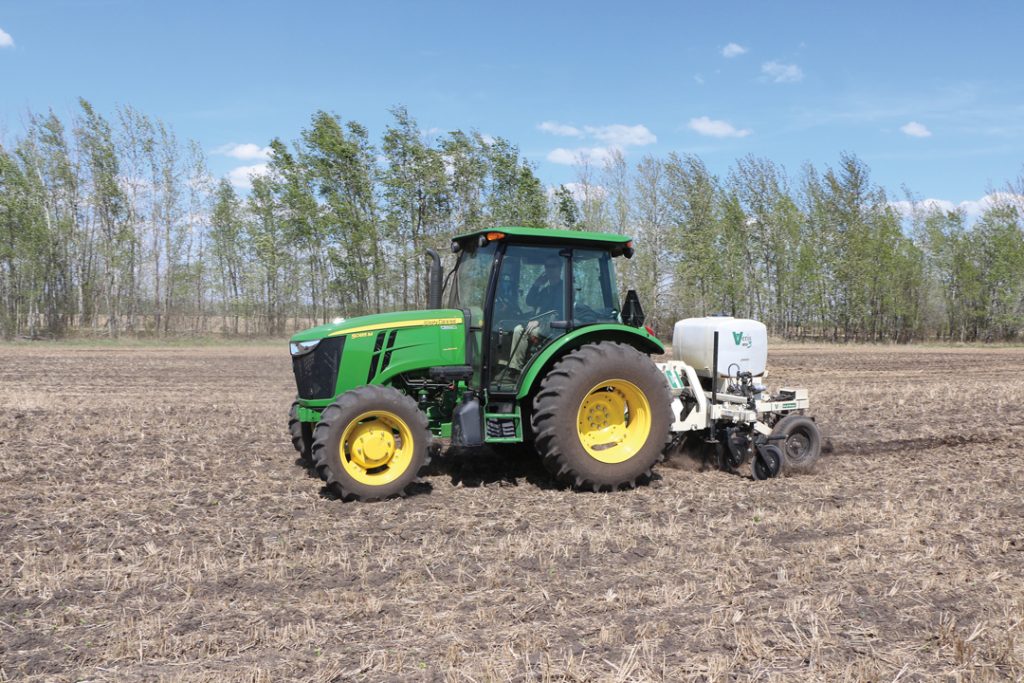 FORWARD THINKING
Can technology be simultaneously personal and precise? According to Greg Andrukow the answer is a resounding "yes." The founder of Camrose-based Point Forward Solutions (PFS) began his precision agriculture business to provide all the tools a farmer could ask for in promoting soil productivity as well as interpreting and applying data sets.
He has found it challenging to maintain the company's growth while relating to the farmer viewpoint. There is skepticism that precision farming and variable rate (VR) technology is anything more than clever marketing. Attitudes like this excite Andrukow rather than discourage him. He sees doubt as an opportunity to converse with farmers.
"When you try and scale up, you lose that personal contact," he said. "As soon as you lose that connectivity with the farmer, they don't feel comfortable. You have to be there on a regular basis and be with them."
As Andrukow sees it, precision farming is also a tool the farmer can use to talk about sustainable farming methods and build public trust. When the public wants answers about agricultural practices, farmers will be ready.
"It's all about sustainable farming and making sure the consumer clearly understands we have a protocol to grow safe food," he said. "Our focus is profit per acre for our customers through VR technology, soil mapping and field prescriptions along with benchmark inputs."
Beyond that, farmers are experiencing 3:1 gains with PFS, according to Andrukow. He said PFS can only be as good as the information it's given, just like when a doctor isn't given enough information, they cannot help a patient. If the metaphor holds true, Brian Hellekson is in robust health.
"There's no reason not to try it," said Hellekson of the technology. "If you have the equipment to do it, there's no reason not to try it on at least a quarter [-section]." A longtime PFS customer, most of his 2,250 acres near Holden are under its management. With an initial investment of $11.50 per acre to map and soil test his land in year one, he saw the potential return and has been pleased with the results.
"In the end, it saved me about $20,000 … [in] fertilizer costs," he said of his first year with PFS. "Our averages have been climbing to about 10 bushels per acre more from what we had before." Hellekson suggests his operation has become more efficient. He adds that, as with any technology, return is commensurate with the level of investment.
Andrukow said farmers like Hellekson are the reason he continues to believe that more and more will tip their hat to precision ag. He believes 20 per cent of Alberta farmers utilize precision ag, but he really wants to sit down and have a coffee with the remaining 80 per cent.
"It's got to be a longer play … it takes time to see it happen," he said. "You can't change your soil properties overnight. We're trying to customize the plans to the farmer's operation, it's not just a broad brush."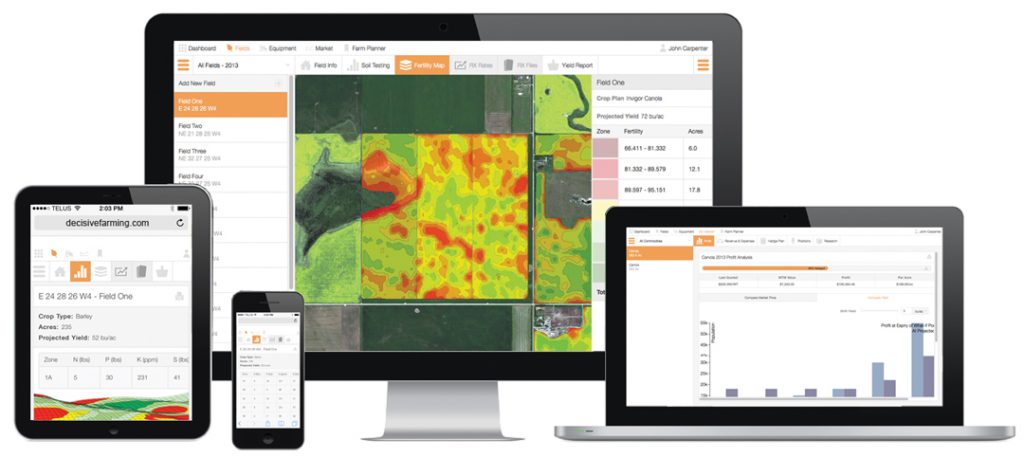 DECISIVE MEASUREMENTS
Remi Schmaltz is nothing if not persistent. The Alberta-born entrepreneur is the man behind Decisive Farming, a precision agriculture outfit based in Irricana. When he began marketing precision ag at trade shows, the conversations were repeat loops explaining what variable rate is. Sales were a smaller part of that equation. However, much like farming, precision agriculture and new technological advances are long plays. Much has changed since those early days.


"It's more about working with farmers to help them navigate through all the offerings and noise in the market and what is the best fit for their farm in the context of what problems they are trying to solve," said Schmaltz.
He believes this is normal in the tech world and, despite the plodding nature of 21st century technology, he hasn't been pessimistic. "All technology is starting to open up," he said. "People are realizing you cannot just have another data silo. You need to share data and make it more efficient for everyone."
Schmaltz is seeing the tide turn. He has watched hundreds of farmers decide that gut feelings and the SALY—same as last year—methodology of farming only takes a person so far. In addition to variable rate technology, Decisive also offers integrated online management of its production data to improve traceability, production, marketing and people management. "If you can't measure it, you can't improve," said Schmaltz. "To be able to measure it, you really need to be able to digitize what you're doing."
Cluny-area farmer Jay Anderson is one of those people who wanted more. He has been a Decisive customer for seven years and has seen its variable-rate focus deliver positive results at his 4,000-acre operation.
One aspect of Decisive's program Anderson likes is how he's not necessarily using more inputs, but allocating them in a more logical, data-driven way. "We might use the same amount of fertilizer, but in different amounts all over the place," he said. "On the low end, it could be 70 pounds of nitrogen and 180 pounds on the high end. It's the right amount in the soil zone."
Anderson said many people get caught up comparing stalks and stems, whereas his focus is on the heads because that's where the production comes from. "On July 1, they aren't the prettiest stalks and stems, but I'll put my heads against anyone's in September come harvest," he said.
Anderson sells his wheat into a specialty market and said without Decisive, "we wouldn't be able to continually meet their needs." The prescription maps at Decisive have helped Anderson, but it's also helped the company since the farmer feedback drives even more technological innovation. This data distillation is further encouraged by the company's grower advisory panel spread across multiple soil zones and growing regions. "We have a really strong group of growers that are our customers, but honestly, they're our business partners," said Schmaltz.
Schmaltz has seen the benefit of technology partnerships, and to date, Decisive has 12. The company just joined forces with DTN, one of world's largest ag weather networks, to give its clients yet another tool for success.
"Our systems are going to continue to get smarter and more intuitive for our clients," said Schmaltz. "It will help us make very proactive decisions."
SUPPORT SYSTEMS
Much like the name suggests, the company Dave and Jenny Crompton began 35 years ago focused on a system—a grain storage and monitoring system to be exact. It started simply enough, as well. OPI Systems' flagship invention was the OPI 1 in 1984, a handheld analog controller with an LED display. As basic as it was, it sold into the western Canadian marketplace, causing people to begin thinking differently about grain storage and monitoring.
"From there, we expanded into commercial markets, extended capability and moved into automation," said Crompton, adding that the art and science of grain storage has been taken for granted in Western Canada.
A huge moment for the company was in the late '90s with the release of its PC-based desktop monitoring and control system for grain, OPGIMAC (later renamed Integris). The technology put OPI on the global map, given the software could be applied to a broad range of farm and commercial grain storage applications.
By 2014, the company moved into cloud-based solutions through OPI Blue, which led Crompton to posit he's nearing another aha moment. "I would say we're on the cusp of a breakthrough with cloud-based technology," he said. "It allows us to add onto the platform and go beyond storage monitoring. Think about all the effort that goes into producing a crop—the grain bin becomes a marketing tool, not just a storage vessel."
The adoption rate of OPI Blue among existing customers has been about 20 per cent, with 80 per cent remaining with older, PC-based systems. Despite the challenges of slower uptake, many early adopters are excited about the convenience they see with their head in the cloud.
"We're not afraid of automation or technology, we're extremely excited about it," said Blaine Gatez, who farms near Crossfield with family. "[The OPI technology] allows us to take existing facilities and equipment and utilize them better and more efficiently with the staff that we have."
Gatez has been wireless for two years and is just finishing the necessary small tasks to fully automate the system. He described it as "flawless," suggesting technological solutions in agriculture are becoming better and better with less low-quality offerings in general. The real work is now sifting through scads of data and determining how to manage it all. "Sometimes we are good at gathering data … but it's difficult to integrate it and learn and devote to making sure it's part of your solution," he said.
Back at OPI, Crompton is pushing the cloud, but also collaboration. The company recently partnered with Sukup, an Iowa-based manufacturer of grain bins, dryers, other farm equipment and buildings. The goal is to bring a completely integrated grain drying, storage and conditioning system to market. "If a farmer gets his grain to X level and gets a premium in the marketplace … [that] will help validate grain management technology so as to drive broader-scale adoption," he said.