KEEP IT SIMPLE
ENJOYING THE REWARDS OF SLOWING DOWN
BY ELLEN COTTEE
Rebecca Cooper loves simplicity. On her blog, Simple as That, she applies simplicity to daily life, cooking, holidaying and photo taking. The professional photographer and mother of four encourages others to slow down and appreciate every moment.
It wasn't always her goal to live a simple life, however. She and her family were always on the go. In 2010, her chiropractor husband decided to pursue a medical degree. This necessitated a move to St. Eustatius, a secluded island in the Dutch Caribbean, and the family went along for the ride.
Selling many of their belongings, her family learned to do more with less and appreciate what they had. They went on walks rather than watching television. Cooper's time away from her business helped her reconnect with her creative passions. Sixteen months later, the family returned to North America with the goal of continuing the habits they had developed.
"It's a daily struggle to keep it simple here," Cooper said. "It is a constant thing you have to think about and consciously do."
On the island, living simply was unavoidable. Cooper recalled that her son, who was six, needed new shoes as his old pair came apart, but he endured a lengthy wait while new ones were shipped to the island. Cooper's son didn't complain once. A happy convert to the simple life, he wore his old shoes, held together with a duct tape job that would've made Canadian television icon Red Green proud.
Cooper's island time also inspired a reconnection with the simplicity of her childhood. Growing up on a wheat farm near Claresholm had brought her close to nature, food and family. She has fond memories of exploring the land around the family farm and riding in the combine with her dad, eating kernels of wheat right off the stalk. Baking with her mom and preparing field-to-table meals were routine activities, although these things didn't yet constitute a movement—it was just what you did when you lived on a farm.
"I remember slow summers just playing outside and entertaining ourselves—it was all about being in nature and enjoying it. We spent a lot of time as a family camping at Waterton Lakes National Park. They were inexpensive things but they were really great," she said. "I'm weaving the experience I had into the childhood I'm giving my children now."
"It's such a simple thing and a great way to build family connections," she said, noting that her children ask for homemade bread every week. She also wants to give her kids the gift of boredom. Rather than having summers that include too much time staring at screens on various devices and running to scheduled activities, they have the opportunity to be creative.
Working with Life's Simple Ingredient—a campaign led by the Alberta Wheat Commission that promotes the wholesomeness, versatility and nutritional benefits of wheat—was an easy choice for Cooper. "It's perfect for me," she explained. "It's about simplicity, which I live, and Alberta, where I grew up. How could I say no?"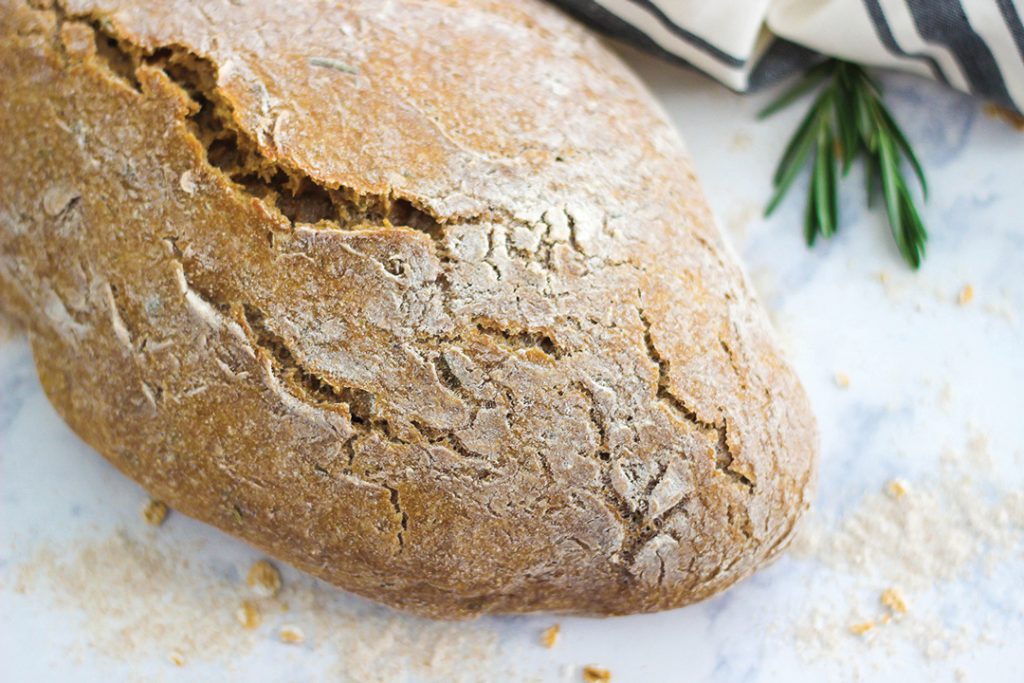 Rebecca Cooper's no-knead whole-wheat rosemary bread
Ingredients
2 cups (500 mL) whole-wheat flour
1 cup (250 mL) all-purpose flour
1 teaspoon (5 mL) salt
½ teaspoon (2.5 mL) active dry yeast
2 sprigs fresh rosemary, minced
1½ cups (375 mL) warm water
Instructions
1. In a large bowl, stir together the flours, salt, yeast, rosemary and water using a wooden spoon.
2. Cover and let rise for eight to 24 hours.
3. In a 450 F (230 C) oven, preheat a Dutch oven with its lid on.
4. Flour a piece of parchment paper, roll the dough out onto it, and shape the dough so it will fit into your Dutch oven.
5. Place the parchment paper and shaped dough in the heated Dutch oven, cover with the lid and bake for 30 minutes. Then remove the lid and bake for an additional eight to 15 minutes, until golden brown.
Visit Life's Simple Ingredient at lifessimpleingredient.com and Simple as That at simpleasthatblog.com.