GOOD TO GROW
BREEDING PROGRAMS PRODUCE NEW WHEAT AND BARLEY VARIETIES
BY LEE HART
While developing higher-yielding varieties is always a central objective, improving other agronomic and quality characteristics in cereal crops can be an equal and sometimes greater challenge. This according to western Canadian wheat and barley breeders who've worked within the wheat and barley clusters of the Growing Forward 2 ag development program.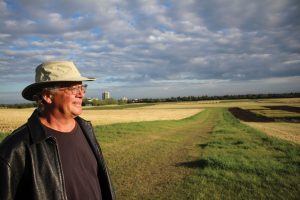 Nature often wants to deliver a trade-off, say breeders. Improving one characteristic in a new variety often diminishes another aspect related to quality or production. Breaking that link is the challenge facing plant breeders, said the University of Alberta's Dean Spaner. He heads a breeding program primarily focused on developing early-maturing Canada Western Red Spring (CWRS) wheat varieties.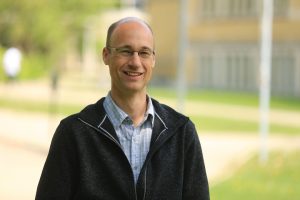 Meanwhile, at the University of Saskatchewan's Crop Development Centre (CDC), Aaron Beattie heads a breeding program that is developing malting and feed barley varieties. The crops are different but the objective is the same: to produce varieties with top yield, excellent quality and appealing agronomics that will be profitable for farmers to grow.
EARLY-MATURING WHEAT VARIETIES
While it is not easy getting a new variety to fire on all the production and quality characteristic cylinders, Spaner can point to several recent successes in the U of A wheat-breeding program. Over the past five years, he has registered five CWRS varieties—all with earlier maturity—that have been favoured by farmers and end users, particularly bread makers. This wave of new CWRS varieties is the first to come out of the U of A wheat-breeding program since Alikat in 1997. Spaner devotes about 75 per cent of his breeding program to CWRS variety development and about 25 per cent to Canada Prairie Spring Red and other wheat types.
CWRS varieties developed at the U of A include Thorsby, Coleman, Parata, Go Early and Zealand. All are early-maturing top yielders with good agronomic performance and excellent milling quality. Coleman, Parata and Go Early are the earliest maturing of the five.
"Our growing season in central and northern Alberta is much different than the southern Prairie region," said Spaner. "The growing season around Edmonton, for example, can be two to three weeks shorter than at Lethbridge. Here at the University of Alberta, we have the natural advantage to select for early maturity." Spaner can select those lines that reach maturity under the area's growing conditions.
And what is early? Using a popular CWRS variety such as AC Barrie as a benchmark, Spaner said, on average, it will mature at 100 days. "What we are looking for are varieties that mature at least two to four days earlier," he said. "Once you get into this northern Parkland region, we only have a 99-day growing season. We need varieties that mature in less than 100 days."
Selecting varieties that mature early is an important element in protecting grain quality. Even and early crop maturity potentially provides farmers the opportunity to straight-cut crops ahead of frost, thus avoiding the risk of downgraded quality. And even swathed crops can be harvested earlier, reducing the risk of being affected by adverse fall weather conditions.
But when it comes to lower days-to-
maturity rates and higher yields, breeders usually have to trade one for the other, said Spaner. Pasteur, for example, now classed as a Canadian Western Special Purpose variety, is very high yielding but also matures very late. Spaner faces the challenge of developing breeding lines that both mature early and produce high yield.
Selecting for early maturity requires breeders to evaluate millions of plants in different genetic lines of wheat grown in replicated plots, and then narrow the field. Over successive seasons, 250 lines that show promise are chosen. Of these, Spaner will select 15 to be evaluated in co-op registration trials. From there, hopefully at least one new line will warrant being registered.
Along with early maturity and high yield, Spaner strives for varieties with a well-rounded combination of other traits—for example, good to moderate resistance to diseases such as stripe rust, stem rust, leaf rust and Fusarium head blight (FHB); good lodging resistance; and, of course, good milling qualities.
ON THE BARLEY FRONT
High yield, high quality and good resistance to disease and lodging are also among the traits Aaron Beattie selects for in his barley-breeding program at
the CDC.
While he works with feed, forage and some hulless barley, his main focus is malting barley variety development. CDC Bow, registered in 2014, is among the newest malt barley varieties available, and farmers will also be hearing about CDC Fraser over the next couple of cropping seasons as it moves through the pedigreed seed production system.
"I've been receiving good feedback from growers regarding CDC Bow," said Beattie. "It is a high-yielding variety with exceptional lodging resistance. And it should appeal to maltsters and brewers, as it has a good quality profile."
CDC Fraser should be a good fit for farmers as well. It features high yield, good lodging resistance and a good disease resistance package that includes good tolerance to FHB, with lower levels of the DON mycotoxin.
While the CDC hasn't released any new two-row feed barley varieties since CDC Austenson hit the market in 2009, Beattie said he does have a new line in the advanced stages of development that should be available to farmers by the 2020/21 growing season.
"CDC Austenson itself was quite a step forward among feed barley varieties," said Beattie. "And this new variety is showing some big improvements over Austenson." It features higher yield, similar lodging resistance, good protein levels and a good disease resistance package against pathogens such as spot blotch, net blotch and FHB.
While Beattie uses a variety of tools to select for higher yield, quality and agronomic performance, one of the most important developments in his CDC lab was the introduction of in-house mycotoxin screening equipment in 2016.
"Before we had this equipment, we had to send samples to either a private or government lab to be tested, and often there was a long lag time before we got results," he said. "We often would have seed in the ground and growing for the new season before we got results back from the previous year's evaluation of those lines for DON." The CDC can now evaluate DON levels in harvested seed and decide whether a line is worth pursuing before the next research growing season begins.
To evaluate for FHB resistance, plots of new lines are grown at an Agriculture and Agri-Food Canada FHB nursery in Brandon, MB. The lines are exposed to heavy FHB pressure and then seed samples are evaluated to determine the level of the DON mycotoxin in the kernels.
"We will probably never develop a variety that is completely resistant to Fusarium, with zero levels of DON," said Beattie. "But we keep looking for lines that show lower levels of DON, and those are the ones we keep in the breeding program.
"We use many of the standard genetic tools available today, such as molecular markers, to help us select lines for improved production performance such as lodging and disease resistance. But having this equipment available to measure DON in-house has probably been one of the more valuable tools we can use in our screening process today."