THE OTHER BARLEY BEVY
A NEW TWIST ON COFFEE COULD LIVEN UP YOUR CUP
BY SARAH HOFFMANN
It is difficult to imagine a time when coffee wasn't everywhere, but hundreds of years ago Italian peasants—unable to afford what was then a premium product—refined the art of recreating the satisfying coffee flavour with novel ingredients. Barley coffee, or caffe d'orzo (orzo means barley in Italian), emerged from this tradition and the beverage enjoyed a surge in popularity when wartime made coffee scarce in parts of Europe. Now, in the age of coffee ubiquity, a few small companies are bringing caffe d'orzo to the world.
Unlike Ovaltine, Cab-Lib, Postum or other grain-based beverages, true caffe d'orzo is not water soluble. Instead, like coffee beans, the barley is roasted, ground and then brewed using a drip coffee maker, French press or, in the Italian tradition, a moka pot. The latter produces coffee by passing boiling water pressured by steam through ground beans or barley. It was one such moka pot, set on an Italian table after an evening meal, that first introduced Jeremy Levis to caffe d'orzo.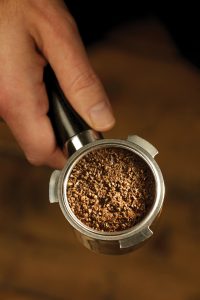 "I thought, 'Espresso after dinner—are you mad?'" said Levis, founder and owner of Innocente Orzo, a U.K.-based company that distributes barley coffee. Levis seldom drank coffee, as his caffeine tolerance was low, but his host assured him that the steaming beverage was completely caffeine free, so he gave it a try. He liked what he tasted.
"It doesn't taste exactly like coffee; it's a much lighter taste," said Levis, who added that many people notice hints of whisky, Guinness beer or chocolate.
When he returned to England from his trip to Italy, he could not find barley coffee for sale—so he decided to distribute it himself. He sources it from a company in Tuscany that has been roasting barley for coffee since 1831. While Levis initially tried marketing Innocente Orzo through shops and markets, most of his sales are now from Amazon, where a 500-gram package can be shipped to Canadian customers for about $25.
For people seeking a naturally caffeine-free beverage, caffe d'orzo might be the perfect cup.