THE FARMGATE
BY CULLEN BIRD
BETTER GRADES FOR FARMERS
Research Shows Machine's value in fusarium fight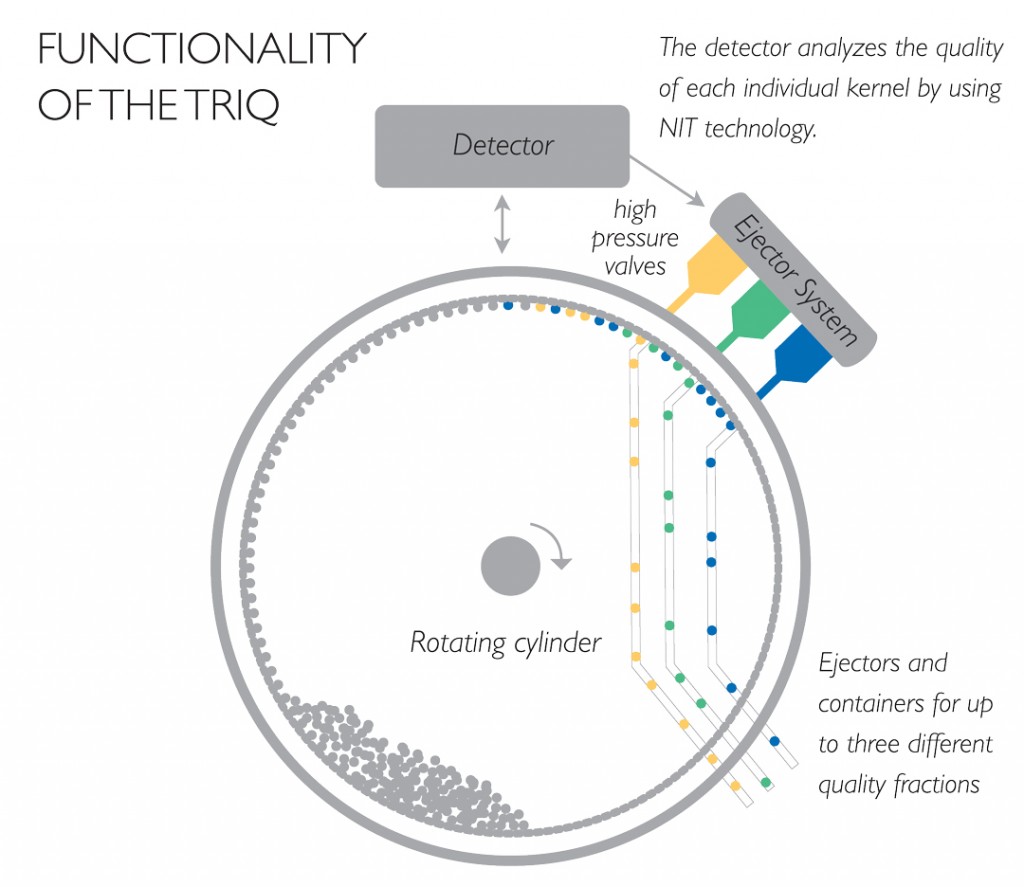 A seed-sorting machine that can analyze grain kernels on a chemical level is opening new processing possibilities for Canadian grain farmers.
Swedish company BoMill has created the TriQ, a seed-sorter that uses near-infrared transmission (NIT) to measure the amount of crude protein in grain samples on a kernel-by-kernel basis. This sets BoMill's machine apart from optical sorters, which analyze the outer colour of a grain sample.
The TriQ can sort grain into three fractions based on its protein content, at a rate of about three tonnes of grain an hour.
The University of Saskatchewan, in collaboration with the Canadian International Grains Institute (Cigi), bought the first TriQ sorter in Canada for a four-year research project at the feed facility in North Battleford, SK. Now into its final year, the project focuses on applications of the TriQ in salvaging grain from fusarium-infested samples.
Using the TriQ's capabilities could mean a big difference for grain farmers whose fields are infested with fusarium, a fungus that attacks grain heads and leaves shrivelled, often toxic kernels. Since fusarium-damaged kernels have low protein content, the TriQ can tell the difference between good kernels and damaged ones.
"This year, fusarium's been a killer," said Rex Newkirk, vice-president of research and innovation at Cigi.
The Canadian Grain Commission recommends that harvested wheat at the elevator containing more than four per cent fusarium-damaged kernels be graded as unusable salvage because of the toxins that fusarium leaves behind. Fusarium policy differs between provinces, and Alberta has a zero-tolerance policy in seed for planting.
"We've taken several tonnes of each of the contaminated materials that have been graded salvage in these cases, and salvaged considerable amounts of grain to be resold," said Tom Scott, research chair in feed processing at the University of Saskatchewan and principal investigator for the research project.
Scott added that with the TriQ it is possible to raise 70 to 80 per cent of a salvage-grade sample to grade No. 2, if not grade No. 1.
The TriQ sorts grain inside a large, spinning steel drum. Grain is poured into the drum via an auger. Centrifugal force pushes kernels into holes drilled into the inner surface of the drum. Those kernels are carried past an NIT sensor, which make rapid predictions of each kernel's chemical profile at a rate of 24,000 kernels per second. Their protein content determined, the kernels are then ejected into three different tubes and carried out of the machine.
The TriQ can sort wheat, durum and barley, though each grain type requires a different custom-drilled drum.
Currently, the TriQ has been calibrated to measure crude protein, but the technology could feasibly be extended to measure other chemical properties, like starch, said Mary-Lou Swift, a feed quality research scientist at Alberta Agriculture and Rural Development.
The potential for the new technology is promising, but there might be cost-benefit issues, said Cam Dahl, president of Cereals Canada. Each unit costs around $350,000.
The units can run remotely and continuously, but at three tonnes per hour, scale of output may still be a problem.
However, Dahl said all technology starts that way, and costs are eventually driven down.
Newkirk thinks there could be immediate use for the TriQ in Canada.
"I can see this going into seed-cleaning plants right away," he said. "It's a significant financial investment, but the math works."
Scott echoed Newkirk's optimism.
"It's starting to make grain an individual kernel commodity. And we've never, ever viewed grain as that before," he said.
"Now you should be able to take any source of grain and develop it and produce very distinct fractions for different use, consistently."
CROP DATA REPORTING PROJECT OFFICIALLY ANNOUNCED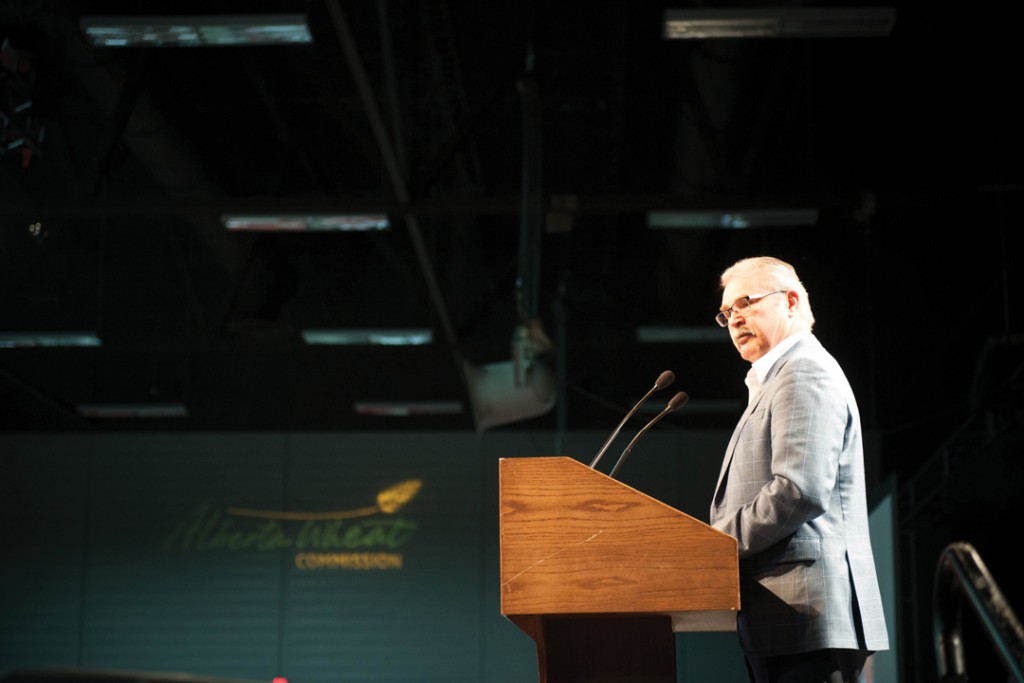 A price transparency initiative meant to provide accurate and timely data for the Canadian grain market is officially underway, following an announcement at FarmTech Jan. 28 by Agriculture and Agri-Food Canada (AAFC) Minister Gerry Ritz.
The tool, dubbed Price & Data Quotes (PDQ), will provide daily information on cash grain prices, as well as data on grain movement and trade (www.pdqinfo.ca).
The project was developed by the Alberta Wheat Commission (AWC) and will be led by grain marketing consultant agency FARMCo. Up to $743,000 in project funds will come from AAFC's AgriRisk Initiatives program.
"We saw this project as an opportunity to take a leadership role in improving price transparency in grain markets in Canada," said Kent Erickson, AWC chairman. "We see the PDQ project as strategic and necessary for farmers to compete on the international stage."
PDQ is meant to fill the information gap farmers and grain companies face now that the Canadian Wheat Board is no longer the single marketer for western Canadian grain. Unlike U.S. farmers, who have had to market their grain as basis traders for decades, Canadian grain farmers have only had a few years to learn about their new marketing opportunities.
Also unlike the U.S., Canada does not have a regularly updated source of price benchmark information for its own farmers.
Most of the data that stakeholders need is already out there, but it's scattered and often out of date, said Russ Crawford, FARMCo vice-president.
"Price information is only good if it's current," Crawford said. "If you're marketing something, you need to know what the price is right now. And if the prices that you're seeing in the marketplace are two to three weeks old, they're basically irrelevant for that purpose."
Apart from data collected from organizations like Statistics Canada and the Canadian Grain Commission, the project will depend on voluntary disclosure by grain companies. To protect sensitive commercial information, pricing won't be made available on an individual basis, Crawford said.
"The idea would be to normalize those prices into common grades and qualities, to create averages over areas and zones rather than individual locations," he said.
The ultimate goal for the project is that it would be self-sustaining, through subscription and advertising.
The project is estimated to take 18 months. Once complete, it will likely go to public tender for a third party to operate, according to John De Pape, FARMCo president.
"This is meant to provide a resource not just to farmers, but also people who work with farmers," he said.
NEW GRAINS ANSWER MARKET CALL
THE U.K. baking company Warburtons has selected and registered a new Hard Red Spring Wheat variety, AAC W1876, made by wheat breeders Ron DePauw and Richard Cuthbert of the Semiarid Prairie Agricultural Research Centre in Swift Current, SK. Meanwhile, Canada Malting Company is increasing its contracted acreage for Bentley malt, a sign of its good yield and consistency.
Both varieties are being commercially developed by Canterra Seeds. The Hard Red Spring Wheat was tested by Warburtons in both 2011 and 2012 and is similar in nature to AC Carberry. It stood out because of how well it worked in Warburtons' baking process, said Adam Dyck, program manager at Warburtons Canada.
"It will take our quality up a notch," he said. "This will go into our normal grist."
Warburtons sponsored the new wheat through the registration process, and then partnered with Canterra to make it commercially viable for 2015.
"That's allowed us to go from essentially a few kilograms of seed to many, many metric tonnes of product to be commercialized for spring 2015 planting," said Brent Derkatch, director of operations and business development at Canterra.
"It's very exciting. It's always nice when we can respond to a market demand," Cuthbert said.
The demand will rise for barley, as well, since Canada Malting Company has decided to grow its Bentley production to more than 40,000 acres.
Bentley was developed in 1996, and wound its way through the variety registration process before being registered in 2008, said Patricia Juskiw, a barley breeder who worked on Bentley for years. Her work followed Manuel Cortez's initial crossings at the Lacombe Field Crop Development Centre.
"This is a made-in-Alberta success story," Juskiw said.
Bentley has good, consistent quality and 10 to 15 per cent higher yield than the traditional AC Metcalfe, Juskiw said. She added that its lower enzyme levels are attractive to craft brewers.
"When a company like Canada Malting Company is willing to contract acres of a new variety, that's great news," said Peter Watts, managing director at the Canadian Malting Barley Technical Centre in Winnipeg, MB. "That helps with the commercialization gap that we face with new varieties in the industry."