OPTION TO MARKET
NORTHGATE TRANSLOADER TO SERVE U.S., MEXICO AND BEYOND
BY LEE HART
Brian Northeast believes the new grain-shipping terminal being built a few miles south of his Oxbow, SK, farm this past fall, which will rail Prairie grains and oilseeds into U.S. and Mexican markets, is going to be a boon for southern Saskatchewan farmers.
Northeast said the Ceres Global Ag Corp. rail terminal located at Northgate, SK, in the province's southeast corner, will give farmers another marketing option alongside the traditional Canadian grain elevators that rely on moving grain over Canadian rail lines.
"Any time producers have another option, it presents a great opportunity," said Northeast, who is also reeve of the rural municipality of Enniskillen No. 3.
From a municipal government standpoint, he said the investment of about $80 million to build the Northgate rail loading facility also helps the municipal tax base.
"It appears to be a great project that will benefit both the agriculture and the oil and gas industries in the southern Prairies," said Northeast. "Ultimately, time will tell exactly what the impact is, but there certainly appears to be a lot of interest."
The Northgate Commodity Logistics Hub is a 1,500-acre site just north of the U.S. border. The Ceres terminal was built to load trains that will haul commodities south to U.S. markets and beyond.
The double-loop railway track system connects at the U.S. border with a branch line from the Burlington Northern Santa Fe (BNSF) Railway—America's largest rail company.
With the Northgate project serving as both a grain buyer and exporter, Ceres has staff on the ground now in southern Saskatchewan. They are sourcing grains and oilseeds to be moved through temporary grain-handling facilities that opened in October. A temporary transloading system fills about 72 rail cars with about 300,000 bushels of wheat, barley, oats, durum and canola per week bound for U.S. markets. Once a permanent 2.2-million-bushel grain storage and handling facility is completed in early 2016, that volume should about triple as the facility plans to load 220 rail cars—moving about 900,000 bushels of grains and oilseeds per week into U.S. and offshore export markets.
The facility will also move energy products such as crude oil and liquefied natural gas by rail into the U.S.
"It is a diversification plan," said Pat Bracken, Minnesota-based CEO and board chair of Ceres, a commodity logistics holding company that also owns the 132-kilometre Stewart Southern Railway short line in southern Saskatchewan and Riverland Ag Corp, which has 10 grain storage and handling facilities dotting the map in Minnesota, New York, Wisconsin and Ontario. "As they developed this project, they saw two important industries in southern Saskatchewan and southern Manitoba were underserviced, and that was agriculture and the oil and gas industries."
At the Northgate site, along with receiving and shipping grain on one of the rail loops, Ceres is also developing crude oil and natural gas storage and a rail loading facility to move those commodities into the U.S. The crude oil and natural gas side also has a temporary transloading system able to handle about 15,000 barrels of energy products per day. That is expected to increase to about 60,000 barrels per day once its permanent facility is operational in 2016.
"We are ready to move grain and oilseed commodities into the U.S., so we are encouraging farmers to call us," said Jim Vanasek. He's on the board of Ceres, and his New York-based investment firm, VN Capital Management, is one of the major Ceres shareholders.
"We are a regional operation, but plan to offer very competitive pricing and services to farmers in the southern Prairies," he said. "As farmers in southern Saskatchewan discovered last year, the existing Canadian system can be challenged to have the rail service to meet demand for moving grain.
"At Northgate, we have an agreement with BNSF to provide rail service. We have a commitment they will have rail cars available as we need them. It is the largest railway in the United States. Once the trains are loaded, they can go east to port position at Duluth, Minnesota, or west to Seattle ports, or straight south to dozens of market destinations served by BNSF."
BNSF has direct access to 28 American states, Mexico, and numerous Pacific and Gulf of Mexico ports along a 51,500-kilometre rail network, including more than 45 crude-by-rail destinations. BNSF also has secondary, or inter-line, connections with many other U.S. interior locations and Atlantic ports.
Vanasek said Canadian grains will be bought for a wide range of North American and off-shore export markets. He expects canola will be hauled south directly to crushing plants in northern Mexico. He said using rail service through the U.S. to Mexico will be much more efficient than hauling it by train from Saskatchewan to Vancouver, then loading it onto ships travelling down the west coast, offloading it at a Mexican port and hauling it inland to a crushing plant.
He expects Northgate to be sourcing crop commodities from about a 150-kilometre radius in southern Saskatchewan and into Manitoba.
"Within that zone, we estimate farmers produce about 180 million bushels of wheat, about 60 million bushels of oats, and another 180 million bushels of canola and other commodities," said Vanasek. "I don't think we will have trouble sourcing the commodities we need."
The concept of developing this north–south rail link between western Canadian production and U.S. markets is actually credited to a former executive of hedge fund management company Whitebox Advisors. Vanasek said that an executive of Whitebox began researching rail links between Canada and the U.S. back in 2008 in anticipation of the end of the Canadian Wheat Board monopoly.
"He actually drove the border between Canada and the U.S. looking for any crossing opportunities," said Vanasek. Northgate is a small community divided by the Canada/U.S. border.
BNSF has long operated the 129-kilometre branch line between Northgate and Minot, North Dakota. As this Ceres project was coming on line, the railway undertook a major $40-million upgrade of the branch line to handle the increased traffic with product from Saskatchewan, and also to better serve its many existing customers along the line.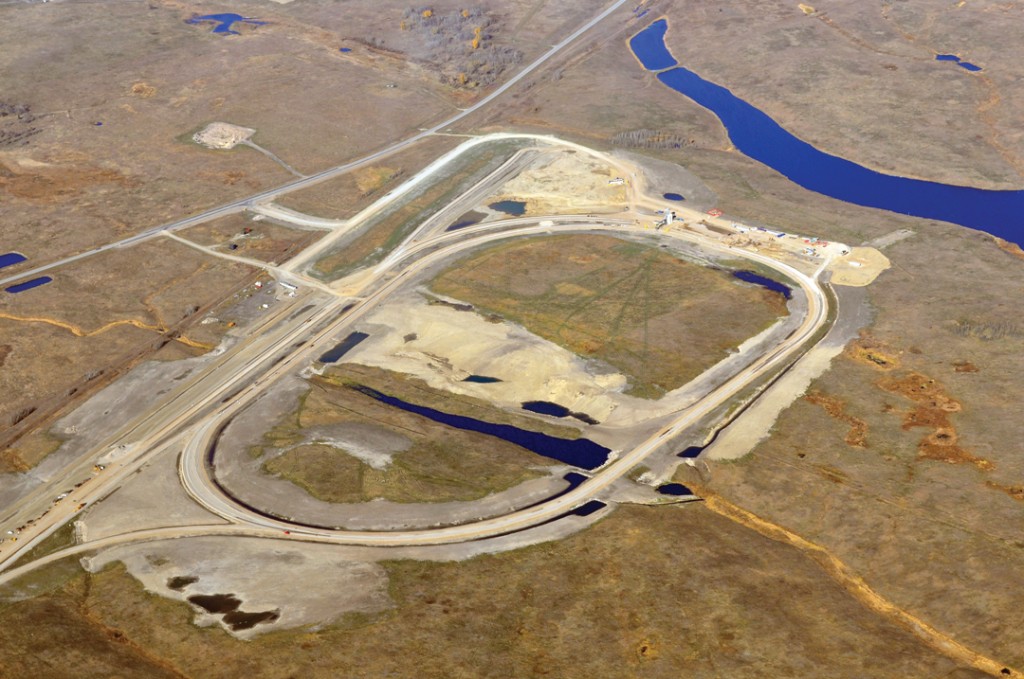 Along with shipping Saskatchewan and Manitoba grains, oilseeds and energy products out of the country, Northgate may also look to be a supply centre for dry commodities brought into the country, including frac sand for the oil and gas sector, dry cement for the construction industry and fertilizer for farmers.
Longtime Canadian grain transportation observer Mark Hemmes, president of Quorum Corp., said the Northgate project could do well as a regional player when it comes to rail transportation.
"It appears to be another good alternative for farmers, but its success will depend a lot on how well it is marketed," he said.
Quorum, which is based in Edmonton, was selected by the federal government in 2001 as an independent, third-party watchdog to monitor the efficiency of the Prairie grain handling and transportation system.
"We saw last year here in Canada how a combination of severe winter weather and a bumper crop resulted in a rationing of rail capacity in Western Canada," said Hemmes. "And in many respects right now, U.S. farmers south of the 49th are also challenged by rail capacity. So the challenge ahead for this project may be to ensure it has the rail cars when they are needed."
Meanwhile, BNSF officials say they are ready for the challenge. Noting that improvement in the U.S. economy in recent years has corresponded with increased demand for rail service in many parts of the U.S., BNSF undertook a major capital improvement project. Out of an overall $5-billion improvement program, it included $1 billion worth of upgrades to rail services in the Northern Corridor, which spans the northern U.S. between the Pacific Northwest and Chicago, and includes the branch line running from Northgate to Minot, North Dakota.
"Our capital upgrade program is investing about $400 million in North Dakota alone to expand rail capacity and replace and maintain the network infrastructure," said Roxanne Butler, media relations director with BNSF. "No one can offer absolute guarantees, but the company has invested heavily to ensure it has capacity to meet customer demands."
Overall, Northgate appears to be a good opportunity for Saskatchewan farmers and oil and gas producers, said Lyle Stewart, Saskatchewan minister of agriculture.
"Certainly the government has been supportive of the project, which will provide producers with another outlet for the commodities they produce," said Stewart. "With [Ceres'] plan and facilities in place, we feel their service will be very positive for both the agricultural and oil and gas industries. Improved access to these markets will create some real opportunities for Saskatchewan producers."