ADVANCING THE GRAIN-SELLING GAME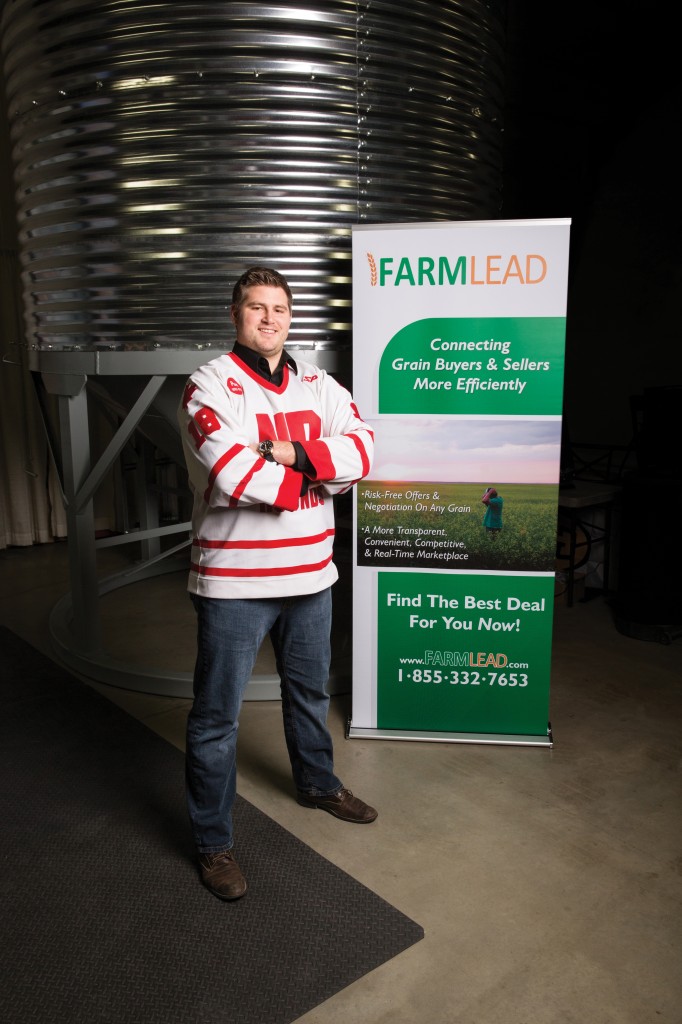 YOUNG ENTREPRENEUR KNEW LIFE WOULD BE GOOD BACK ON THE PRAIRIES
BY JEREMY SIMES
It made sense for Brennan Turner to leave the urban jungle of New York and plant himself back in the Prairies.
Originally from Foam Lake, SK, Turner has skated on NHL ice, suited it up on Wall Street and put in long hours during harvest. Once the Canadian Wheat Board was dismantled, Turner saw a beaming opportunity to start FarmLead, a Saskatoon-based online grain marketing service. It's a website where farmers can post new deals from the tractor, and where buyers can scope the many varieties that sellers have to offer.
With his degree in economics from Yale University combined with relevant job experience, Turner understands the grain market. But make no mistake, his life is about more than just punching the clock. As the director of the Mandi Schwartz Foundation, a non-profit that increases bone marrow donor awareness and registration, Turner's mission is to save lives by finding perfect matches between donors and patients. As an entrepreneur, his passion and work ethic come from values he learned growing up in a community firmly entrenched in agriculture.
GrainsWest: You went from living in a community rooted in farming, to playing hockey, to big-city living, and now you're back in the farming community. What made you want to go back to your roots?
Turner: My family has been farming since the early 1900s. I never grew up on it, but I was always around it. I liked spending summers at the cabin and on the combine during harvest. You develop an appreciation for it. The saying 'hard work pays off' ultimately shaped me.
GW: Talk about your passion for the things you're involved in.
Turner: Maybe it's being around the farming community that makes me want to get involved with things—you know, when your neighbour isn't done harvest but you are, so you help them out. I've learned in the very few years I've lived that it's better to give than to take. Even though I've been in the NHL and went to an Ivy League university, I think using those tools and the skill set I've got should be applied to what I do now. Both agriculture and hockey are hard work, and you have to work hard to achieve your goals, but also change your goals and adapt. If there's a way to do it better, I'll do it better.
GW: Is there common ground between playing hockey and working in agriculture?
Turner: I think it's the team attitude you have in hockey that's similar to agriculture. I was never a hotshot player. Making a brilliant pass was more important to me, rather than scoring a goal.
It's about understanding what you are doing and developing. I was able to get a scholarship to Notre Dame in my Grade 12 year. But it took a lot to get there—I would sometimes practise by myself at 7 a.m. and then again at 8 p.m. Sometimes, I'm taking customer calls at 6 a.m. and then as late as 11 p.m.
GW: How did working on Wall Street differ from what you do now?
Turner: Well, I don't have to wear a suit and tie to work every day. I worked with commodity markets—grain, oil and so on. With my degree in economics, I applied what I learned from the textbook: supply and demand. There's a lot of great people in finance, but a lot more people willing to give you the shirt off their back in the farming industry.
GW: Why did you start FarmLead, and why is it important to you?
Turner: I started FarmLead because we were looking for better ways producers can sell their grain. Clearly, we've made some progress in the market. Now, we have more than 1,700 registered accounts since starting 25 months ago. It's important because it lets buyers have more options and a greater selection of grain to choose from, and it lets sellers have more options when comparing buyers.
People are doing deals much more than they once were. My grandfather would sell his grain twice a year; my dad would make five to eight deals; and now, on larger farms, it can go up to 20 deals. That growth is an indication of the amount of risk that producers face, meaning they're looking to diversify.
GW: You seem keen on price transparency.
Turner: I think transparency is key. If you're upfront and honest, why wouldn't you benefit? The more open you are, the better you'll be. It's kind of like a handshake deal, and we give the opportunity to have that handshake with someone, whether you are a buyer or a seller.
We do our due diligence. Producers who show the quality of their grain, and who are upfront and honest, will benefit. People remember those guys who are shady—it leaves a bad taste in your mouth.
GW: Where did the inspiration come from to start your business?
Turner: It really came from trying to find that better deal—trying to help those looking for different varieties. Every extra bit counts, even if a farmer gets a few cents more for his bushel. I found a gap in the market, as there was an opportunity to help the bottom line for producers.
GW: What's the most exciting part?
Turner: I would say seeing a deal go through where a guy gets paid more than he would through traditional methods. We are doing our job when that happens.
GW: Do you ever have second thoughts on what you do?
Turner: I never doubt what I do, but I'm constantly re-evaluating. If you don't do that, you'll never improve. I think I'm my own worst critic.
GW: You have clients who are both in the U.S. and Canada. Tell us what the biggest difference is between the two ag scenes.
Turner: I think Western Canada is more landlocked. The U.S. has a solid river system, where grain can be delivered quicker down to places like New Orleans and North Carolina. Canada is going to have to constantly improve the railroads because we don't have the ability to truck all of the grain. But we still remain one of the largest producers, being the breadbasket.
GW: What do you like most about the ag industry?
Turner: It's constantly evolving. There are new varieties, new chemicals, new tech and new equipment. It continually looks to grow, as guys are always looking to maximize yields. It's also the people in small towns. They become the fabric, you know—everyone in the community plays an important role. There are a lot of opportunities, and I think people are always looking to do better.
GW: Farmers are quick to adapt to new technology. How important is technology to keep them competitive?
Turner: It's the same premise as constant re-evaluation. Tools are a way of bettering yourself. It's easier to use a ratchet than a normal wrench. But get perspective on everything in the game. Test things out before you buy or loan something. There might be something that works for you that might not work for someone else. Tech isn't for everyone. You don't have to adapt. But it's more along the lines of, "Why wouldn't you try it out, if it's going to make your operations better?"
GW: Do you have any advice for ag entrepreneurs with startup ideas?
Turner: It has to be something you know a lot about, and you have to sell it. Products rarely sell themselves. If you're not willing to push the pace or work, somebody else will be working, and they will win. If you're an entrepreneur, you're in charge of the ball. See if there is a need for your business before you start it. Identify your audience by doing surveys of potential clients. Ask yourself, "How would I stack up against competitors?" Have a long-term goal, but also make short-term goals along the way. Those goals can be daily or weekly. Get them done as soon as possible.