THE FARM GATE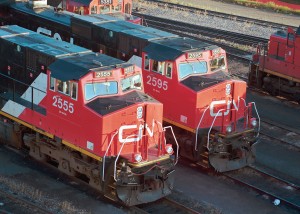 CN STRIKE AVERTED
Already backlogged and bogged down by frigid temperatures and the biggest grain harvest in history, CN Rail has avoided a strike by 3,000 of its workers, averting a full-blown disaster.
The February threat was avoided following an agreement with Teamsters Canada, the union representing the conductors and yard workers who were prepared to walk off the job. The deal was reached with no stoppage in service while a federal government back-to-work legislation order was waiting in the wings.
The strike's prospect drew sharp and immediate criticism from western Canadian agriculture groups and politicians alike.
Levi Wood, president of the Western Canadian Wheat Growers Association, said that even one day of striking would "slow things down further and compound the problem." Meanwhile, Saskatchewan's Premier Brad Wall sent federal Transport Minister Lisa Raitt an open letter, referring to the potential strike as "unacceptable," and calling the union's timing "extremely disappointing."
Elevators across the Prairies are full, making on-farm grain storage a necessity for many farmers unable to move crops.
JAPAN TIRES OF WAITING, TURNS STATESIDE
AMID THE CANADIAN GRAIN backlog, Japanese buyers recently began snapping up grain from the United States. Canada's last two grain shipments to Japan have been late and, not wanting to risk a third, the Japanese Ministry of Agriculture, Forestry and Fisheries snatched up nearly 50,000 metric tonnes of hard wheat from the U.S.
With less than an estimated three months' worth of wheat for millers and deliveries in the Asian nation, it's clear the Japanese aren't waiting around.
"Japan will have to depend more on U.S. wheat as the supply bottlenecks in Canada won't be resolved anytime soon," said Nobuyuki Chino, president of Continental Rice Corp. in Tokyo.
ALBERTA INKS INDIA FOOD DEAL
IT WASN'T JUST A SIGHTSEEING trip—Premier Alison Redford was on a mission. Her January journey to South Asia included putting pen to paper on a new Memorandum of Understanding with India's state of Meghalaya.
"This region of India has more than 40 million [people]—that's more than Canada's population—and it holds huge opportunities for Alberta agriculture producers," said Redford.
The signing will give Alberta farmers more opportunities to sell products abroad, as well as see the creation of an agricultural working group to develop and further trade on machinery, canola and pulses—the last of which India is the world's largest consumer and importer.

CALL FOR THE HALL
NOMINATIONS ARE OPEN FOR Alberta's Agriculture Hall of Fame. With more than 100 inductees over the years, there are many familiar names who have contributed to Alberta's agriculture sector. There is an open nomination until April 30 to put forward a name of someone who has demonstrated leadership in farm, rural or community organizations, or in the food industry. Alberta Agriculture and Rural Development requires three different people outside his or her immediate family to put a nominee's name forward.
For more information on nominations or to obtain forms, visit www.agric.gov.ab.ca.
BEEFED UP RELATIONS
CANADA WILL SOON BEGIN exporting bone-in beef to Taiwan after a new deal was recently struck. The deal allows beef products under 30 months into the island and it's good news for Canada, which has slowly but steadily been climbing out from the 2003 BSE crisis.
"Our government welcomes Taiwan's science-based decision to expand market access for Canadian beef. Advancing agricultural trade in growing Asian markets like Taiwan is just one way our government is helping our agriculture exporters boost their competitiveness around the world," said Gerry Ritz, minister of Agriculture and Agri-Food Canada.
In 2002, Canada
exported $17.8 million worth of beef to Taiwan. Ten years later, exports to Taiwan totalled $1.4 million, a fraction of our country's overall beef exports of $1.2 billion.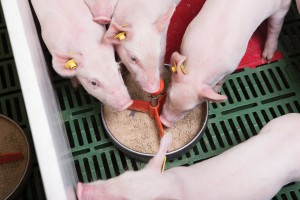 SWINE SICKNESS IN CANADA
WHILE A DEADLY VIRUS HAS already wreaked havoc on U.S. piglets, the Canadian swine industry is standing by and being ever-vigilant to avoid Porcine Epidemic Diarrhea virus (PEDv). A quick-moving virus, it kills the average piglet in five days and has claimed more than one million American piglets across 20-plus states since it first appeared last spring.
By mid-February there were 15 cases in Canada, including 13 in Ontario. Alberta is not currently affected, but hog producers are being warned to keep animal welfare top of mind.
"The biggest thing we are trying to do is get people to become aware of the potential problem," said Darcy Fitzgerald, executive director of Alberta Pork. "That starts with your own biosecurity at home."
Livestock trucks and trailers need to be continuously disinfected and drivers' boots must remain clean, since the disease can survive in manure and dirty wash water.
However, producers have science on their side. Harrisvaccines in Ames, Iowa, recently introduced an updated version of its original PEDv vaccine. The drug, iPED+, is an improvement on the company's initial vaccine created last spring. The new drug has higher and more consistent levels of antibodies than the first drug, and Canadian veterinarians can order it on an emergency basis.
"The goal of the vaccine is that we vaccinate the sows one to two weeks before giving birth," said Joel Harris, head of sales and marketing with Harrisvaccines. "They'll have high enough antibody levels to then protect the piglets in the early stages of life."
In Alberta, all cases must be reported within 24 hours to the Office of the Chief Provincial Veterinarian at (780) 427-3448 or anytime at (800) 524-0051.
Alberta has approximately 350 hog producers who generate an estimated $400 million for the province's economy.