HARVEST HELPERS
BY TREVOR BACQUE • LEAD PHOTO COURTESY OF BUSHEL PLUS
Given the escalating cost of production, it's more important than ever for farmers to maximize productivity. Farm equipment developers and manufacturers are keenly aware of this fact. Their goal is to make harvest simpler, more efficient and less stressful from field to bin.
Much of the harvest-focused equipment now on the market improves harvest processes and lays the groundwork for continued success in the future. Data collected and leveraged today should further contribute to operational success tomorrow, and the clever minds in ag tech are diligently working to make this the case.
GrainsWest caught up with three companies launched by experienced ag industry professionals. Each aims to give farmers more control and profitability through new digital and mechanical innovations.
IT ALL PANS OUT
Certain problems are common on farms the world over. German-Canadian Marcel Kringe knows this well. He has spent years working on crop farms across Asia, Europe and Canada, and found that nobody had a universal solution to calculate crop losses during harvest.
"We figured we were not accurate enough in determining the grain loss when we're looking on the ground," he said. "You can never tell where the grain is from. Is it from the header? The combine? The crop prior that fell on the ground?"
Despite many OEMs providing a loss monitor when a combine is purchased, it is a glorified paper weight if left uncalibrated. To calculate losses, Kringe tried various, and dangerous things over the years. From throwing cookie sheets at the back of the combine and running with a shovel in hand trying to catch a sample, he felt like there was no other choice. After a few close calls, he decided enough is enough.
"It's a half-million to a million-dollar machine that has all the precision tech in it, but setting it up, we're just going roughly by what's on the ground," he said. "Some farmers are kicking three to eight bushels out the back. When you say eight bushels, it sounds insane, but that's the real number we've seen."
As a boy, in Germany, Kringe watched his father and grandfather create mechanical solutions to their farming problems. He knew embracing a DIY ethic was his only solution, and he created the Bushel Plus drop pan. As farmers saw what it could do, the system quickly developed a reputation. "The nice thing was that the farmers who wanted them basically gave me a cheque and paid full price," noted Kringe. "They said, 'Well, here's a cheque, Marcel. I want one.'"
At tradeshows, farmers lined up at Kringe's booth because they heard about Bushel Plus and wanted to save money with better sampling and a functional monitor. They kept writing those cheques in full, too. Kringe was stunned. "That's how I was able to get the company going—the trust of the farmers," he said. "That's why I'm so passionate about making it right for the customer."
The Bushel Plus SmartPan System is as simple as it is accurate. With an install time of approximately two seconds—no, that's not a typo—the drop pan is attached near the rear axle, feeder house or the header with two ultra-strong permanent magnets. No wires, no brackets; just a self-contained unit with a rechargeable battery and handheld remote for easy and safe dropping.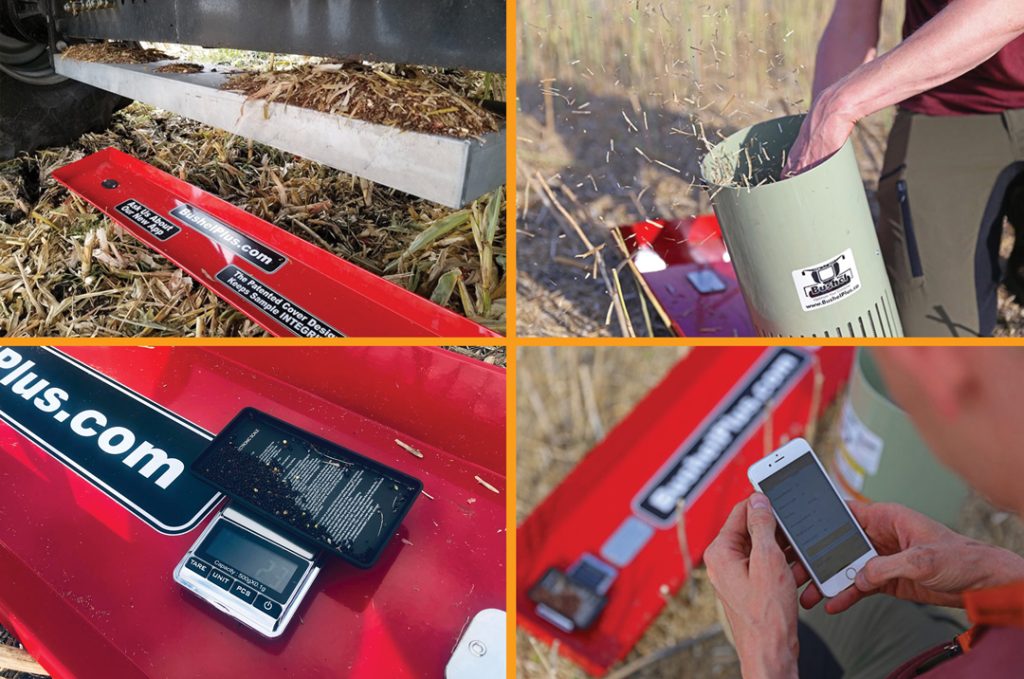 When an operator is combining and ready to test a field, they simply press the button to drop the pan, which disengages from the main carrier piece. An important feature is that no kernels or chaff fall into the pan prior to release, so farmers get a clean sample.
From there, a farmer uses an air separator for 30 seconds to remove any chaff and straw and then weighs the product for grain loss. The SmartDrop app then calculates the loss based on your combine, crop and header size.
"It's a grain loss management system," said Kringe. "It's quantifying the actual grain loss and calibrating the loss sensor, so you can trust your loss monitor in the cab. It's a calibration device to learn more about your combine's capabilities."
It's not just farmers in the 33 countries Kringe exports to who have caught on to Bushel Plus. All major OEMs now integrate the Bushel Plus SmartPan System into their R&D combine tests, use it for demonstrations and even train dealers on how to use it and sell it to their customers. "That was a huge testimonial for us because this started in my basement, so this is really cool that these companies are using our stuff," he said. "We are the harvest optimization company where we continue to bring innovations to the Prairies to make farmers' lives easier and more profitable."
As part of its growing harvest lineup, last year Bushel Plus acquired Mad Concaves, easy-to-switch concaves that give farmers greater customization options with more efficient threshing at harvest.
BETTER ON-FARM GRAIN QUALITY ASSESSMENT
If the quality of harvested grain is lacking, the payday will likewise come up short. 
The questions of quality and grain grading frustrated Kyle Folk enough to start Ground Truth Ag, a brand new agtech company developing an upgrade to an outdated process that he suggests has largely been the same since 1912 when the Canada Grain Act became law.
Folk is experienced in the development of agtech and harvest solutions. Ground Truth Ag is Folk's second company. He founded IntraGrain Technologies, which marketed Bin-Sense monitoring cables to read temperature and moisture levels. That company was later acquired by Calian Agriculture. Today, he focuses on grain before it even gets to the bin.
Growing up, Folk saw first-hand how inconsistent sampling and quality determination played out on his family's farm at Holdfast, SK. "This has become one of those parts of agriculture that is just accepted," said Folk, adding that virtually all aspects of farming have been upgraded with various tech, but not quality determination.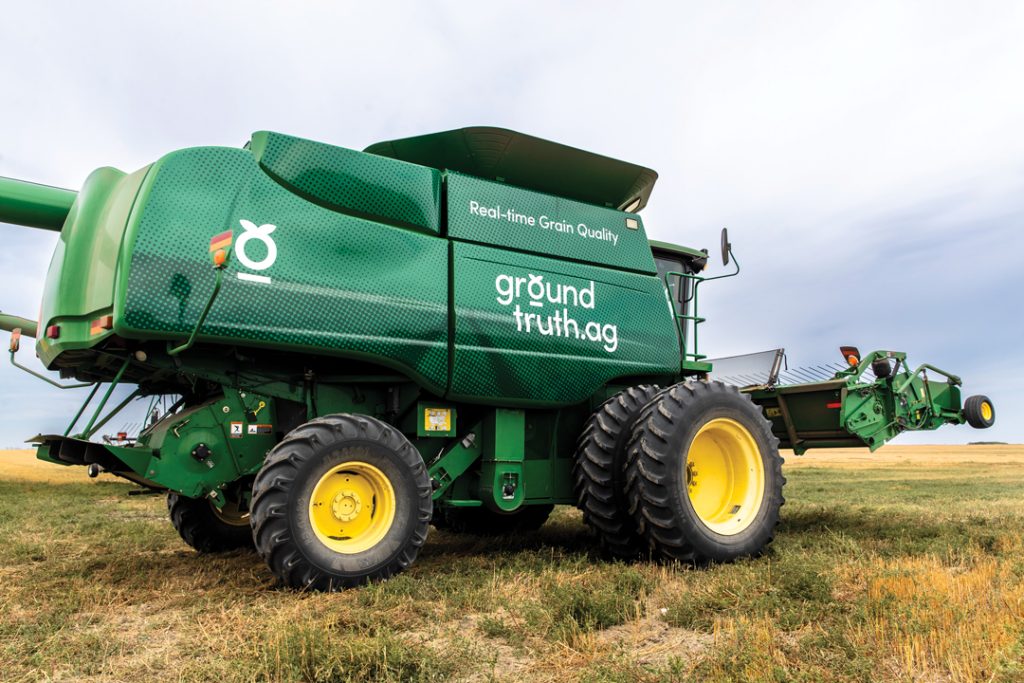 Folk said it's more than a bit antiquated to harvest thousands of acres yet only take a one-kilogram sample and consider it a true representation of a harvest area equivalent to 75-plus football fields. "Where is the precision in that?" he asked.
Ground Truth Ag touts itself as a digital harvest solution that will give farmers unheard of grain quality assessment in real time. Now at the prototype stage, it is straightforward tech with huge upside. 
If a farmer is combining CWRS, a mounted unit would continuously pull grain samples through itself. The kernels will pass by a machine vision camera and near-infrared spectrometer. This device will alert a farmer to Fusarium damage and other quality issues. From there, a farmer can determine whether, for instance, a load of harvested grain should be segregated from other clean, higher-grade wheat. Such information also gives the farmer confidence in their own quality assessment prior to delivery of the product. Gathering this information in the field rather than entering the marketing process on a best guess will change everything, asserted Folk.
"When a farmer is unloading their grain out of the truck to put it in the bin, they're taking a scoop every once in a while, maybe a couple scoops per truckload, if they're doing a good job" he said. "Think of that sample set versus if you were scanning the grain even, let's just say, every minute on the combine. You would get a lot of information. All of it would be correlated to GPS locations and provide in-field maps, which could be tied back to precision ag inputs."
This is where the tech really shines. With geo-referenced data points, farmers could overlay various maps—fertilizer, variable rate and yield—overtop of typical field maps to help with winter seeding or spring seeding the following year. "Everybody refers to yield and bushels per acre, but we'd like to say, 'How about quality per acre?'" said Folk.
Many have put their trust in Folk and his team. Recently, Ground Truth Ag closed a round of private capital fundraising and secured $4 million on top of an initial $700,000 from family and friends. The 16-person company continues to prototype its product in two Saskatchewan farm fields.
As the technology proves itself, the company will move into additional crops beyond CWRS, said Folk. In the near term, he and his staff will hit the tradeshow circuit to speak with farmers and manufacturers.
THE WHEAT FROM THE CHAFF
Most farmers don't want to deal with chaff. This harvest byproduct often holds little use for farmers who do not own livestock. Eldon Obach has spent a lifetime in ag machinery sales and well understands this. Since 2018, his company Feed Works has marketed an Australian designed chaff cart under the Canadian name Boomerang. The 33-foot-long, 11-foot-wide cart is billed as a means to lower feed costs and reduce weed pressure.
He built his first chaff cart in 2019 and now manufactures the carts with minor modifications. Chaff mixed with straw, or straff, is a welcome feed ingredient, and the chaff cart may serve as a practical solution for farmers who raise cattle and look to save on feed. The mixture is highly nutritious, with pea chaff topping the list, followed by barley, oat, wheat and canola. Chaff yield is also tied to crop type. Wheat, followed by canola, are the top two producers. Obach estimated a bushel of CWRS nets 20 to 25 pounds of chaff while canola sits around 15 pounds.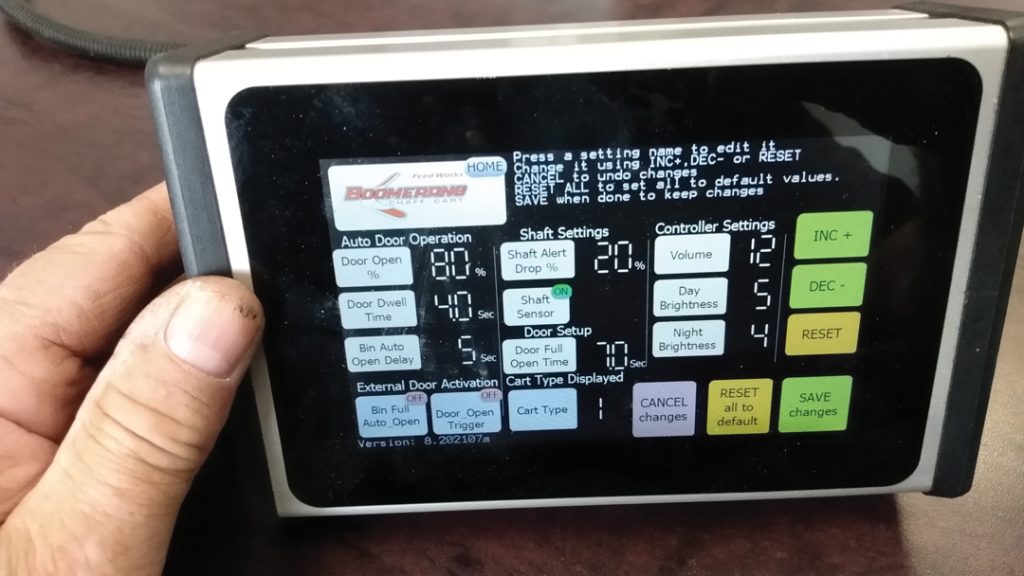 In addition, Obach believes the chaff cart, which has a capacity of about 600 cubic feet, is particularly valuable because most combines are rotary style and not conventional. "A rotary [combine] is far more aggressive on the straw," he said. "There's more chaff from a rotary combine because it has bits of straw in with it. The straw content in rotary straw puts enough structure into the chaff so that we can bale it."
That alone was a game changer for Obach. He thinks farmers will see the benefit, especially since moving it is now much easier. "The biggest challenge with chaff has been how do you move it?" he said. "It's small, fine and light. If you can bale it, your transportation costs decrease dramatically. You can include more chaff in a ration than you would straw, because it's got more nutrition in it, so you don't need as much of your higher quality feed to mix with it."
The cart itself is a simple add-on that can be towed directly behind a combine. The cart is essentially a swather, canvas-style conveyor that fills the cart and elevates chaff into it. Once full, the operator presses a button to open the tailgate, then gravity dumps the chaff onto the ground. The user can make the heap as tall, short, shallow or long as desired.
"We can control the shape of the heap as we unload," he said. "A typical cart was designed to just drop it in a lump, which is fine for collecting, but not fine for grazing. Our control panel gives you the ability to regulate how high you open the door and how long you hold it open."
For a short, tall pile, the door is open at 100 per cent for two seconds. If a farmer wants it grazed, a 50 per cent open for seven seconds delivers a nice, long windrow, which can also be baled later. "It depends what you want to do with it; if you can stretch that pile out, the cattle will make better use of it," said Obach.
Having livestock graze the chaff is beneficial for additional reasons. An average 70 to 80 per cent of weed seeds will not be viable after passing through a cow; for lamb and goats, it's close to 100 per cent, he said. Obach points out that if a farmer first ammoniates the chaff, it ensures virtually zero survival rate for the seeds.
"If you treat it with anhydrous ammonia, you increase the feed value of the chaff by breaking down the fibre so it's more digestible, and you also destroy the ability of anything in it to germinate." This sort of tool is on the radar for farmers dealing with, or expecting to deal with, resistant weeds, he added.
The implement could also prove to be a valuable tool for farmers who do not raise livestock if a means to turn chaff into fuel is developed. Obach intends to explore this idea. "Right now, it's still just a nuisance," he said. "You're not going to get livestock just to process your chaff, but if you could dry your grain or heat your farm, I think you'll have a lot more uptake. The light will go on when we can close that loop."