NEWLY EQUIPPED
BY GEOFF GEDDES • AIR MISSILE PHOTO COURTESY OF GO TECHNOLOGIES
From new grain aeration technology to green energy equipment, our annual gear roundup features devices and equipment aimed to make farming faster, safer, greener and more efficient.
ROCKET SCIENCE
The use of standard in-bin aeration systems can lead to uneven moisture content as drying occurs. When a moisture cap forms in the upper portion of the grain, this may necessitate rotation. 
GO Technologies of Kitscoty has developed a solution. The Air Missile in-bin vertical tube drying system redirects airflow towards the top of the bin through an eight-foot vertical tube eight inches in diameter. In tandem with existing bin aeration systems, it forces moisture up and out of the bin. The grain dries faster and more evenly, which lengthens its storage life.
"The faster drying means farmers can save on power costs," said Scott Pratt, GO Technologies electrical manager. The Air Missile also eliminates the labour required to rotate the grain and reduces carbon dioxide emissions, he added.
Marketed by Thunderstruck Ag Equipment of Winkler, MB, the system can also be purchased directly from GO Technologies.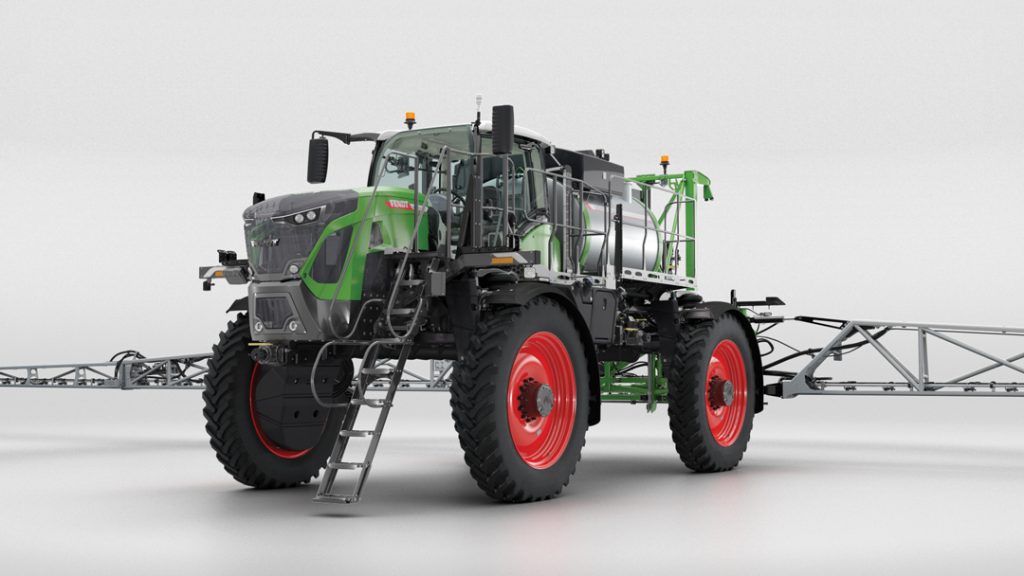 ONWARD AND UPWARD
The Rogator 900 Series Applicator from AGCO is a self-propelled, rear-mounted boom applicator with one-button adjustable height.
"One of the greatest selling points for this technology is its flexibility," said Bob Blakely, AGCO public relations manager. "For example, the high clearance model automatically raises to 76 inches of clearance in 45 seconds." It can be used for late-season dry or liquid application while minimizing damage to mature crops. For on-road travel, the applicator returns to standard clearance of 50 to 60 inches.
The liquid system can be switched out for a dry spinner or pneumatic system with less than two hours of work time. "Having that ability to use one machine for applying liquid or dry products is really valuable, said Blakely. "Even though we released this model less than a year ago, it has already won awards for innovation."
The applicator is available at Fendt dealerships across the Prairies.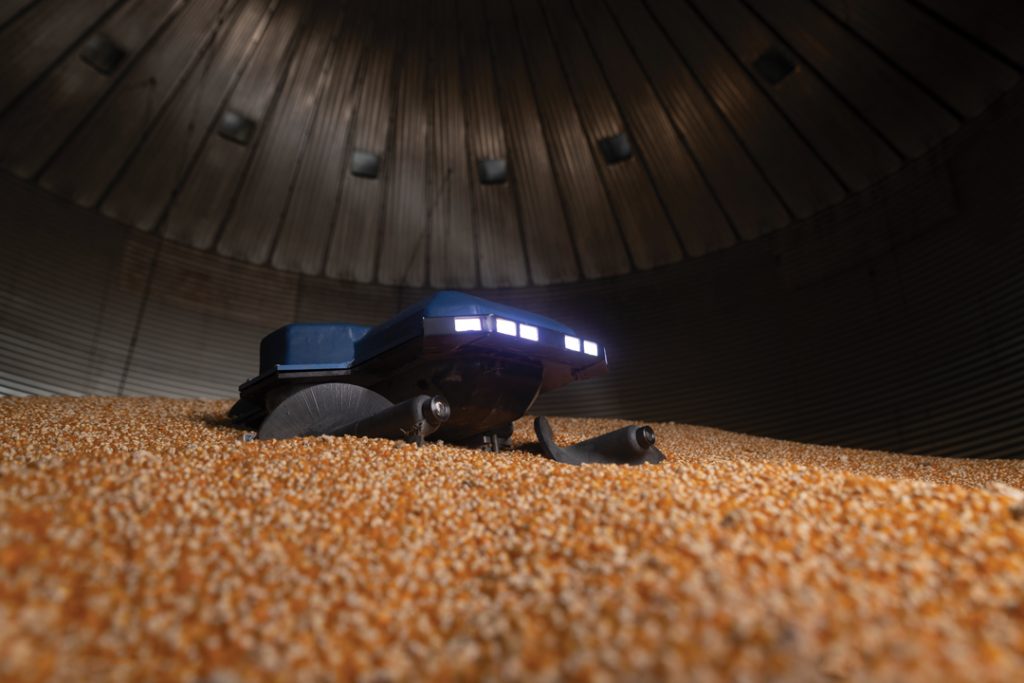 BIN BEETLE

Inspired by a farmer friend who suggested they build a robot to handle in-bin grain tasks, the Aurora, Neb., engineering duo of Chad and Ben Johnson created the Grain Weevil.
Unlike its namesake insect, this plucky device is a welcome assistant that levels the grain so the farmer doesn't have to. This eliminates the immediate danger of entrapment and the long-term impact of lung damage from grain dust.
The robot weighs about 14 kilograms and looks like a waffle iron propelled by two augers. The Grain Weevil scurries over the surface of the grain, spreads it out as it goes into the bin and breaks up clumps. As grain is removed from the bin, it knocks down grain that is piled against the bin wall. As the last of the grain gets to the bottom of the bin, its surface is level and can be accessed and cleaned out with a sweep auger.
"By doing the dangerous jobs that can be risky for humans, the device keeps you safe and relieves you of nasty chores like shovelling and levelling the bin," said Ben Johnson, the company's chief innovation officer and Chad's son.
Now in the development and safety certification process, Chad and Ben hope to make the device available for sale across North America in the near future.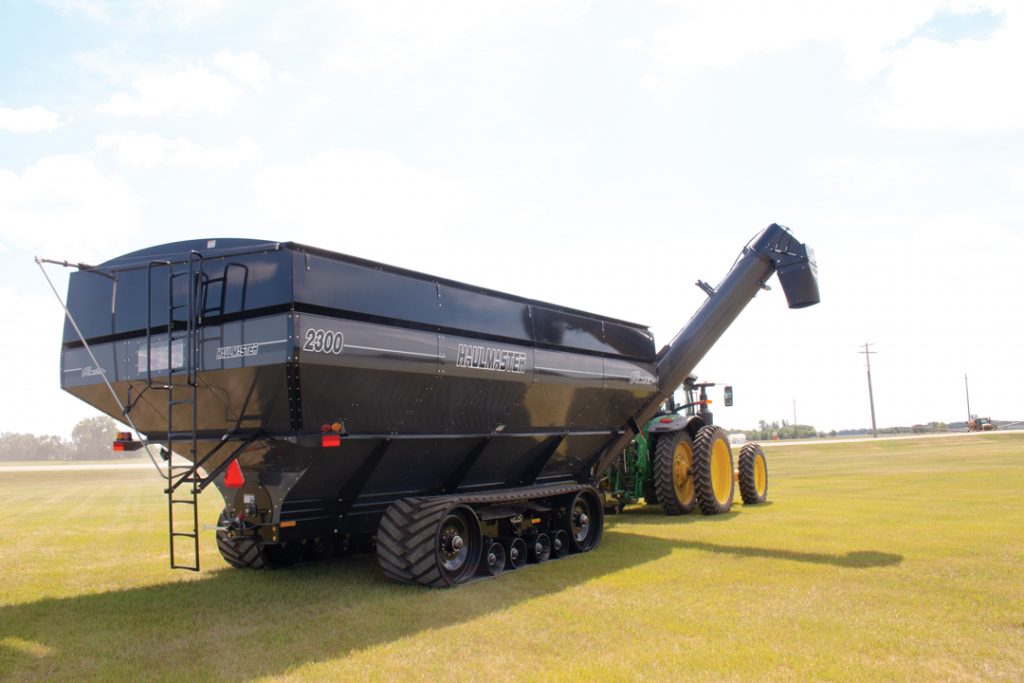 QUITE THE HAUL
To harvest high-volume crops, the Haulmaster 2300 grain cart has 13 per cent more carrying capacity than its predecessor, the Haulmaster 2000. However, it does feature all the previous standard features of the earlier version, said Benjamin Johnson, sales co-ordinator for Elmer's Manufacturing of Altona, MB. These include direct-drive Powermaster gearbox, which boosts driveline efficiency. "The cart also has a bolt-together design, so if a panel gets scratched or backed into, you can easily replace the damaged panel with a new one." The user can also keep an eye on the grain level through windows positioned at the front and rear of the cart.
Until recently, Elmer's was the only manufacturer to offer the option of left-hand or right-hand auger discharge. "Because your hydraulic controls are on the right side, we found there was far less operator fatigue when the auger discharge is on that side as well," said Johnson.
"With the 2000 model, if you had high yielding oats or canola, there might not be sufficient capacity to fill a super-B. The 2300 will take enough to fill that truck, while also being operator friendly and low maintenance."
The cart is now available through various Western canadian implement dealerships.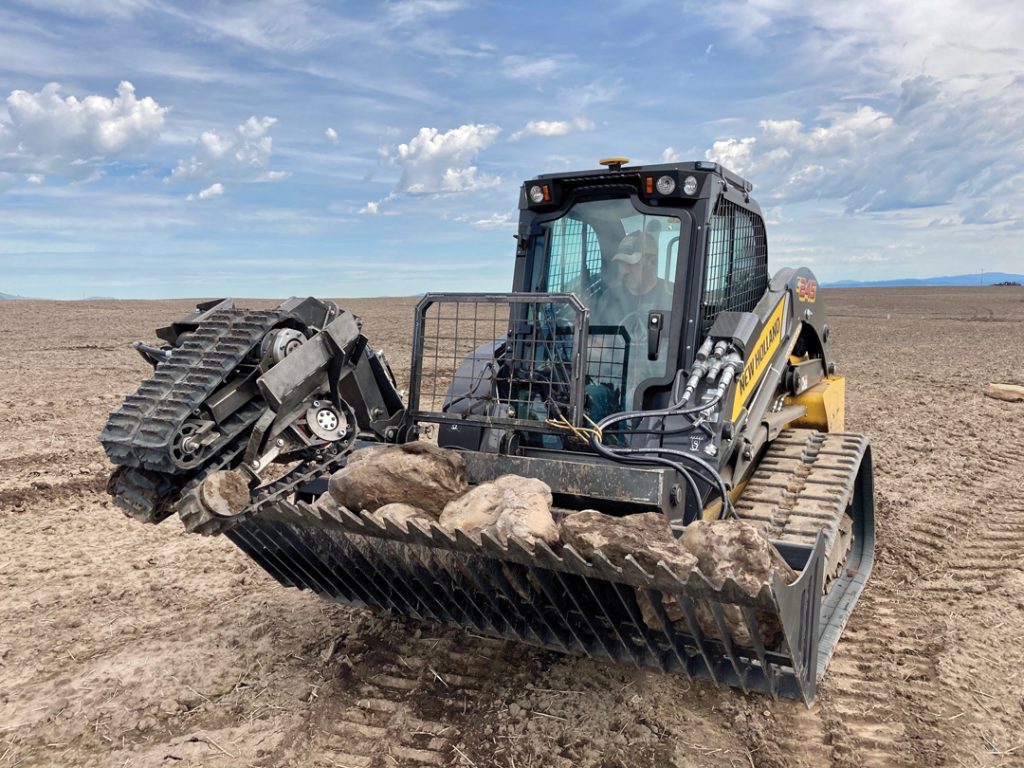 PICK A ROCK, ANY ROCK
Rock removal is a tedious and time-consuming chore. To make the job easier and more efficient, a Bellevue, Wash., tech company developed an entirely new system that can pluck 400 per hour and works well in any field conditions. 
The technology easily attaches to a compact track loader or tractor loader and works well for surface and partially buried rocks from 15 to 60 centimetres in diameter.
The rock picker's arm is outfitted with a "hand" that utilizes wheeled tracks to pull the rock into its grip and into the loader bucket. Its grip expands or contracts as necessary and moves the rock with minimum soil disruption. "It grabs rocks from the top down and tosses them into an 80-inch wide bucket using controls that anyone can operate," said Trevor Thomson, TerraClear president. 
The device widens the picking window. "It doesn't rake your field like other rock picking solutions, so you can pick whenever you need, even after seeding or planting," said Thomson.
TerraClear also offers a drone field mapping service users can access through its app. The process pinpoints rocks by chosen size and charts pickup progress. "Mapping allows users to find rocks in a wide area or prioritize the largest rocks where necessary," said Thomson.
The unit is available for online purchase at terraclear.com or through select local dealers.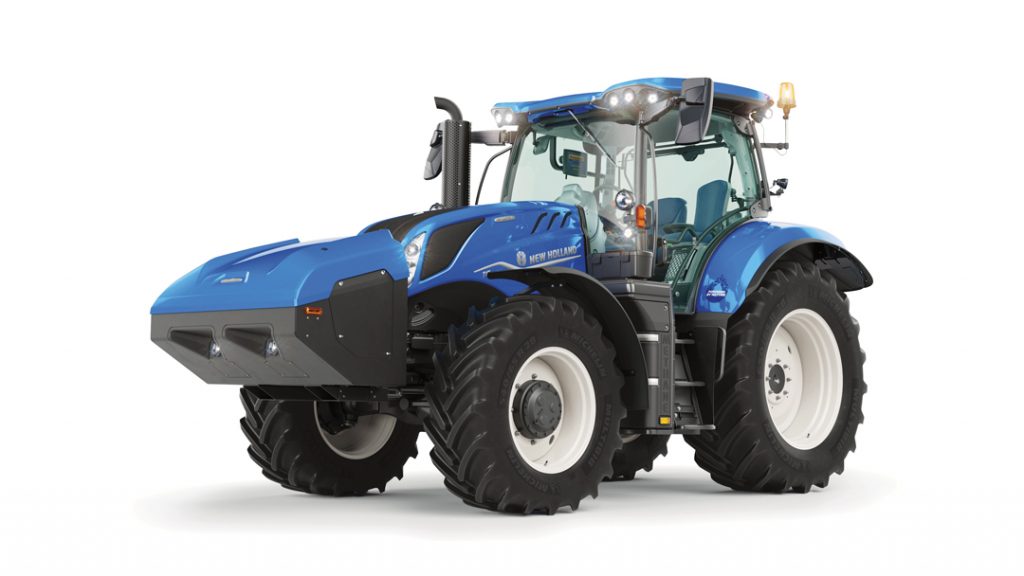 METHANE ON THE MOVE
With the aim of greening the planet and farm wallets, New Holland Agriculture developed the T6.180 Methane Power Tractor.
"The T6.180 operates on either methane or compressed natural gas (CNG)," said Mike Cornman, livestock and dairy segment lead for New Holland Agriculture North America. "According to our tests, that lowers running costs by about 30 per cent when using CNG rather than diesel." A farmer with an on-farm biodigester can even produce biomethane to power the machine.
The tractor has 16 forward gears and 16 reverse gears. Its semi-power shift transmission allows the driver to shift two or more gears without clutching, which makes it ideal for shifting on the go.
"Livestock and dairy farms are a natural fit for the tractor given its size and the increasing availability of methane gas from on-farm digestors," said Cornman. It is well suited for haying applications or as a chore tractor on a TMR mixer for feeding cattle."
Early in 2023, the tractor will be available for purchase in limited quantities at Alberta New Holland dealerships.