HELP WANTED
BY TREVOR BACQUE  •  PHOTOS BY SERGEI BELSKI
Despite above-average wages and rewarding work environments, the trades sector has long suffered the undeserved reputation as a last chance career choice. This inaccurate perception has hindered intake within the uniquely niche designation of agricultural mechanic. As a result, the ag sector is reckoning with scarcity of these skilled workers. 
The North American Equipment Dealers Association (NAEDA) represents 4,000 dealers across Canada and the United States. This includes 400 in Western Canada, which alone is down about 1,000 Red Seal ag mechanics. Eastern Canada and the U.S. are staring down the same grim predicament. For the last number of years Canadian agriculture experienced a simple labour shortage, but the situation has changed.
"When you talk to producers, they'd say, 'I just need a body, I just need a body.' Now, it's not just a labour shortage, there's a skill shortage. The people we do have don't have the skills required for the jobs that we need to fill," said Jade Reeve, manager of the agri-jobs and agri-skills program at the Canadian Agricultural Human Resources Council (CAHRC) in Ottawa, ON.

Reeve explained there are ongoing shortages in trucking, trades, managerial and general labour positions.
Ag-focused technical expertise is harder to come by and Reeve said there are instances of farmers receiving technical support from providers overseas because no one is available locally. Certain trades are resorting to extreme measures to attract talent. In Ontario, for instance, the need for electricians is so great the provincial government has committed to provide free training and paid apprenticeships. "Nothing comes free in life unless it's desperate," said Reeve. She also pointed to negative perceptions that persist despite increased salaries for many positions, including ag mechanics. "We need to do more."
Another recruitment hurdle industry faces, shops are almost always situated in rural areas; a drawback for some. However, farm consolidation has been the main factor, said John Schmeiser, president of NAEDA Canada. "That was a good draw for us," said Schmeiser of farm kids. He noted rural talent continues to shrink. "A big pool of our employees has gotten smaller and smaller, decade after decade."
He first heard about labour shortages 25 years ago when a frustrated dealer member could not find a quality service technician. A quarter century later, Schmeiser does not believe the situation has remedied itself. The industry has done a poor recruitment job with high school students, especially in cities.
"You have to be visible with high school students about the potential that exists in our industry," he said. "Ag has done so well in the last 10 years with growth and sophistication, but if you're not front and centre all the time, something else is going to capture their attention. We've made incredible inroads here and we're seeing some success and participation, but we still have more work to do."
In an attempt to stem the scarcity of mechanics, NAEDA—when it was simply the Western Equipment Dealers Association—created endowments with Olds College, SaskPoly, Parkland College and Assiniboine Community College. In turn, the institutions have given out more than $1.5 million to students $1,000 at a time since 1999. In 1997, Schmeiser's organization established the Canada Equipment Dealers Foundation—a registered charity that provides scholarships to current and potential dealership employees to boost retention. The American version, the Western Equipment Dealers Foundation, launched in 2016 and has doled out 100 scholarships to date to current or prospective employees.
On the dealership side, Schmeiser said in Western Canada alone, more than $1 billion has been invested in new dealership facilities over the last five years. The new dealerships have added state of the art service shops that have provided greater tools, training and pay. The government of Alberta's 2019 Wage and Salary Survey noted the average ag mechanic earned $38.92 per hour and the highest five per cent reported an average wage of $57.95 per hour. According to a NAEDA 2020 survey, the average shop rate in Canada was $140 per hour while the average ag mechanic earned about $45 per hour. "It's not uncommon with bonuses and overtime to be over $100,000," said Schmeiser. He noted certain sectors still offer greater pay, but this trade offers "more stable employment." 
NAEDA has also been instrumental in the establishment of dual credit programs within school divisions. It first launched in Saskatchewan's Sun West School Division after the investment of more than $600,000 and 10 years of work, which was followed by Alberta's Chinook's Edge School Division. Schmeiser said Manitoba and Ontario will jointly roll out together in 2022-23. Both were delayed due to COVID-19.
The training consists of 40 hours of online learning, 40 hours in a dealership and 10 hours at a post-secondary in an ag mechanic bootcamp. All those hours are applied directly against a student's four-year apprenticeship.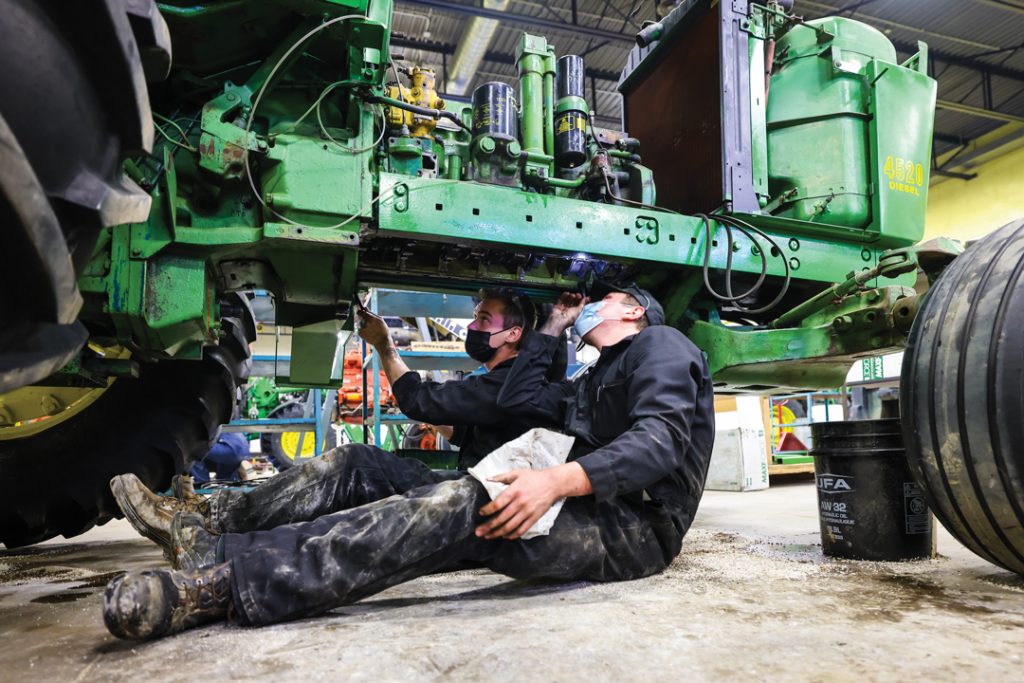 The program, which began in 2017, had a goal to attract 20 students, said Schmeiser. "The first year we got over 100," he said. "Now we've expanded. There's a Grade 11 portion and a Grade 12 portion."
Due to the program's success, specifically in Saskatchewan, Schmeiser said NAEDA is inching closer to having its curriculum in every single high school in that province. He concedes, though, that interest is predominant in rural school districts, which simply can't fill the 1,000 vacancies open today.
Schmeiser makes it abundantly clear those advising students of career paths must change the conversation. "I've been very disappointed in guidance counsellors and how they look at trades in general," he said. "There's no doubt about that—trades aren't valued by guidance counsellors. If guidance counsellors want to move the smartest people into university programs, they're not moving them into trades. Guidance counsellors want to view our industries as grease monkeys pulling wrenches. That is not the case anymore."
To his point the mechanic world is high tech, he cites that John Deere employs more software engineers than Apple and the latest tractors employ more code than the Columbia space shuttle.
Dan Daley agrees with Schmeiser. He knows the program at Olds College, where he's the dean of the school of trades and skills, is not for students who scrape by. "Trades is not a pathway for people with C and D grades," he said firmly. "The math, the physics, the science that has evolved in this training of new technology, you need to be that person that has those subject areas well understood. Just talking about how a CANBUS system works on a tractor, you need to know the physics of electricity and you need to know the math to figure that out."
He said the College's certificate and diploma programs continue to see steady enrolment and students in those programs are "heavily recruited" by employers. "Most students, first- and second-year, have a job by the time they leave in April. If they want to work, they have a job." He adds that students in the apprenticeship program are nearly all employed before and after their technical training is completed.
Aside from technical ability, employers now require communication skills. Emphasis is placed on customer interaction.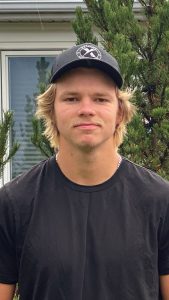 A 20-year-old Acme area student with a farming background, Aidan Miller is going through the diploma program at Olds College. He is mechanically inclined and said he was forced to "get good at fixing things" because, as his father Mike always said, he was inclined to break them. He plans to return to the farm once he finishes his schooling with the ultimate intent to succeed as a farmer. The biggest upside to his program is the practical application, he said. "There aren't many other programs, hands-on 50 per cent of the time, working on equipment," he said. "It's pretty unique. I really enjoy it."
His favourite course so far has been overhaul class, in which he and a classmate took apart a John Deere 7250R tractor and entirely rebuilt it. For Miller, it was like being in a real shop. "It was six hours a day, it was like you were going to work," he said. "You're learning so much when you're physically taking it apart." Another part of his schooling he enjoyed, Miller made phone calls to actual dealerships, ordered parts and interacted with their staff. 
Dane MacDonald took his schooling and ran with it. The 35-year-old worked at a dealership for six years and now operates his own business in Elrose, SK. It's a job where someone in his region can earn more than a teacher within three years. He admits he has done a lot of on-the-job learning in the 10 years he has owned his shop. "Nobody is a master straight off the start. The first time I really had a project of my own, I failed at it," he said with a laugh and added his first service call in the field didn't go so well, either. "Somebody else had to finish the job. Again, I learned a lot."
His company, 4/44 Services, takes on a wide range of work. MacDonald enjoys the variety of machines that come into his shop where he, wife Nadine, three full-time and three part-time mechanics all work together.
MacDonald said when he launched his business he received many calls from potential customers excited to see an independent shop in their area. "They seemed to hit us up quite frequently," he said. "There was more work than I had anticipated."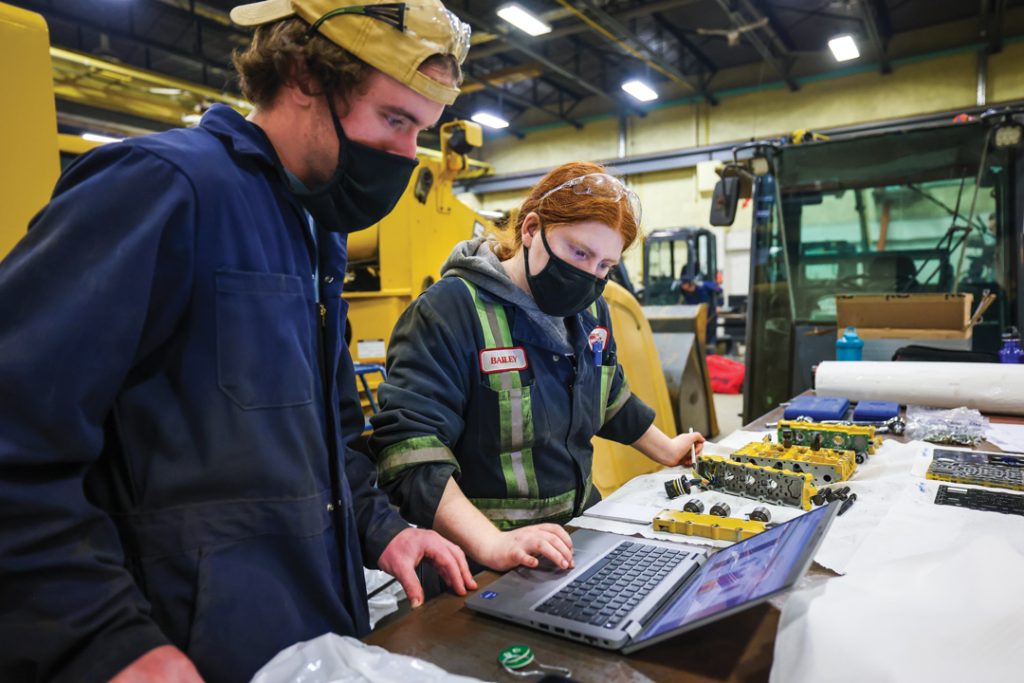 While he and his crew can confidently work on a wide variety of machinery, this gives area farmers confidence in their equipment purchases. "They feel more confident purchasing something they know they can have serviced regardless of make or model," he said.
MacDonald encourages young people unsure of a career path—and mechanically and technologically inclined—to consider it a viable career path. "I don't think you are going to find a better paying job where it's different almost every day, where you can work inside in the winter, where you can work outside in different locations in the summertime. It's very interesting," he said. "For me, it's been most satisfying to find and repair problems. Whether it's a noise in a transmission, a wiring or hydraulic problem, you can't see it but you have to fix it. It's the most satisfying when you do fix it."
Best of all, MacDonald said the job comes with lots of opportunities for growth and positive challenges that demand critical thought. "There are a lot of things to understand," he said. "There is good training available for all of it."
Owing to MacDonald's entrepreneurial spirit, he spend less time these days on the tools and more time in the management seat. It's often a natural progression of being a business owner, but he is glad to develop a new skillset and work to make his business more efficient.
And that's the big takeaway from Schmeiser's perspective. The opportunities for ag mechanics are endless. Often, many go on to long, successful, fulfilling and lucrative careers. "It's in high demand," he said. "The salaries have come up substantially, workplaces have improved substantially; these are really exciting times for an industry that is growing.
"We have a world population that is growing and our manufacturers are coming up with sophisticated tech and customers are taking advantage of that. It's not a dying industry, it's an expanding industry."
Similarly, Daley at Olds College said the position of ag mechanic could not be more different today from what it was 40 years ago when he was a student. "They are now a very highly trained, specialized person that can make this as big as they want," he said. "The world is your oyster in ag right now. You can take this and run with it, become a specialist; you can have life balance, great wages, a great place to work. Young people need to be made aware of that. It's not the greasy coverall guy working in a shop anymore. It's a great world to
work in."