PLAY IT SAFE
BY IAN DOIG • PHOTOS COURTESY OF BASF CANADA
Some kids run around in Disney princess or superhero costumes. The Nagy children prefer safety vests. Last year, while having no luck hunting for child-sized safety apparel online, their dad, Codie, who farms near Ogema, Saskatchewan, found the BASF Safety Scouts program and requested two of its family-friendly toolkits. Among each kit's contents is an adjustable, CSA Z96-15 compliant child's safety vest.
The kits are intended to use playtime to instil a lifelong appreciation for agricultural safety and set children up to act as safety ambassadors on their farms. With his five-year-old son Declan already very active around the farmstead and his two-year-old daughter Hadlee starting to follow suit, Codie appreciates the program's safety focus. Declan worked through the kit's assigned activities and colouring sheets and enthusiastically wears his vest and name badge. His sister happily scribbled on the papers, and though it's yet way too big for her, she follows her brother's example and likewise patrols the farm in her vest.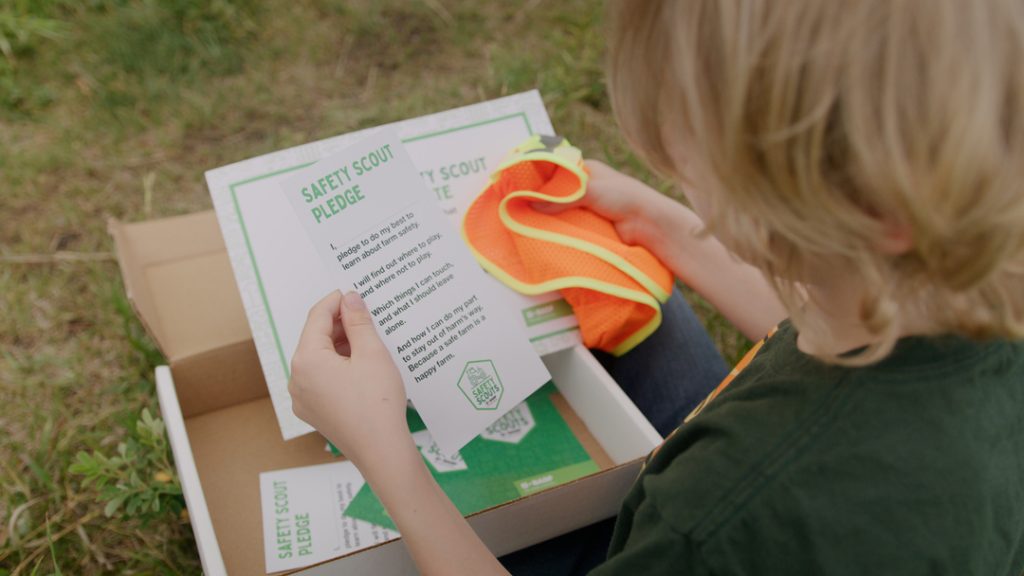 "It's fun and interactive for the kids, so it's not a hassle to get them to do it," said Codie. "Whenever you're talking safety in any sense with kids, it's a good idea. I would absolutely recommend the kits."
"The earlier you can establish that safety-first mindset, the better impact you're going to have in helping to reduce serious injuries or even a fatality on the farm," said Nicole McAuley, head of communications and public affairs, Agricultural Solutions Canada at BASF. The company is active in a range of farm safety initiatives that includes sponsorship of the Canadian Agricultural Safety Association (CASA) and its Kids Safety Hub. The two organizations are partners in the Safety Scouts program, which was initiated when the pandemic shut down classroom and other in-person safety events. "We thought let's create a safety program that is meaningful that gets kids really engaged and involved on a personal level," said McAuley.
The colouring and spot-the-hazard activity sheets ask kids to identify places that are safe to play and they can learn to recite the Safety Scouts pledge. McAuley hopes the program will inspire kids to ask questions, have meaningful family conversations and take a leadership role in regards to on-farm safety. "That kind of behaviour is contagious. They will inspire others to behave similarly," said McAuley.
Kids and parents can also tag @BASFAgSolutions on Twitter using the hashtag #BASFSafetyScouts to share their safety activities and ideas.
Demand for the free kits outstripped supply when the Safety Scouts program was launched in 2021. This spring, BASF will distribute 2,000 more across the country. They are designed for kids from three to seven, and the adjustable vests can fit children as old as nine or 10.
For further details and to request a BASF Safety Scouts kit, visit BASF | Our Stories – Safety Scouts. For information about CASA, visit casa-acsa.ca/en/resources/for-kids/.