A WORLD OF NEW IDEAS
BY JENNIFER BARBER • PHOTOS BY DEAN JOHNSON
PHOTO BY DEAN JOHNSON
Amanda Hardman believes the amount of plastic packaging used in the produce aisles of her local grocery store is unsustainable. As a solution, the second-year sustainable agriculture student at the University of Alberta developed a prototype clamshell package made of sugarcane fibre and intended to transport lettuce. Initially a 4-H Canada Science Fair project, it earned her a spot at the Bayer Youth Ag Summit 2021. "People are looking for packaging options other than plastics as it has either been banned in some places or discouraged in others," said Hardman.
Held in various countries every two years since 2013, the latest event was held online Nov. 16-17, and welcomed 100 delegates between the ages 18 and 25 from 44 countries. Summit applicants responded to an online questionnaire in which they spelled out why they hoped to attend. They also provided a three-minute pitch video that detailed how their projects fit the event's theme: feeding a hungry planet. Selection juries in each participating nation included agriculture industry representatives, university professors and journalists who provided feedback on individual submissions.
"We never have a shortage of motivated, passionate young leaders looking to pursue change," said Komie Hossini of Bayer Canada. "Often it's not the idea itself that matters, it's their willingness to find new solutions."
"Presenting my idea at the Youth Ag Summit provided me with an opportunity to learn how I can make it better, and also introduced me to people who have their own ideas about sustainability in food production," said Hardman. "I have a very Alberta–Canada-centric view on the issues in our industry, so it was very interesting to think about the more global problems."
Hardman's packaging project is designed transport produce securely and reduce the amount of non-biodegradable waste in food systems. She researched various plastics alternatives but ultimately settled on a prototype made from sugarcane fibre sprayed with cellular nanocrystals derived from wood pulp. She created her prototype with the use of equipment supplied by Alberta Innovates.
Hardman and Emily Robb of Brandon, MB, were the two Canadians selected to attend the Summit. Robb's project is a hydroponic management system that manipulates the fertilizer needs of leafy greens to sustainably increase yield.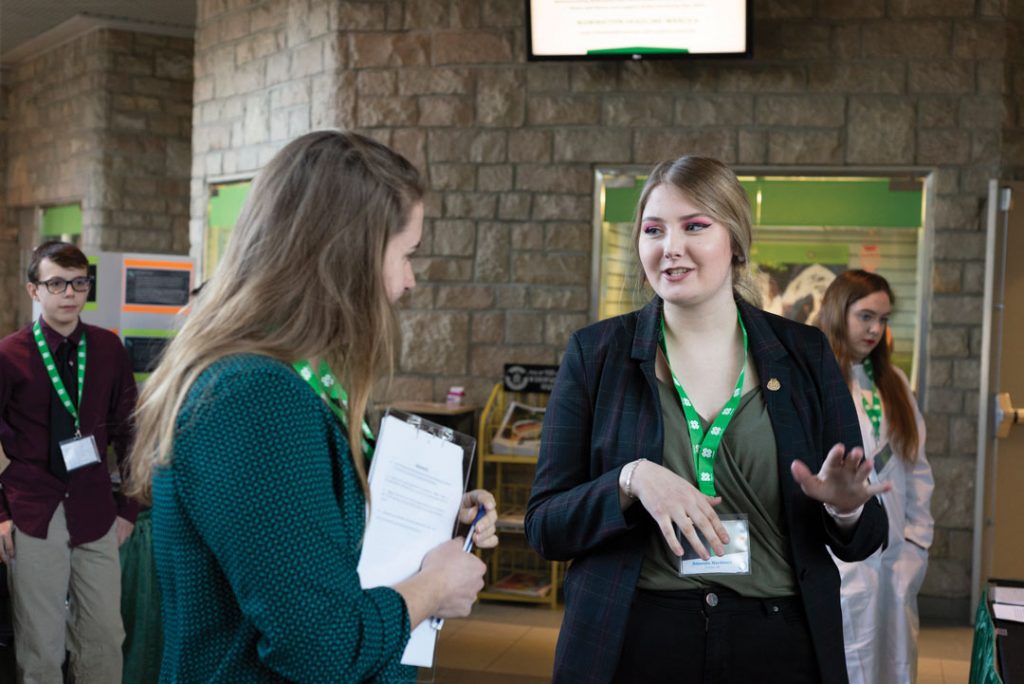 Following the Summit, all delegates participate in a 10-week Youth Ag Summit University co-presented by Bayer, the United Nation's Sustainable Development Solutions Network and technology company Babele. In this business accelerator program, participants learn how to take new agriculture concepts to market. Each will pitch their revamped product or marketing approach to a panel of experts.
The Bayer Foundation provides funding in the form of seed money to one Summit participant annually to further explore the development and marketing of their idea. "Our global team continues to be committed to supporting youth in agriculture," said Hossini. 
While Hardman was not sure her packaging concept is ready to be marketed, she was open to everything the Summit had to offer. "It was focused on collaboration and spreading ideas to different parts of the globe, which was a good thing for me to consider," she said. "It pushed me to think about how other countries could use what I'm working on. My idea might not work as food packaging in some countries the way I originally intended, but there could be an adaptation to what I'm doing that could be useful elsewhere."