MEDICINE HAT BREWERY MAKES HISTORY
PHOTO FROM THE COLLECTION OF THE ESPLANADE ARTS AND HERITAGE CENTRE
The story of the Medicine Hat Brewing Company began 30 years after the city's founding in 1883.
Businessman Charles Drazan of Palouce, Wash., founded the brewery around 1913 situated on the city's Industrial Avenue. It produced lagers, ales and stouts until 1928 with a short break around 1915 when prohibition shut down Alberta's alcohol industry. More than a century after its launch, the Vancuren family adopted the Medicine Hat Brewing Company name in 2016.
Longtime oil and gas professionals Warren and Kathey Vancuren and their sons Kaiden and Brennan rode the province's ongoing craft beer wave, pairing their brewing facility with a restaurant and taproom. With Kaiden handling manufacturing and distribution and Brennan, a Red Seal chef, overseeing the restaurant, the family also hired decorated industry veteran Mitch Dalrymple as brewmaster.
While the original wood and brick brewery location was gutted by fire in 1975, the new brewery is located in the Briar Park industrial area. The location may be newfangled, but the beverage lineup is directly inspired by the brewery's antique namesake and the wider history of Medicine Hat. Among the most popular of these historically themed brews are Canadian Brewing Award winners Twin City Lager, Brick and Mortar Porter and Gentlemen's Stout, the latter of which also won an Alberta Beer Award.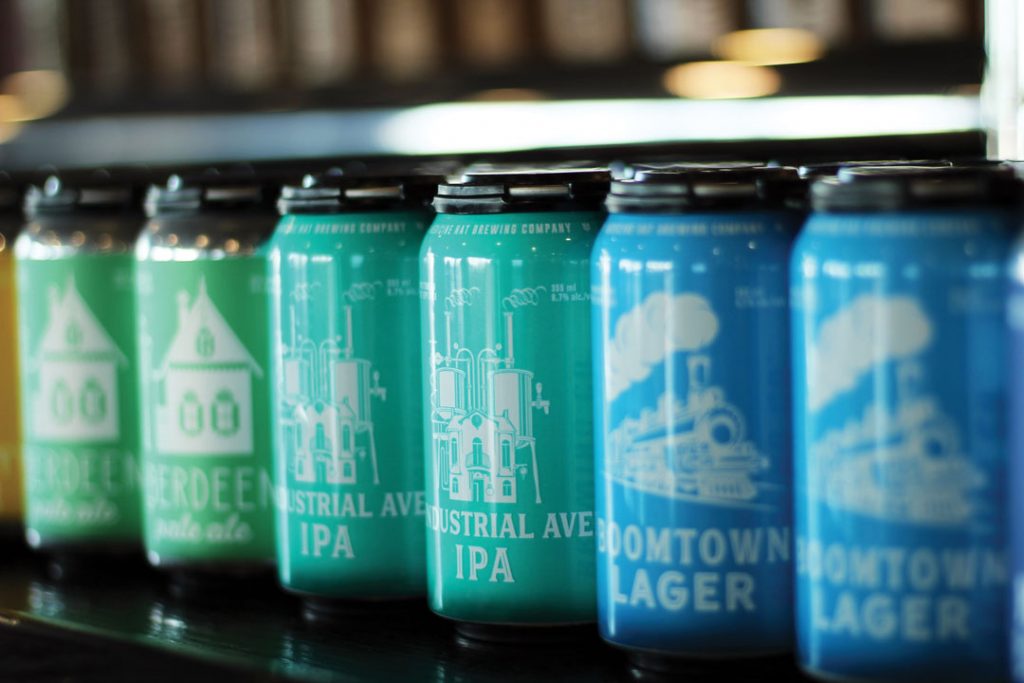 The majority of the brewery's labels are named and illustrated in tribute to historic locations such as Industrial Ave IPA. Others reflect infamous events. These include Hatfield Blonde Ale, so dubbed for amateur rainmaker Charles Hatfield who, in 1912, released a cloud of chemicals from a specially constructed tower. Whether or not the weather wizard was responsible, a downpour followed. Similarly, a new beer for fall, Sternwheeler Session Ale commemorates the 1915 sinking of a local riverboat in the South Saskatchewan River next to the Finlay Bridge.
The brewery also recently collaborated with Valley Brewing of Drumheller to create Reaper of Death Double New England IPA, a beverage with suitably hoppy bite, which takes its name from a piece of local history 79.5 million years in the making.
A new species of Tyrannosaurus rex found in the Bow River valley west of Medicine Hat by ranchers Sandra and John De Groot may have been up to eight metres long and sported the dino family's signature massive hind legs, tiny forearms and headful of razor-sharp teeth. The partial fossilized jaws of the Thanatotheristes degrootorum are now in the collection of the Royal Tyrrell Museum.
"We love the Medicine Hat community and spreading its history through beer," said Kaiden Vancuren.