IN CASE OF FIRE
BY IAN DOIG • PHOTOS COURTESY OF SEAN STANFORD
Jody Wacowich, executive director of AgSafe Alberta, expects dry conditions may be the norm in the near future, which makes fire safety and awareness a priority on the province's farms. "That's something we have to plan for" she said. "At this time of year, we don't have that green grass growing yet. Everything is dry and combustible. The wind picks up a spark and a fire can go for miles before anyone can do anything about it."
A FIERY SPRING
These conditions fuelled a number of grass fires across Alberta's rural municipalities in late March and early April. Among the most serious, a 5,000-sq.-hectare fire near Carmangay prompted the evacuation of the village on March 28. West of Cochrane in Rocky View County an April 1 blaze necessitated the closure of Highway 1A and the evacuation of the Wildcat Hills Gas Extraction Plant, a gas bar and two homes.
Alberta Wheat Commission region one representative Gary Stanford farms near Magrath, and could see the smoke from another fire that burned across the Blood Reserve. It started from the town of Standoff and burned toward Lethbridge. Passing a few kilometres from Stanford's home, it consumed two houses. While grass fires can destroy buildings, fences and equipment, they can also have additional, lingering impacts, said Stanford. Fire can undo the effects of direct seeding practices used to build organic matter and prevent erosion that can accompany southern Alberta's strong winds.
"In southern Alberta, we don't have a lot of topsoil," said Stanford. "Behind the fire, the dirt was blowing away and filling the ditches. When your topsoil blows away, you don't get a very good crop for two or three years until you can get some of that soil built back up again with organic matter." He found this was the case when a mid-winter grass fire traversed land he previously rented on the reserve and consumed the straw cover. Stanford employed a ripper to create soil lumps big enough to hold the fine topsoil in place, but this also made spring seeding difficult.
All this to say there's a lot at stake in the event of fire, and fire preparedness is essential. Stanford, like many of his neighbours, is very fire aware. He and many others have older farm trucks outfitted with water tanks. Most also have discers or cultivators on hand with which to build fire guards on short notice.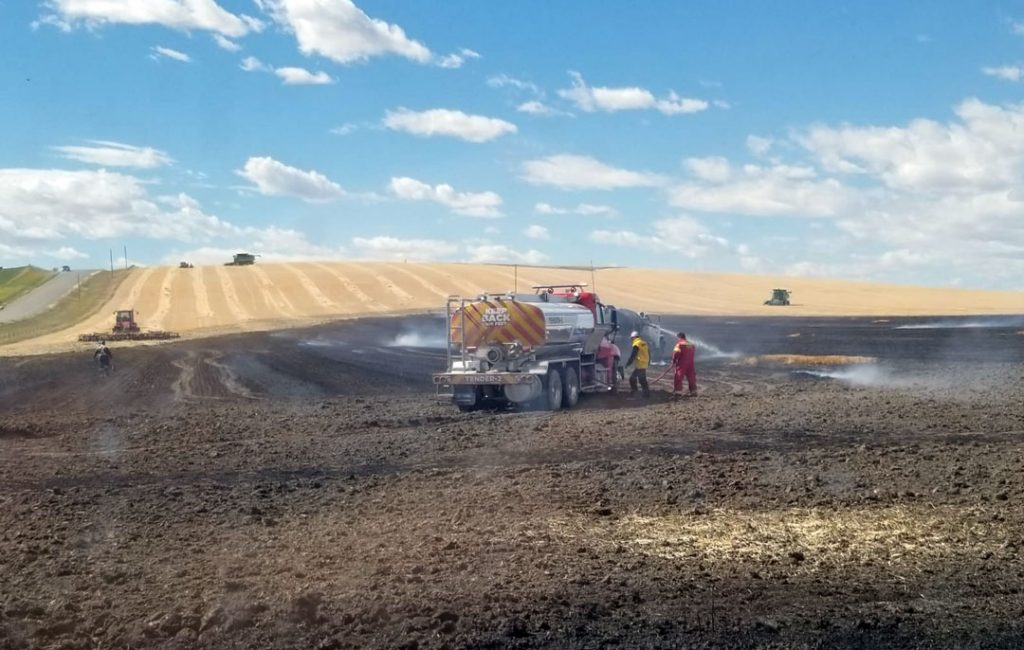 THE VALUE OF VOLUNTEERS
Stanford's son Sean is a member of the Magrath volunteer fire department, which patrolled the east side of the Saint Mary River to ensure the Blood fire didn't jump the water. Additional units of Cardston County's five volunteer forces tackled the fire directly. Sean, who is an Alberta Barley region one director, takes evident pride in the preparedness of these fire teams. "We have played this game quite a few times, so we know what we're doing," he said. In recent years, the Cardston departments have been trained to the same standard as urban fire fighters—a two-year certification commitment. "It's made a big difference for us in what we're capable of doing and in our confidence level," said Sean.
Cardston County Emergency Services fire chief Danny Melvin stressed that volunteer fire departments are critical to the safety of county residents. "Retaining volunteers and getting new ones is sometimes labour intensive, but we've got a good core group. They're very engaged, hands-on and eager and willing to help." He admits some are what you might call adrenaline junkies, but all are motived by the desire to safely and appropriately protect their communities.
A paramedic who lives in Cardston, Melvin said rural volunteer firefighters come from all walks of life and include town and county employees, business owners and professionals. The county's training officers oversee volunteer training in accordance with National Fire Protection Association standards and the province provides further training. Volunteers are expected to attend twice-monthly meetings and occasional weekend training events. Melvin also notes a lot of practical ideas and information are exchanged among volunteer forces and town and county administrators across the province.
Firefighters require equipment, and Cardston County maintains a fleet of vehicles that includes wildland fire trucks designed to battle grass fires. It also keeps two water trucks and a large pumper truck as well as strategically placed portable water tanks that can be quickly transported to the scene of a fire and function as on-scene reservoirs. "We've got very good equipment," said Melvin. He gives credit to local elected officials who he said understand and support the equipment requirements of firefighters.
Using the 911 dispatch based in Lethbridge, volunteers also respond to Active 911, a cell phone service that alerts them and can track their ETA to the scene of the fire. They also carry radios, which operate on the radio system the five departments uniformly adopted six years ago.
KNOWLEDGE AND PREPARATION
For their part, most county residents are diligent about following fire safety regulations and adhering to the permit process when burning materials, said Melvin. However, he also noted area fire fighters have recently contained two blazes that damaged buildings. While one was a permitted burn that unfortunately reignited after four days, the other was a burning barrel fire that was non-compliant with bylaws. On average, Cardston departments respond to just over 100 calls annually, including structural and wildland fires as well as motor vehicle collisions.
Mapping the route to a fire remains an ongoing challenge on vast rural lands. Melvin encourages landowners to know their legal land description. "With legal land locations or their blue signs, we can interpret those and get to the location as quickly and efficiently as possible."
AgSafe's Wacowich recommends all farmers put an emergency plan in place. This includes making a list of information that will help fire fighters if they need to visit the property. For example, it could note the locations of buildings in which chemicals are stored and of local water bodies that may be endangered by fire-fighting runoff from a chemical blaze. She also suggested conducting a fire drill. Though this sounds awkward, she said, it needn't be a grade-school type of fire drill. "It can be sitting around a coffee table and saying 'OK, if we have a fire, who's going to do what and where are we going to go?'" As well, if fire breaks out, is there a notification process in place in case the farmer is away from the farm? How will livestock be removed and where will the animals go? As well as keeping a water truck and discers at the ready, and/or establishing which neighbours can be called upon to lend such equipment, she also recommends keeping farmyards free of debris and mowing high grass that may increase the risk of fire.
"You put that thought into it, then everybody is ready when it happens," said Wacowich.
As part of a farm's fire safety routine, fire extinguishers should be checked monthly, receive a full maintenance check every six years and be replaced every 12. Wacowich suggested that when the extinguishers are fully discharged at the six- and 12-year marks, farm team members can use this as an opportunity to practice with them.
To cover the cost of firefighting services that may take place on their property, farmers should ensure they are insured against fire and that the coverage is adequate. The provincial standard charge for fire response is $630 per hour per truck, which can add up quickly in the event of a large fire, said Melvin. The bill for services can come as a shock to the uninsured, but he noted insurance packages are typically very inexpensive.
While Melvin and Wacowich said being fire smart is largely about common sense, they stress a modest amount of planning and preparation will go a long way in an emergency.