LESS IS MORE
BY MELANIE EPP • PHOTO OF THE UNIVERSITY OF MANITOBA'S JOE ZHAOXIAN COURTESY OF MARTIN SCANLON
Led by University of Manitoba researcher Martin Scanlon, a nearly complete project aims to reduce the formation of potentially harmful acrylamide in wheat-based baked goods. This will be done through chemical analyses, bread quality evaluation and agronomic and genetic strategies. The project's main objective is to maintain Canadian wheat markets by assuring customers the crop meets safety and functionality requirements.
Acrylamide is a processing contaminant that forms when the naturally present free asparagine, an amino acid, and sugars interact during high temperature processing, such as frying, roasting and baking. The main contributors to acrylamide exposure are potato- and cereal-based products and coffee.
Since its 2002 discovery in potatoes processed under high heat, acrylamide has caused great concern. While there is no concrete proof acrylamide causes cancer in humans, it does so in rodents.
In early 2015, the European Food Safety Authority (EFSA) confirmed acrylamide in food is a carcinogenic substance and current levels of dietary exposure indicate a concern to human health.
As the European Union purchases Canadian wheat, addressing EFSA food safety concerns works to maintain this market and potential future markets that may make similar demands, said Scanlon.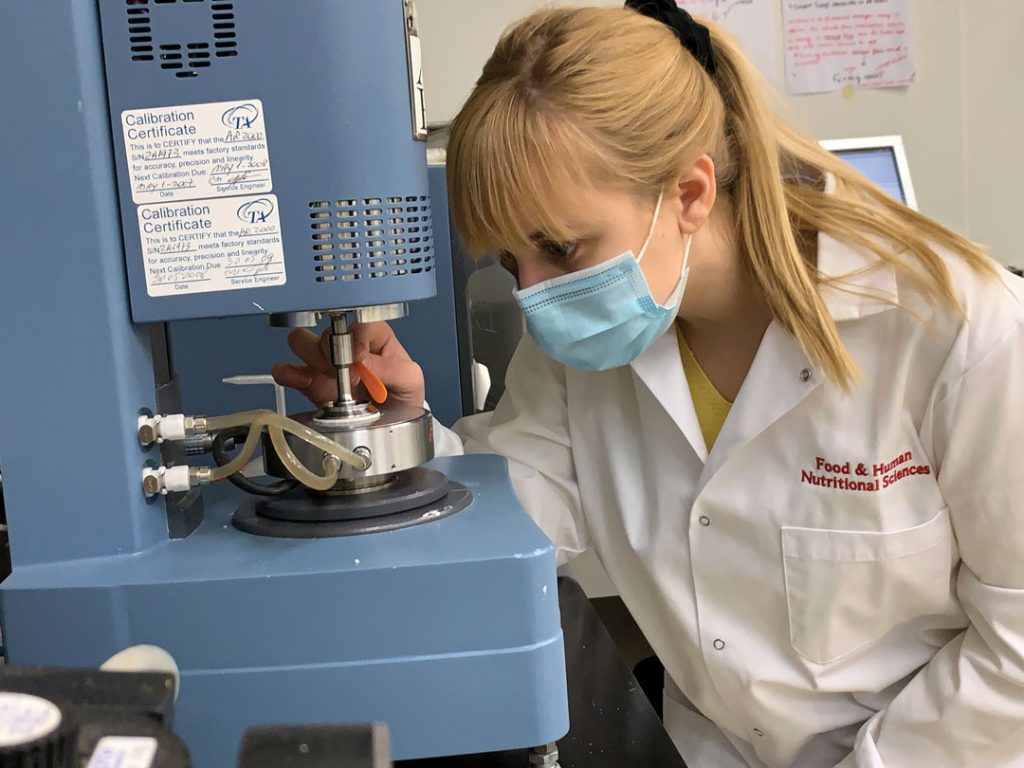 The project will evaluate the relationship between field practices and the development of asparagine in wheat. This will help researchers better understand how the development of asparagine translates into acrylamide formation in baked goods.
Researchers also evaluated the genetics of eight wheat varieties to determine which had the greatest tendency to produce asparagine. The aim was to identify which genes synthesize asparagine and which control enzymes that degrade it. "Because wheat plants can build it up, they can also break it down," said Scanlon. In collaboration with Agriculture and Agri-Food Canada (AAFC) in Swift Current, SK, this will focus breeding efforts on varieties that produce less asparagine.
As well, to determine the relationship between asparagine in wheat and acrylamide in bread, researchers are analyzing bread samples. The flour for these loaves was produced from eight spring wheat varieties grown under four fertilization regimes over three years at three Manitoba test plots sites.
Two bread batches are now being sampled for their acrylamide content. A third will be produced soon. The acrylamide analyses are being done in collaboration with AAFC in Winnipeg, MB.
Ag Action Manitoba, Alberta Wheat Commission (AWC), Manitoba Crop Alliance, SaskWheat, FP Genetics, SeCan and Warburton Foods provided funds for the project. This represents collaboration between farmers and end-users, said Lauren Comin, AWC and Alberta Barley director of research. Other key players include AAFC (chemical analyses), Paterson Grain (agronomy) and the Canadian International Grains Institute (bread baking).
"The development of varieties that satisfy niche markets may increase value to the farmer," said Comin. "Further, it is important to be proactive and understand the contribution of genetics and management to potential issues so we are able to respond quickly to future market requirements.
"It can take a decade to develop a variety, and years to learn the impacts of agronomic practices on traits. We need to anticipate the future."