SCALE UP
BY TREVOR BACQUE • ABOVE PHOTO COURTESY OF JENN WALKER
Research plots dot the Prairie landscape and provide farmers a glimpse of what may come from new crop varieties in yield, disease resistance, standability and more. About the size of a pickup truck and just as numerous across Alberta, these plots are an inescapable component of agricultural research. However, dimensions and conditions continually leave something to be desired. Highly manicured and cared for by research scientists in specialized environments, the plots don't simulate real life and that's a real problem for farmers who farm sections, not square centimetres.
At Alberta Barley, the idea to scale up was brought forth during a research committee meeting and subsequently pitched to the crop group's board of directors in 2019. The board approved the field-scale, on-farm research and a short time later the Alberta Wheat Commission (AWC) green-lit a similar project.
Now, the commissions' in-house agronomist, Jeremy Boychyn, is leading the charge to develop programming. As he plans for the inaugural year's trials in spring 2020, he is excited to run the experiments so farmers may judge their value and effectiveness on a field scale.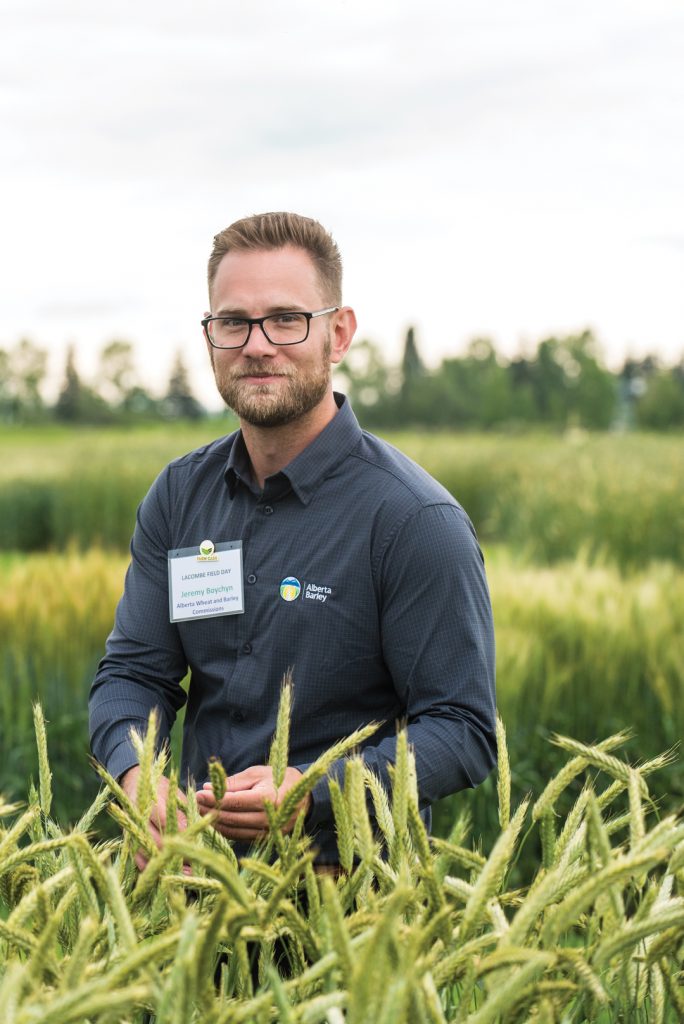 Jeremy Boychyn, Alberta wheat and barley agronomy research extension specialist, is excited to run the experiments so farmers may judge their value and effectiveness on a field scale. Photo by Rob McMorris.
A central goal is to create a network and system where farmers have the capacity to implement experimental protocols on their own farm, Boychyn explains. "It's not replacing existing research, it's helping to extend that research information to a point where farmers can see it and trial it."
Each Alberta crop group will support one participating farmer, allocating $10,000 to their first year of testing. Expecting good results, they will increase both the financial contribution and the number of participating farmers in years to come.
The nature of the projects will not be prescriptive, either. Instead, Boychyn will work with farmers to create projects that dovetail with their needs, eschewing the idea of working in a research vacuum. "Every farmer handles their logistics and agronomy differently. I want to keep this project malleable so we can make sure it aligns with farmers," he said.
Boychyn believes the initial projects will centre on seeding rates, general fertility and disease management. He also said fungicide application timing and agronomic stacking may be explored. Trials will range in size between 20 and 60 acres and trialling farmers will have initial access to results before they are made public.
Once the projects are chosen and ready to begin, a third party working with Boychyn will oversee seeding, harvest and anything that may arise in between with the express goal of making the process simple and straightforward. He said this is necessary since protocols must be followed verbatim to compile accurate year-over-year, multi-site data.
One group whose data collection is becoming more and more robust is the Manitoba Wheat and Barley Growers Association (MWBGA), which has on-farm research dating back four years. Its members already had a blueprint, too, since the Manitoba Pulse and Soybean Growers conducted on-farm research with its members prior to the MWBGA doing so. The overall goal for the MWBGA is no different than that of the Alberta commissions: help make its barley and wheat farmers more profitable through research that will provide real returns.
MWBGA research manager Lori-Ann Kaminski believes it is logical to take successful plot-size research and try it out for farmers' benefit at the field level. "The advantages of that are growers get an idea how things play out with their equipment and how they might incorporate a new way of doing things they're interested in," she said. Kaminski added that pencilling out economic benefits is also of critical importance.
Successful projects that Kaminski has overseen relate to plant growth regulators, nitrogen trials for high-yielding wheat varieties and fungicide timing. These themes may also be trialed in Alberta.
In MWBGA's first year of trials, its board committed $38,900 to field research. Today, the commitment is up to $95,000. In previous years, Kaminski has received grant funding to hire additional staff and pay for various project costs including mapping, statistical interpretation and, at times, extra inputs.
Each spring, Kaminski puts out an open call to farmers who may be interested in specific research in addition to targeting particular people. This year, 31 farmers participated in three projects across Manitoba.
Once the research is complete, Kaminski hosts a day for the data to be presented to the group's farmers who receive individualized reports on the findings. From there, Kaminski spins out a generalized document for the farm community at large.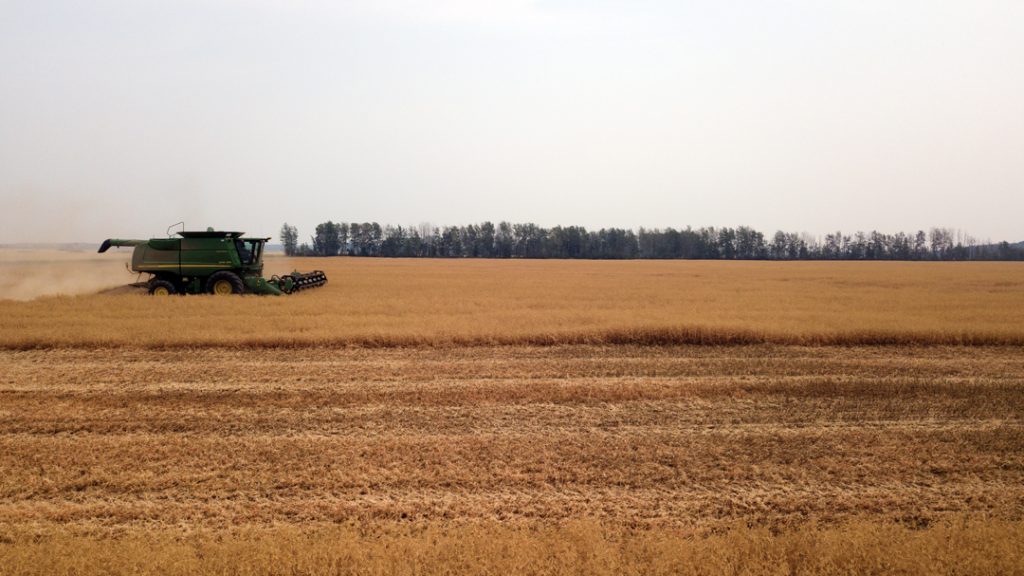 Field-scale projects currently being conducted include the study of phosphorus and fertilizer rates in peas and pea leaf weevil management. Photo courtesy of Jenn Walker.
One person thumbing through the early reports is Boris Michaleski, a grain farmer southwest of Dauphin, MB. He started working with the provincial soybean and pulse group in 2014 and partnered with Kaminski in 2017, all in the name of becoming more educated about agronomics and making his farmland as productive as possible.
"I'm always interested in learning what works and doesn't work," he said. "If you try something and find out it doesn't work … I don't deem that as a failure, it's good information to know." Michaleski believes determining whether a practice works or not is more practical at the strip test size than across his entire farm, consuming greater time and resources.
An aspect of the program he appreciates is the help from Kaminski's team during seeding, spraying and harvest, the busiest times on Michaleski's farm. "Many times, a producer might want to do a trial, but it's time consuming," he said. "Having this additional help to lay out the groundwork and collect the data really helps simplify and speed up the process."
Those same farm teams that conduct such trials also turn the data out into farmer-friendly results, a key feature praised by Michaleski. "You're looking at the raw data," he said. "It's third party neutral data. [The commissions] don't have a vested interest in selling a particular product. It's unbiased information."
Back in Alberta, another crop commission has also caught on to the novelty that is on-farm research. The Alberta Pulse Growers Commission (APG) is working with farmers now to provide field-level answers to questions that either plague its members or could simply help them improve agronomic practices.
Not long after work began in Manitoba, APG staff conducted a survey of farmers, scientists and extension specialists. The results showed them where investment should be focused and how to address gaps in knowledge.
"We knew that from close interaction with growers there's always been a bit of a disconnect between small-plot research and the farm," said Jenn Walker, APG research manager. So, in 2016, APG held a one-day event that brought together numerous researchers, from entomologists to agronomists as well as crop breeders and extension specialists, to pitch the field-scale research concept and discuss how it could function.
With plans in place that year, the first research was conducted on-farm in 2017 with nine farmers. The APG board believed it was a good idea, too, earmarking $2 million for the project. Walker confirms that money is so far "grossly underspent" due to the project's efficient nature. "When we started out, we started small," she said. "We had no idea where it would lead us, we just had this big dream and a roadmap."
After just one year, Walker saw the potential of this project. "It was huge, just the affirmation that we could do this," she said. "We can take 10 farmers with 10 unique pieces of equipment and build a replicated trial and actually use it in total. Any farmer … he can hand me his equipment list and I can build a test." APG had 10 sites in 2018—the project's second year—and 11 sites the next.
In a broader sense, the on-farm research trials allow for greater collaboration, as well. APG has partnered with other public scientists conducting their own research, explained Walker. These partnerships became a win-win for all involved.
This year marked the start of a partnership with research scientist Monika Gorzelak of Agriculture and Agri-Food Canada's (AAFC) Lethbridge Research and Development Centre to examine the impact of the activity of mycorrhiza and rhizobia bacteria on soil biology. In addition, fellow Saskatoon, SK, AAFC research scientist Meghan Vankosky has partnered with APG since 2018 to work on experiments related to pea leaf weevil. "There's a really cool synergy about the whole thing," said Walker, adding she is thrilled the idea has turned into a living laboratory.
With the wheat and barley research about to take off in the springtime here in Alberta, Boychyn is eager to supply farmers with the information they need and want. He is keenly aware that ideas may change and not every single one will translate to solutions across the province.
"Just because I develop a protocol doesn't mean it will align," he said. "We just want to make sure that when farm trials are being done, the data collected is reliable. I think it's needed. Farmers are looking for it and there's no better time to start than now."