MALTING BARLEY EMBODIES GENERATIONS OF SHARED PRIDE
BY IAN DOIG • PHOTOS BY BRYCE MEYER

In 2017, Wade and Scott McAllister realized their mutual dream of seeing a craft beer brewed exclusively using barley grown on their family farm. The fifth generation of McAllisters to work this land just northeast of Innisfail, the brothers share a farmyard with parents Sherri and Wayne. Wade and his wife Sabrina, who also grew up on a farm and operates her own ad agency, are raising two young daughters—Mia and Macy.
Raised on the farm, it was never in doubt the brothers would take up the family business, according to Wade. However, their father wisely suggested they work for someone else to appreciate the work world from the employee perspective rather than being their own bosses from day one.
While Scott became a journeyman millwright, Wade trained as a helicopter pilot, subsequently piloting many Arctic flight routes and helping with aerial firefighting. When an opportunity arose for the family to expand its farming operation, the two returned to the farm full time, though sooner than planned.
"It was the best thing we could've done," said Wade who is the Alberta Barley region three director-at-large. "It's a toss-up between what's cooler—farming or flying helicopters." Scott's mechanical expertise and Wade's skills in operating equipment and bookkeeping are natural assets. As the farm's CEO, Scott oversees operations, maintenance and seeding, with CFO Wade handling finances, marketing and spraying. Wade has also maintained his pilot training and suggests that one day he may use it to carry out spraying on the farm.
The key to working together with their father, said Wade, is open communication. The three maintain this on a daily basis using a chat group on their smartphones. "We talk about everything together," said Wade. "Nobody makes a decision unless we all talk about it."
As the sons have assumed control of farm operations, Wayne has confidently stepped into the role of employee and advisor. "My dad is amazing," said Wade. "He let us go and do our thing, but that comes with trust, and knowing he did a good job getting us to where we are."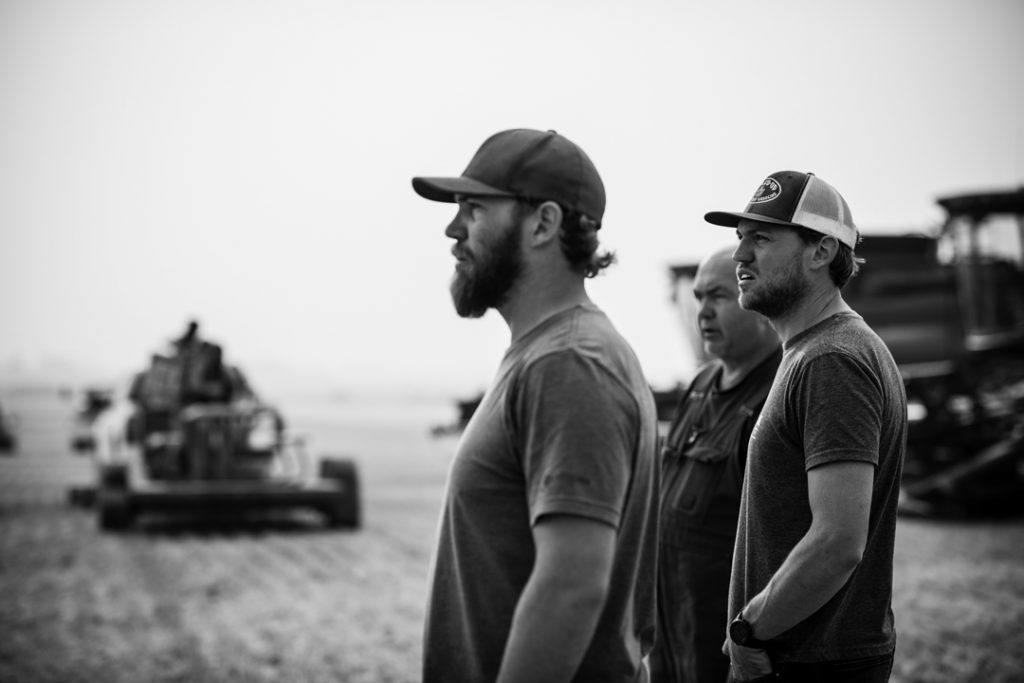 And where they are is producing some of the best malting barley in the world. Their grandfather Arthur had been a big barley farmer in the years the farm also incorporated a cattle herd, but Wayne decided to concentrate exclusively on grains in 2000. Scott and Wade have continued to grow wheat and canola but have made malting barley the farm's signature crop. They have also signed long-term contracts to supply several U.S. breweries including New Belgium Brewing Company. As well, their barley is used in Alberta brews. "It's fun," said Wade. "We know where our barley ends up."
In 2017, it ended up as the exclusive barley used to produce Tool Shed Brewing Company's Prairie Pride, a one-off brew that sold out almost immediately. "Scott and I have always wanted to do that," said Wade of being the sole barley supplier for the Tool Shed brew. In the details of the can's artwork, the McAllisters were credited among the Alberta-only contributors to the project.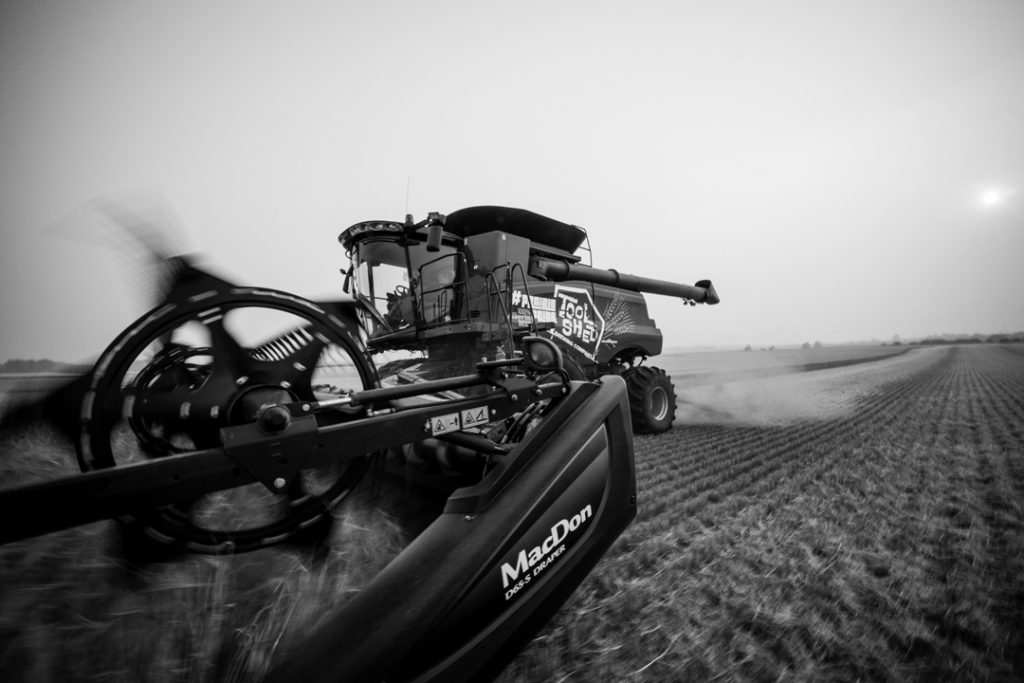 As an affirmation of five generations of sweat and commitment to farming, the symbolism of these handsome beverage cans was not lost on the family, especially grandfather McAllister. Now retired and living in Innisfail, Arthur continues to make frequent farm visits. Wade recalls him tearing up at the sight of the beer, appreciating just how far the farm has come and the opportunities that now lay ahead. Further drawing the connection between the brewer and the McAllister farm, Wade had one of the farm's combines decal-wrapped like a mobile Tool Shed billboard.
Knowing where and how the barley in their beer is grown is also of great importance to consumers of craft beer. "They want to see where everything's coming from," said Wade. "When we have that direct relationship with the end-user, that's pretty special. Prairie Pride was a good-tasting beer, but it was the story that sold it. People wanted to be a part of it."