ALBERTA-GROWN FOOD FINDER
Karen Anderson and book cover images courtesy of  Danielle Paetz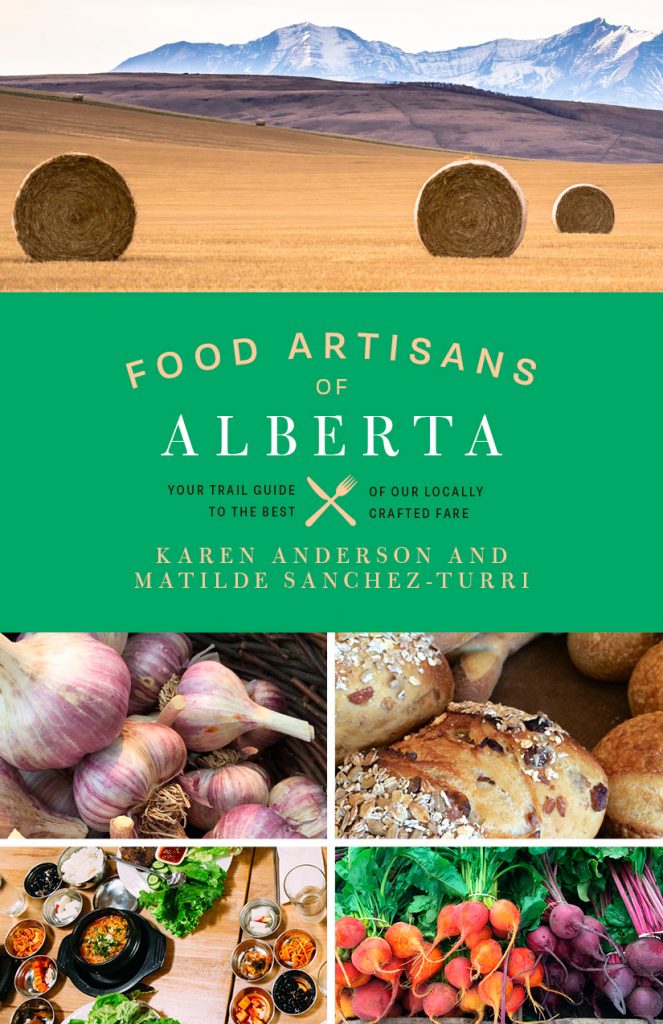 Alberta agricultural products have a global reputation for high quality. Naturally, residents and visitors alike increasingly want to taste dishes and drinks made with locally grown ingredients. Published by Touchwood Editions, Food Artisans of Alberta by Alberta Food Tours owner Karen Anderson and Matilde (Tilly) Sanchez-Turri is a substantial guide to food industry entrepreneurs on-farm and off, as well as farmers markets and watering holes. GrainsWest spoke to Anderson just prior to the book's release in Late June.
GrainsWest: You and your co-author conducted farm tours until 2014. How has the hunger for local farm products developed since then?
Karen Anderson: It used to sell out in minutes, but also by that time, Open Farm Days had started—this year, it's August 18 and 19—and long-table dinners in the countryside around Edmonton and Calgary became popular. It's a happily increasing trend that people want to connect with farmers. We still do a farmers market tour every week in Calgary from February to November and three times each summer in Edmonton.
GW: Why did you team up to write this book now?
KA: Touchwood Editions started with Don Genova on Vancouver Island. He had a CBC radio column about this and pitched the idea of turning it into a book. Food Artisans of Vancouver and the Gulf Islands did very well. Then they approached Jennifer Cockrall-King and she wrote Food Artisans of the Okanagan. She recommended that I would be a good person to do Alberta. I knew I couldn't do the whole province myself, so I asked Tilly to come onboard. She's a copywriter and editor raised by Spanish-Italian immigrant parents on a farm between Claresholm and Nanton. Food is part of her fabric.
GW: How would you describe our provincial food scene?
KA: The Alberta Culinary Tourism Alliance has been charged with increasing food tourism. Travel Alberta reports that there's $8 billion in tourism income and they're trying to raise that to $12 billion by 2020. Food tourism is a pillar of that growth. Alberta Culinary Tourism Alliance [established] Alberta's seven signature foods—beef, bison, canola, honey, Red Fife wheat, root vegetables and Saskatoon berries. We now weave that narrative into all of our tours.
A food traveller is someone who would travel across town or across the world to try something new. For our food travellers, we're really telling that story, because we want people to be able to articulate what it is you would go to Alberta to eat.
There are so many amazing grains here. You go to the Okanagan on wine tours, and I believe that people will travel here for craft beer and distillations made from our grains.
GW: How has Rocky Mountain and prairie regional cuisine evolved and how has the relationship between farmers, chefs and restaurateurs changed with it?
KA: Key players like Pat and Connie O'Connor who started the Canadian Rocky Mountain Resorts group hired a young chef named Alistair Barnes about 30 years ago. He's still their executive chef. Alistair came from the Jersey Isles where he grew up on game. He sat down with Pat and Connie and said 'We're in the Rocky Mountains, we're surrounded by game and it's not on our menu. What can we do about that?' The O'Connors were up for the challenge and they said 'Let's grow our own.' They really developed that pathway.
The number of bison and elk ranches has increased. Now the challenge is that bison has become a super food in the U.S., so rather than butchering that animal and marketing it, our ranchers can sell animals whole to the U.S. market for the same price. So, it will be challenging in coming years for chefs to get enough game meat even though we're growing lots of it here.
I was really delightfully surprised in my research to find a place like the Fairmont Banff Springs Hotel having relationships with about two dozen ranches and farms around southern Alberta. They are asking farmers to grow specific things for them and really upping the financial viability of those farms because of the amounts they're ordering.
I think there will be a lot more of that.
GW: How did you choose the farmers and food artisans featured in the book?
KA: We looked at Travel Alberta's six regional travel itineraries and the food producers in each of those regions and we looked for sustainable farming practices and models of success—where the next generation is on the farm working with their parents. We're hoping young farmers will pick up this book and see ways they could come back to the land.
When we chose younger people that have only been in business a short time, they had some innovation and we wanted to give them a leg up.
Then we looked for people who had skills like charcuterie making or salumieres (sausage and salami makers). Those people are keeping heritage food skills alive. Cooking schools are important to connect people to food. There are interesting cheese makers and vegetable growers in the province. Innisfail Growers is five farms that do all their processing, distribution and marketing collaboratively. We're looking at people that not only produce but also process, distribute and market.
GW: How important is it for Alberta consumers to know about how the province's farmers produce food?
KA: In a time where the economy is struggling in Alberta, this is a way to diversify and keep money in Alberta and support people. The growth in farmers markets in the last decade in Alberta is really astounding. It isn't greenwashing, there's real financial benefit.
And people are more powerful than they realize. A good case study is Spragg's Meats. They started with three pigs in Rosemary Alberta. It's been a decade, and now they're processing 2,000 free-range hogs a year and they built a 20,000 square-foot processing facility. They have a fulltime store on Macleod Trail in Calgary where they're also in numerous markets. They employ 18 people in the tiny hamlet of Rosemary.
GW: Grains play a big part in the artisan food scene. How are they represented in the book?
KA: People love their grains whether it's in vodka or good, local bread.
An Edmonton company—John and Cindy Schneider's Gold Forest Grains—grows heritage grains organically on 300 acres. Mark Gibeau of Heritage Harvest in Strathmore grows heritage grains including Red Fife wheat as does Bernie Ehnes of Back 40 Organics in Etzikom. Highwood Crossing in High River is also completely organic as is Sunny Boy in Camrose. What we found in writing the book, the bakeries we covered are sourcing flour chiefly from these sources because of how wonderfully fresh the milling of the grain is.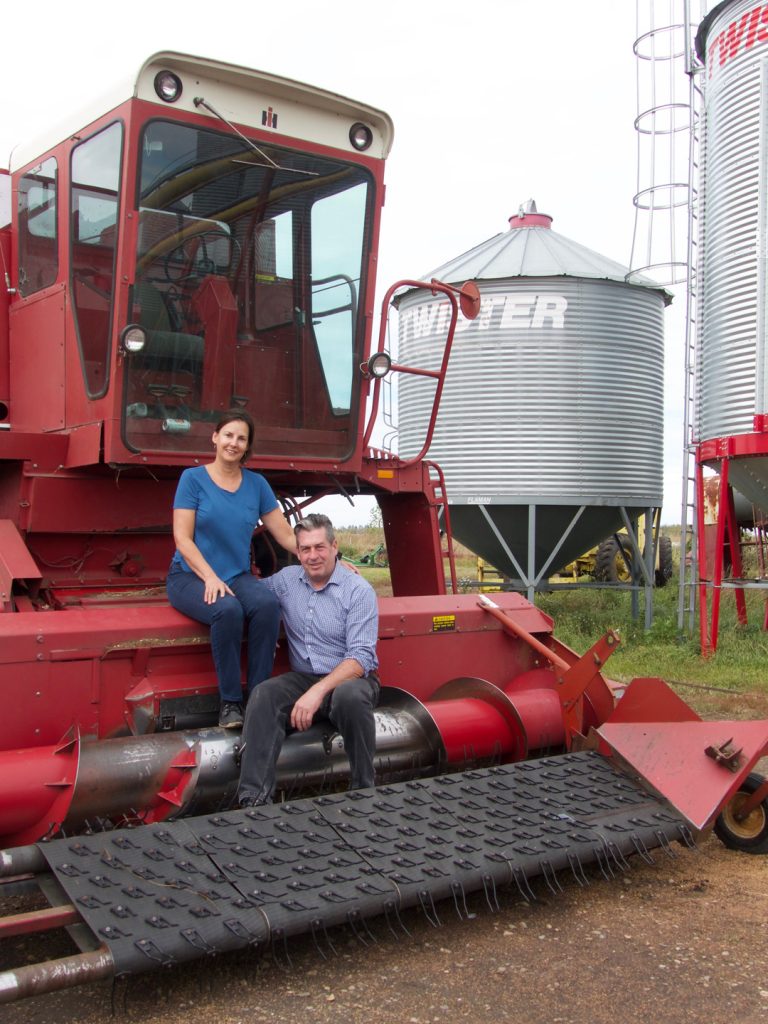 Cindy and John Schneider of Gold Forest Grains. Photo by Karen Anderson.
Park Distillery in Banff is working with a family east of Vulcan that grows Hard Red Spring Wheat specifically for their distillery. Again, it's adopting a farmer and insuring them an income in return for high-quality produce.
GW: Where is the book available?
KA: Food Artisans of Alberta is available at Audrey's Books in Edmonton, The Cookbook Co. Cooks in Calgary and online through Indigo Chapters and can also be purchased from many of the artisans featured in the book.