ORIGIN STORY
HOW AN ALBERTA FARM FAMILY BUILT THEIR OWN FIELD-TO-GLASS BARLEY BUSINESS
BY NATALIE NOBLE
On a sunny morning in the Origin Malting & Brewing taproom in Strathmore, co-owners Meleah Geeraert and her husband, Kyle, took an uncharacteristic break from what has been a crazy work schedule. Meleah is a fifth-generation member of the Hilton family whose farmstead is located just down the road. While she handles digital marketing, office management and taproom operations, he handles product development. They've overseen off-the-hook growth in sales following the outfitting and August 2017 launch of their business, which they carried out in record time. Invoking their "farm-kid work ethic," they manage the endless tasks commensurate with this undertaking while raising their two-year-old son, Easton, and a second child is on the way. They're overworked but clearly thrilled with their success thus far.
One of the province's few micro-maltsters, Origin embodies the field-to-glass philosophy so valued by Alberta's craft beer industry. It is also one of the first farm-diversification projects of its kind in Alberta.
"Our taproom is packed all of the time and people are really intrigued with what we're doing," Kyle said. "We've already reached the point where we have many regulars returning frequently." In fact, the place has become such a social hub, with its many long picnic tables seated to capacity most nights, that they haven't yet had to locate other means of distribution for their beer. Bestsellers include Full Sleeve IPA, Hybrid Theory kolsch and Legal Issues, a deeply delicious Scottish ale.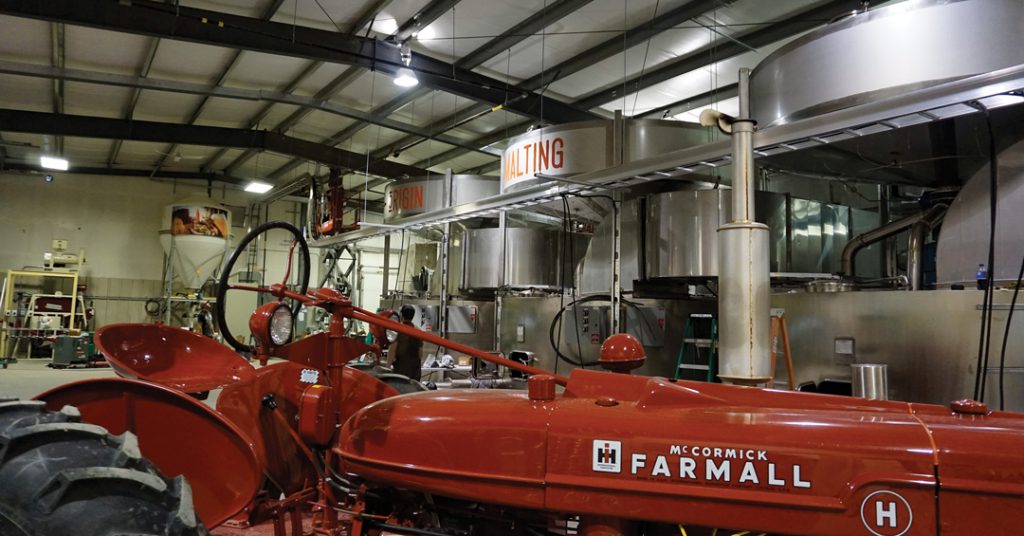 Behind the bar, the malt house's gleaming inner workings—steep tanks, germ and kiln vessels—are located in view of the taproom. Since the business launched, this customized malting equipment has roasted approximately 800 tonnes of malt purchased by Origin's craft-brewer clients. It's also been used to make Origin's own brews, which now tally 80 batches in 30 styles totalling 70,000 litres. On Saturdays, staff members conduct tours of the malting and brewing areas of the facility.
The pursuit of awards has not been an immediate priority given the sheer demand of getting this ambitious project running, but Origin earned four at the Alberta Small Brewers Association's first annual Alberta Beer Awards. Among these honours, Last Post Brown Ale won gold in both the best of show and brown beer categories.
"The beers we've won with are near and dear to our hearts," Kyle said. "Those beers were brewed with our own malt grown on our own farm. They are a direct reflection of the team we built, of the people who work here and call this place their own."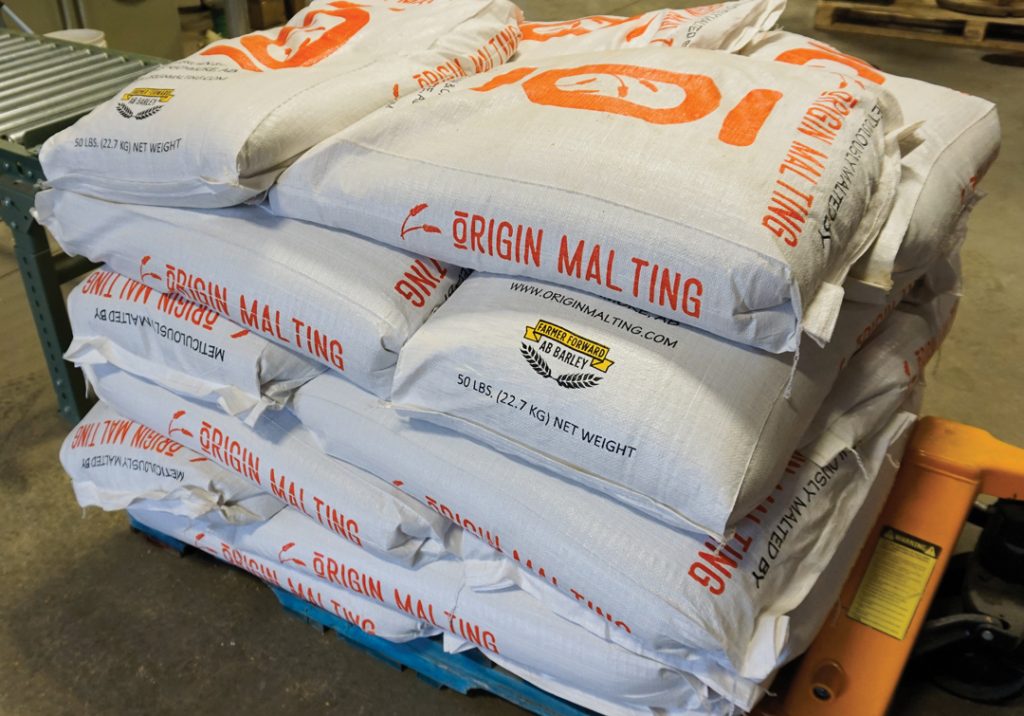 GENERATIONS IN THE MAKING
The Hilton family has been growing high-quality malting barley for more than 40 years, but they've been working at the cutting edge of farming since emigrating from England more than a century ago. The multi-family farm is now owned and operated as Hilton Ventures by Spencer and Lynne, Meleah's parents, as well as her brother Dane, uncle Sterling and his wife, Lianna.
Together they carry on in the notable footsteps of Meleah's now-retired grandfather Gordon, widely respected as a pioneer of no-till farming. Reducing soil erosion, the practice also increases the soil's fertility as well as its ability to retain moisture and sequester carbon. Gordon is an inductee of both the Alberta Agriculture Hall of Fame and the Soil Conservation Council of Canada Conservation Hall of Fame. Carrying on this forward-thinking tradition, Spencer trained as an agronomist and continues to advance sustainability efforts and soil conservation on the farm.
Having grown up on the farm, Meleah left to study animal health technology at NAIT in Edmonton. After working as a veterinary technician in Yellowknife for a time, she returned to Strathmore where she and Kyle had dated as teenagers. The two reunited and married in 2012, both later taking managerial jobs at W.A. Grain & Pulse Solutions, a crop-marketing business headquartered in Innisfail. Here, they learned the ins and outs of the grain marketing industry. Coincidentally, it was through this job that Kyle met a malting equipment manufacturer from Fargo, North Dakota, sparking the idea to create a malting and brewing business. The company was able to custom build the gear needed to process malting barley on the small scale the Geeraerts required.
Four years prior, the federal government had moved to dissolve the Canadian Wheat Board monopoly, thus allowing farmers to sell their own crops domestically and internationally as of August 1, 2012. Rather than dropping their product at the elevator and waiting for a cheque, farmers could now develop relationships with buyers.
Seeing an opportunity, the Hiltons and five other families cut a deal to sell barley directly to Lagunitas Brewing Company of Petaluma, California. This stable barley pipeline played an integral part in the growth and expansion of the company, which is now one of the biggest craft brewers in the United States.
In securing the deal after being introduced to Lagunitas founder Tony Magee by Rahr Malting, the group of farm families pioneered the forward-contracting of malting barley to breweries, a completely cutting-edge practice at the time. The deal established the six farms as members of what became the Chinook Arch Growers, now a collective of 14 Alberta and Saskatchewan farms supplying malt to Lagunitas through Rahr.
Spencer recalls former Lagunitas owner Tony Magee visiting the farms while searching for Alberta barley information and opportunities. "He said, 'I want to connect people that come and drink beer at my brew pub to your field.' That was our first awakening of the grain-to-glass idea. It opened our eyes."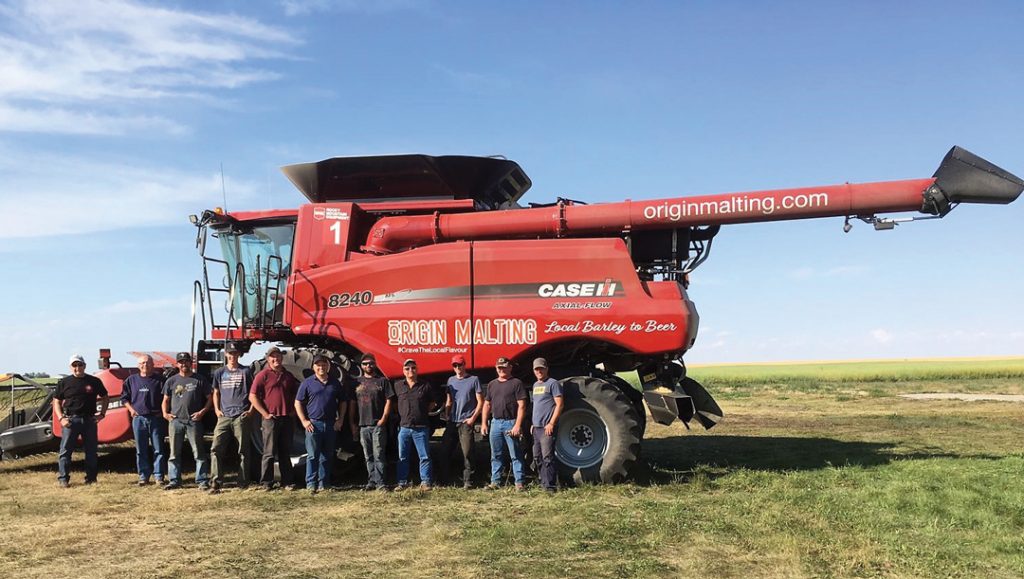 "That deal gave us a real look into the ability to trace and follow our barley through the processes of malting and then brewing and eventually to the consumer level," Spencer explained. This realization that brewers and their clientele crave high-quality barley and want to know where and how it is grown led Kyle and Meleah to pitch Origin as the family's next business venture.
"For consumers, that local trend—supporting local farms and local communities—was starting to mean everything," Kyle said. "We went around asking brewers, if you could get malt made from barley that is grown by one of the farms that Lagunitas uses to brew over a million barrels per year, would you be interested. Not a single one of them said no."
The Hiltons saw a parallel between the desires of craft beer consumers and their own ambitions to grow high-quality barley sustainably and in an ecologically sound way. "Farmers were starting to see how much brewers and consumers really cared about the quality of these products," Kyle said.
An exercise in vertical integration, the goal in creating Origin was to capture more links in the value chain with their malting barley. They could sell the unprocessed crop but also malt it, brew it and sell their own beer, further controlling their product and profits.
"Meleah and Kyle were very interested in getting involved back on our farm at this time," Spencer said. "Building Origin gave them the opportunity to do it in a non-traditional way, unlike sitting on the tractor or chasing cows. We call it the new agriculture."
He added that while his family was discussing startup plans with Chris Chivilo, co-owner and CEO of W.A. Grain & Pulse Solutions and the Geeraerts' former boss, he expressed a similar desire and they all agreed to become partners on the project. The Geeraerts stress that all parties have been very hands-on, working collaboratively to grow the business.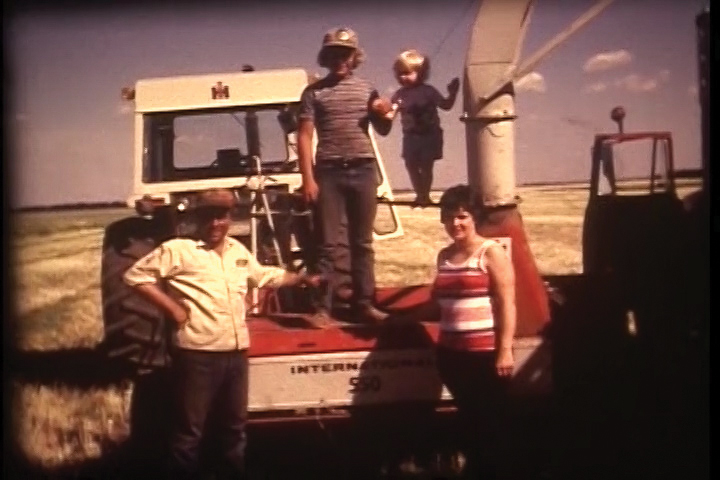 OFF AND BREWING
With that, Kyle signed up Lane Gordon, another former co-worker, as Origin's head maltster. The two trained at the Canadian Malting Barley Technical Centre's Malt Academy in Winnipeg and also travelled to Fargo where they trained in making malt on a prototype of their own equipment prior to its delivery.
As the Geeraerts secured and applied for the rezoning of a former oilfield parts store, they did not foresee brewing competitors emerging in their area. However, just as they had purchased their malting and brewing equipment, Kyle discovered that another brewing licence had been approved in Strathmore for Nick Patterson, an old acquaintance. Knowing the town could not support two breweries, and that Patterson's interest lay heavily in hands-on beer making, Kyle offered him the head brewer position at Origin, which he gamely accepted.
"From there, it was trial and error," Kyle said. "At the same time, we faced a stereotype circulating in our community that the opening of a brewery would be like the opening of a nightclub. Changing that has been one of the toughest things we've had to deal with."
Since then, Origin has earned community loyalty by using the taproom to support causes the Geeraerts care about, including the prevention of domestic violence. Recently, they also hosted an event to raise funds for their local Royal Canadian Legion branch in which members assisted Patterson in creating a batch of beer.
The Geeraerts have also noticed that their success is being mirrored outside Alberta's two big cities. "Rural breweries are taking off and gaining more consumer interest," Kyle said. "It's so good for this industry."
"We're seeing this in smaller communities like Black Diamond, High River and Okotoks," Meleah added.
Now a finely tuned operation, Origin offers a variety of craft base malts and specialty malts for use by craft breweries as well as home brewers. Troy Kamphuis-Finnigan of Calgary's Rapid Ascent Brewing Company said Origin's malt lent just the right taste to his first beer. Origin's miniature pilot brewing system allows brewers to test malts and taste the finished product ahead of purchasing a large quantity. "I was looking for a specific taste profile and I was able to taste a sample with some subtleties that really helped put the crispness and sweetness into Finnigan's Irish Pale Ale," he said.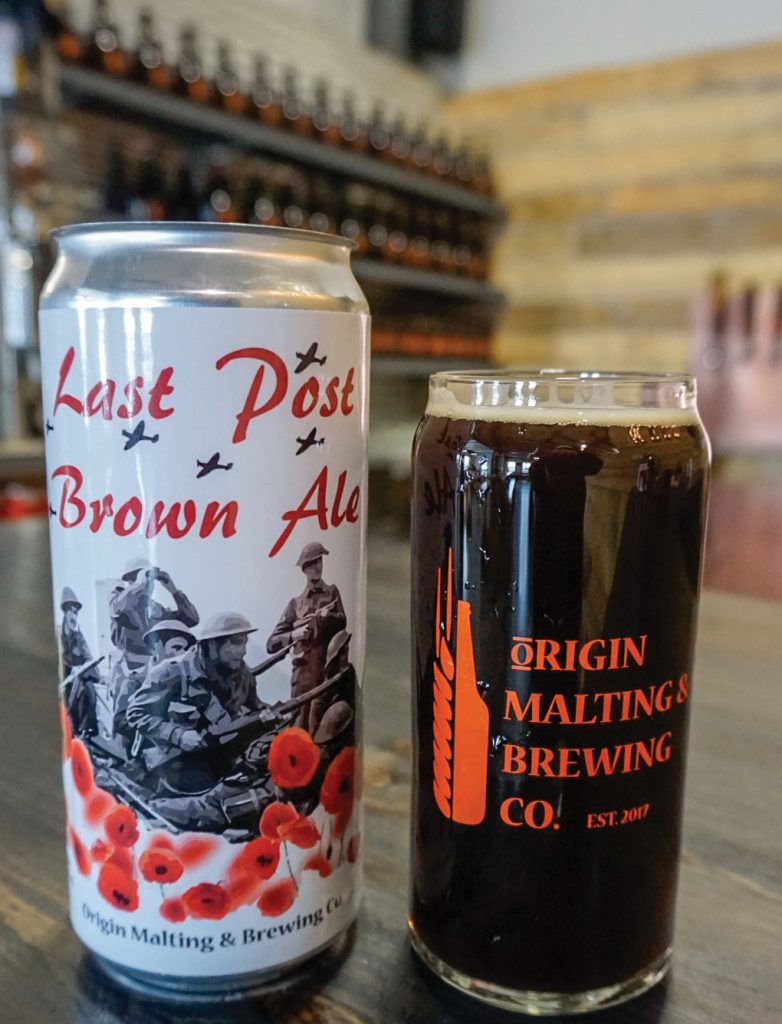 He added that he liked the fact Origin uses barley grown on the Hilton farm. "Family grown, family story, family owned—I liked the local closeness of their whole story. It was a very motivating factor for me to reach out to them."
Alberta Small Brewers Association chair Neil Herbst congratulated the startup brewers on their early success at the Alberta Beer Awards. "For their first year there, it's very impressive," he said. "Consumers are looking for local and so are brewers. It's nice to see them making local specialty malts using local grain."
THE NEXT GENERATION
The Origin story continues as expansion plans are already in motion—both business and family. The Geeraerts announced in April that the business purchased a whole new array of equipment from an existing brewery in California. Scheduled to arrive in July, the system will triple beer production and is expected to be fully operational by Origin's first anniversary.
Soon after, in September, the couple also expects to celebrate the arrival of their new baby. Their growing family has the Geeraerts looking ahead to their own future but also at the future of the family farm. "Farmers really need to start thinking about the big picture," said Kyle. "If we want to see the sixth and seventh generations returning to operate the farm, we're going to need two to three times the land we currently have in order to support them. If we can start finding other ways to make the farm work for us, other businesses still directly tied to agriculture, it can also be a draw to younger generations to return to the farm in various roles, while better supporting their families at the same time."