INVENTIVE EATS
FARMERS AND FOOD ENTREPRENEURS RESPOND TO CHANGING CONSUMER DEMOGRAPHICS
BY ALLISON FINNAMORE
Darrell Bricker sees opportunity in farming and the food industry. The CEO of Ipsos Public Affairs says Canadians are living longer, eating healthier and welcoming immigrants like never before, bringing new residents hungry for a taste from their former homelands. The changing nature of the country's consumer demographics presents open doors for farmers and agri-food entrepreneurs.
"We're not having enough kids to replenish our population. The younger part of the population is shrinking and the older part of the population is growing," Bricker said. "The mainstream is really older people and there's a lot of them and they have a lot of money. They're prepared to buy quality foods—nutrition is one of the reasons they're living longer."
Meanwhile, immigration is exploding, Bricker said. With 330,000 immigrants a year, Canada has the fastest growing population in the G8, with 90 per cent settling in the Greater Toronto Area and Western Canada. "That's what's really firing the growth of Canada, is immigration," he said, pointing to the Philippines, India and China as the top three countries from which new Canadians immigrate.
These trends combine to create a food demographic profile that agribusiness needs to pay attention to, Bricker emphasized. "When you start looking at food products people are going to be eating—and in the areas that are growing the most—what are we making for the Asian palate?"
Sharing that taste of home is exactly how Edmonton's Chef Bombay started. Noorudin Jiwani, president and CEO, said his mother, a dietician, started making samosas on a large scale in 2000, fulfilling her dream to share the Indian food the family eats every day with fellow Indian-Canadians and people outside the Indian community. The samosas, and additional Indian dishes the company subsequently developed, were so popular that five years later, Chef Bombay seriously required expansion. The problem, Jiwani recalled, was deciding whether there was enough market demand.
To test the potential for expanding the company's output, Jiwani partnered with the Agrivalue Processing Business Incubator, a department of Alberta Agriculture and Forestry located in Leduc.
The facility provides infrastructure and support to help new business ventures get established and expand. Some of the areas the business incubator focuses on include helping startups enter the food industry and providing facilities and programs to help them commercialize new products and manage growth.
Under a three-year contract, Chef Bombay produced its food products at the incubator facility, and went about expanding the company's marketplace. "This gave us a steppingstone," Jiwani explained. "We had reached our peak in the old facility and we wanted to know if we could get more reach. This gave us the additional capacity to test the markets."
In 2010, Chef Bombay moved out of the incubator program facility and into its own newly constructed 45,000-square-foot facility. Jiwani is already thinking about the next expansion as further business possibilities emerge. The company's line of frozen Indian foods now includes meat and vegetable samosas, butter chicken meals and appetizers as well as vegetable pakoras. These are prepared with ingredients such as wheat flour, lentils, chickpeas, carrots and green peas that are produced mostly in Alberta and Saskatchewan. Chef Bombay's products are purchased by consumers across the country and in a portion of the United States.
Marvin Nakonechny, CEO of food processing company Progressive Foods, is focused on healthy eaters when he considers the growth and expansion opportunities for Snappy Grains, a fast-cooking barley product he developed. The nutrient-dense, homegrown food is designed for busy lifestyles and takes only moments to cook, beating the preparation time of traditional barley. Both organic and conventional versions are available.
Nakonechny is a farmer and a former Alberta Barley director and Alberta Crop Industry Development Fund board member. In the mid-2000s, while growing hulless barley for livestock feed, he began searching for another market opportunity for the crop and hit upon selling it direct to consumers. The distance from concept to commercialization, however, was considerable, especially given his lack of previous expertise in the consumer food-products realm. Nakonechny surrounded himself with experts and drew on their strengths.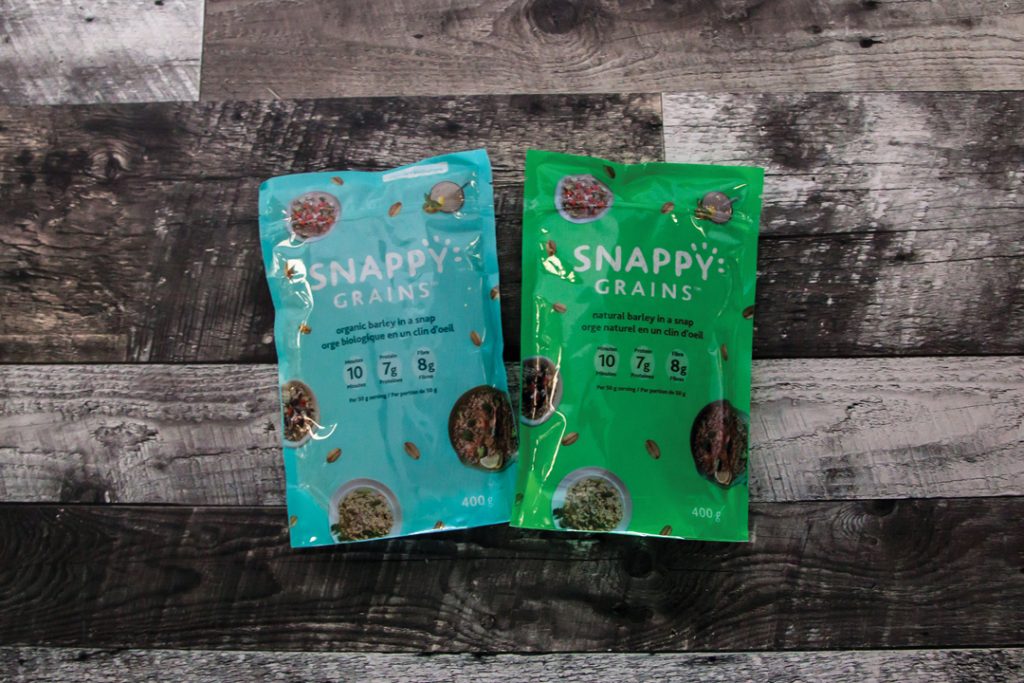 "We had to figure out what market position it would fit into and then how to use it," he recalled. "We didn't know quite what we had, but our target was to have a product similar to rice. We did a lot of collaboration."
Progressive Foods teamed with the Food Processing Development Centre. Like the Agrivalue Processing Business Incubator, this facility is located in Leduc and operated by Alberta Agriculture and Forestry. A modern product-
development laboratory, it is staffed by experienced food scientists, engineers and technologists.
"We had to look at everything we've done in the lab and consider how to scale it up," Nakonechny recounted. "The key thing was how do we cook the product and how do we dry it down so it is shelf-stable."
Still in its initial growth phase, approximately 150 tonnes of mostly Alberta barley is used to make Snappy Grains products, which are sold in stores throughout Japan and in Canada where they are also purchased by national food-service companies. Nakonechny agreed with Bricker about the importance of catering to those looking for healthy food, but he's not willing to give up the younger food buyers to focus exclusively on mature consumers.
"I can't ignore the millennials. They're interested in healthy products, they're interested in new foods and they talk about it. They're also willing to pay the price, and a lot of millennials are buying organic foods," Nakonechny said. "I'm offering them a convenience. I'm offering a product that is vastly superior to pot and pearl barley."
As the Canadian demographic shifts, food processors in Alberta and across the country are watching, working to get ahead of the trends and nourishing consumers' evolving food desires. Bricker suggests fellow food entrepreneurs take a focused approach. In the end, he said, it all comes down to individuals. Start by finding out how your potential customers live their lives and create foods that fit with those lifestyles.