FAIR-WEATHER FARM ADVENTURES
ENJOY TASTINGS AND TOURS, AND MEET ALBERTA'S FARM ENTREPRENEURS
Public interest in the origins of food crops is at an all-time high. Understanding the provenance of the wheat in your bread, the barley in your beer, the vegetables in your salad and the steak on your barbecue is certainly satisfying and somehow makes these foods taste just that much better. For the complete picture, visit the rural areas where our food is gown and meet the people who farm it. As you plan your recreational roadmap this summer, consider making Alberta farms and agricultural attractions part of your itinerary.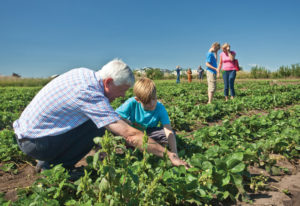 Go farm hopping
On August 18 and 19, the Alberta agricultural community hospitably invites the public to visit the province's farms and ranches for tours and demonstrations, tastings and dinners, and to meet the people who grow our food. For Alberta Open Farm Days host-farm locations and culinary-event tickets, and to plan your farm-hopping route, visit albertafarmdays.com. Also, flip to page 15 for our full story on the event.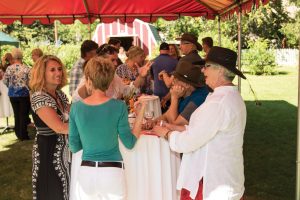 Take a trip to tasty town
Twenty minutes from Innisfail, the cuisine-loving hamlet of Markerville presents Taste of Markerville, a farm-fresh mini-fest of locally produced food and drink on July 28 that features a focus on grain and malt. Held at the Creamery Courtyard in Historic Markerville, the day's 4 pm to 6 p.m. Appy Hour event offers bite-sized eats and a selection of drinks made within an hour's drive, including craft beer, mead and Stoneheart Distillery Gin. This will be followed by an outdoor, long-table dinner for 120 on Main Street. For details and dinner tickets, go to tasteofmarkerville.com.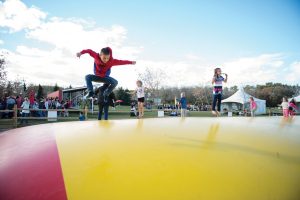 Take the family to a funny farm
While your typical Alberta farm may not feature a pumpkin cannon, mini golf range, pig races and sprawling corn maze, farm animals and produce figure into almost every aspect of Kraay Family Farm, an agricultural-themed family-fun zone. Visit kraayfamilyfarm.com for admission details as well as dates and hours of operation.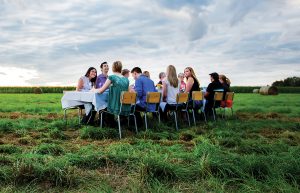 Pick, play and feast
A short drive north of Edmonton in Bon Accord, Prairie Gardens and Adventure Farm is a dining and recreational destination located on a 32-acre, you-pick farm—the most northerly of its kind in Canada—growing strawberries and 50 varieties of pumpkin. Its many family-friendly attractions include corn and straw-bale mazes and animal enclosures as well as campfire rentals. The farm's long-table, field-to-fork dinners are sociable affairs that feature fire-cooked courses prepared by the farm's resident chef. For details on admission, the August long weekend Fairy Berry Festival, Labour Day Corn Fest and more, visit prairiegardens.org.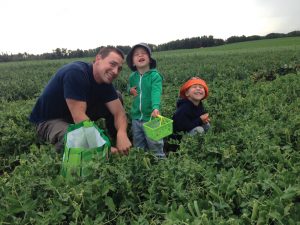 Make a grocery getaway
The Innisfail Growers family-farm group consists of five livestock and vegetable operations whose products are available at grocery stores and farmers markets in Red Deer, Calgary and Innisfail. Grocery getters are encouraged to collect stamps as they visit all five of the group's member farms to earn future farmers market discounts on Innisfail Growers Customer Appreciation Day, August 5 from 10 a.m. to 4 p.m. Farms include Edgar Farms, The Jungle Farm, Hillside Greenhouses, Beck Farms and Upper Green Farm. Field tours and you-pick opportunities are the order of the day. Visit innisfailgrowers.com for more details.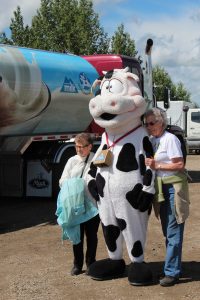 Dine with dairy farmers
The East Olds Dairy Farmers group launched Alberta Milk's Breakfast on the Dairy Farm events several years ago, giving the public a behind-the-scenes look at the industry's farm-level operations. Two separate events in 2017 drew a total of 3,400 visitors. Three breakfasts will be held throughout the province this summer. Free to the public with no RSVP required, the events include a hot morning meal, dairy barn tours and family-friendly games and activities. For directions and complete details, visit albertamilk.com.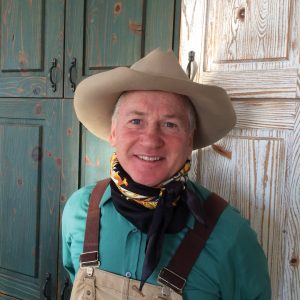 Explore Alberta's country roads
Andrew Campbell of Turner Valley takes guests on customizable agricultural day trips that depart from the Somerset–Bridlewood CTrain station on the south end of Calgary. Having grown up on a cattle ranch near Turner Valley, as a young man Campbell spent a couple of years working as a professional rodeo competitor in Australia. In the outback, he developed a taste for exploring off the beaten track. Now a financial adviser, he remains a rodeo competitor, maintains a flock of sheep and operates Agro Scenic Tours, guiding rural and urban visitors from around the world down Alberta's back roads to meet farmers face to face. Excursions may include stops at cattle ranches, grain farms, honey and berry operations, Hutterite colonies and more. Tours can be arranged year-round, but Campbell's high season typically runs from late May through early August. For details and bookings, visit agroscenictours.ca.