CREAM OF THE CROP
GROWER TO GLASS INITIATIVE HIGHLIGHTS VERSATILITY AND IMPORTANCE OF BARLEY IN CANADA
BY TYLER DIFLEY
The warm, sunny days of summer are perfect for enjoying an ice-cold beer or two with friends, family or colleagues. In Western Canada, summer also represents one of the busiest times for the hard-working farmers growing the main ingredient for those refreshing brews: barley.
To celebrate the relationship between barley and beer, the Barley Council of Canada (BCC) launched its Grower to Glass initiative in June. The campaign—which included stops in four cities across the Prairies—is designed to raise awareness of barley's importance as a food and beer ingredient, and its economic and cultural significance in Canada.
"In Canada, we produce about 8 million tonnes of barley annually," said Kara Barnes, BCC's director of grower and industry programs. "Sales of malting barley and malt combined total about $1 billion annually for the Canadian economy."
Growing malt barley can be both rewarding and frustrating for farmers in Western Canada. Although malt barley commands a higher price than feed barley, it must meet the high standards set by maltsters. Otherwise, it will end up being sold as feed for livestock.
"Since the criteria for barley to be malted is tough to meet, not all of the malt barley grown is accepted for the malting process," said Doug Herman, a Drumheller-area farmer whose family has been growing malt barley for more than 50 years. "It must be plump, low protein, and have a high germination rate with no sprouting or pre-germination, which is what we call chitting."
During the Grower to Glass campaign stop in Calgary, BCC held a special tasting event at Market restaurant, which was led by certified cicerone and Prud'homme beer sommelier Crystal Luxmore. Those in attendance were treated to a delicious menu of food and drink pairings that combined a diverse selection of beers crafted from Canadian barley with elegant, barley-infused dishes created by Market Executive Chef Sean Macdonald.
Although food and wine pairings often dominate the dining spotlight, beer and food also work together beautifully. According to Luxmore, the key to a successful pairing involves careful consideration of the three C's: complement, contrast and cut. If the food and beer you're pairing have complementary flavours and aromas—meaty mains with the coffee and chocolate notes of a stout, for example, or spicy dishes with a citrusy and floral IPA—then the pairing is bound to be successful. Basing a beer and food pairing on contrasting flavours is trickier, and might require a bit of experimentation, but the results can be amazing. The third C, cut, is the easiest aspect of beer and food pairing to get right, as it relies on nothing more than beer's bubbly nature. Carbonation cuts through fat and richness to cleanse and refresh the palate between bites.
"It's a reason why wine sommeliers, when they're looking at really difficult pairings, will always reach for the champagne because it's bubbly and dry," Luxmore said. "Bubbles are the secret weapon that beer can always bring to your table that wine doesn't."
Another thing to consider when you are pairing food with beer is intensity, Luxmore added. Heavier, more flavourful dishes often work well with high-alcohol, full-bodied beers, such as imperial stouts and IPAs. Meanwhile, low-alcohol, light-bodied beers, such as pilsners and wheat ales, better complement lighter dishes with delicate flavours.
At Market, many of Chef Macdonald's dishes paired well with beer because they contained barley and barley-flavoured ingredients, including infused oils and vinegars, barley flour and whole grains. The barley in each course worked well with the malt flavour in each beer. If that's not a good enough reason to pair barley with your beer, as an added bonus, barley boasts a number of health benefits. It has the highest total dietary fibre content among food grains and the lowest glycemic index. As a result of the high fibre content, it can help to reduce cholesterol, which is a risk factor for heart disease. It also contains protein, healthy fatty acids and a number of essential vitamins and minerals.
June 23 Grower to Glass Tasting at Market Calgary – Beer and Food Pairings
1st Course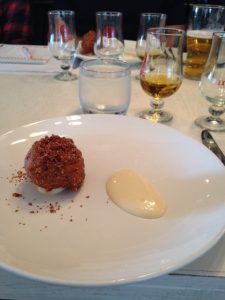 Chicken barley fritter with beer aioli
Beer: Steamwhistle Pilsner
2nd Course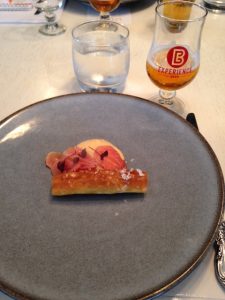 Fermented strawberry with barley pretzel, Maldon salt and grapefruit curd
Beer: Mill Street 100th Meridian
3rd Course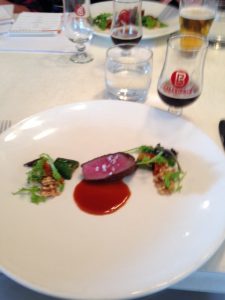 Onion crusted sirloin with tomato jus, mustard greens and pickled barley
Beer: Last Best Dirty Bird Lager
4th Course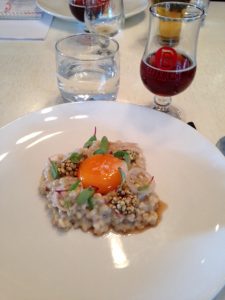 Barley risotto with pancetta jowl, pecorino and burnt barley egg yolk
Beer: Tool Shed Red Rage Ale
5th Course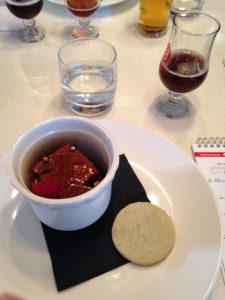 Steamed molasses pudding with bourbon butterscotch sauce, barley crisp and blue cheese butter biscotti
Beer: Unibroue Trois Pistoles