"AGVOCATE"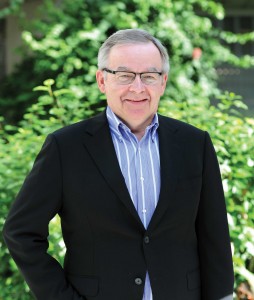 THE EVOLUTION OF A FARM LOBBYIST
BY TOM STEVE
The role of a farmer is changing. It is no longer just about producing food, but about being an advocate—or "agvocate," as the agriculture industry likes to call it—for the food being produced.
With all the health and diet trends that exist today and the media attention they are receiving, it is more important than ever that farmers become agvocates for the food they produce on their farms. Ten years ago, growers were advocating for marketing and trade opportunities, transportation, higher yields and fair returns for their crops. While those issues are still top of mind for growers, new issues have emerged—food and food safety.
Technology and research have advanced farming practices to allow Canadian farmers to become major contributors to the Canadian economy, with agri-food accounting for seven per cent of the Canadian gross domestic product in 2012. But even with the growing success of the agriculture industry, it has taken a beating in the media with fad diets such as "gluten-free," "organic" and "non-GMO" becoming top food trends.
At the same time, farmers' voices and images are now becoming marketing tools for food. When you walk the grocery store aisles, many food products link the item back to the farmer who produced it. This is how farmers are becoming agvocates for the food they produce. Marketing has shown people are more likely to buy a food product when they know who has produced it. There is a sense of food safety when you can link your food back to the farmer.
So how do farmers battle media icons like Dr. Oz, environmentalist David Suzuki and Wheat Belly author Dr. William Davis, who are sending negative messages to consumers about agriculture, and promote the benefits of whole grains and the safety of the food produced on Canadian farms?
Social media is facilitating this discussion and creating a whole new generation of industry champions. Advocates like the Healthy Grains Institute are using social media to get the message out and dispel myths created by celebrities and so-called food and diet experts. This group is questioning the legitimacy of promoting the gluten-free diet as healthy.
Some celebrities are also joining the fight and questioning why people avoid things in their diet that they don't know much about. For example, earlier this year a video went viral on social media when late-night talk show host Jimmy Kimmel asked four people on the gluten-free diet to explain what gluten is. None of the "Agvocate" people interviewed could answer the question, and Kimmel proved that most consumers do not even know what they are avoiding and only perceive it as unhealthy because of new food trends.
Farmers across Canada have also played a role in setting the story straight, using social media, such as Twitter, to dispel diet myths and promote the goodness of the food they produce. Farmer-focused conferences have speakers talking about how to become agvocates to rooms full of eager growers wanting to get the positive message out to consumers.
Commodity groups are speaking not only about the importance of growing better crops and having access to key international markets, but about the goodness of the food produced here in Canada. Grower groups like the Saskatchewan Pulse Growers are teaming up with celebrity chefs to promote Canadian Lentils, Alberta Barley launched the GoBarley consumer campaign, which includes a successful cookbook, and the Alberta Wheat Commission has teamed up with the Healthy Grains Institute to promote whole grains.
The message about agriculture is changing and, while there may be some negative messages floating around because of celebrity health experts and social media,
our growers are armed with information and social media tools to ensure consumers hear both sides of the story. I encourage all consumers to get out and engage in conversations with farmers about the food they produce, and not take what the self-declared health experts say as the gospel for food.