Making Waves
Transatlantic trade agreement a boon for most Canadian farmers
by Allison Finnamore
According to Canada's minister of international trade, cohesiveness among stakeholders is the key that unlocked this country's successful position in the Canada–European Union Comprehensive Economic Trade Agreement (CETA).
Minister Ed Fast added that provinces, territories, municipalities and stakeholder groups showed "unprecedented co-operation" in laying the framework for what eventually became Canada's offering in CETA.
"Canadians can look back on this and be reassured there was such overwhelming support because of the involvement of stakeholder groups," Fast said in a recent interview.
The CETA agreement in principle gives Canada guaranteed preferential access to 28 EU states. That's 500 million people with an annual economic activity of almost $17 trillion—the world's largest economy. The EU is also the world's largest importing market for goods— its annual imports are worth more than Canada's GDP, which totalled just over $1.8 trillion in 2012. This is the most ambitious trade agreement Canada has signed since the North American Free Trade Agreement in 1994. According to the federal government, CETA is the economic equivalent of adding $1,000 to the average Canadian family's income or almost 80,000 new jobs to the Canadian economy.
CETA was announced in October 2013 by the Canadian and European governments after four-and-a-half years of talks. Some of that time, Fast said, was spent reaching agreements among Canadian stakeholders. He explained that while it appeared to the public that EU negotiations dragged on, Canadian stakeholders continued to work together behind the scenes.
"[In mid-2012,] that agreement internally wasn't at the point to take to the EU," he said, noting the continued discussions by domestic stakeholders meant "their input informed the outcome."
While a draft deal was released in October, Foreign Affairs, Trade and Development Canada said housekeeping details like translation and inclusion of legal language would happen over the following 18 to 24 months before the deal would be finalized and take effect.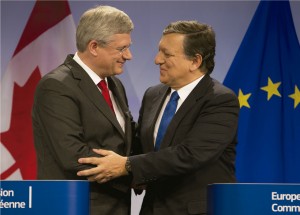 For Canadian agriculture, most consider the deal a win. Once CETA is signed, 93.6 per cent of agricultural tariffs will be eliminated, with immediate elimination of tariffs on some processed pulses and grains, beef products and pork products.
Durum and high-quality common wheat tariffs, currently unbound and applied at zero per cent, are now at a rate of $190 per tonne and $122 per tonne, respectively. Duties for low- to medium-quality common wheat are currently levied at $122 a tonne, rye and barley at $120 a tonne, and oats at $114 a tonne. All of these grain tariffs will be eliminated over a seven-year transition period.
CETA will also create a duty-free, low- to medium-quality common wheat transitional quota of 100,000 tonnes, incorporating Canada's existing 38,853-tonne share of the EU global quota.
The CETA agreement in principle gives Canada guaranteed preferential access to 28 EU states. That's 500 million people with an annual economic activity of almost $17 trillion.
Doug Sawyer, chair of the Alberta Beef Producers, said he sees nothing but positives for his members. For Canadian livestock producers, CETA means duty-free, in-quota access for 50,000 tonnes of beef carcass weight, with the majority for fresh, chilled beef products, and another 15,000 tonnes carcass weight for frozen products.
"It's a big opportunity," Sawyer said. "We're looking at 65,000 tonnes in tariff-free imports," an increase that will triple current levels. The rise in exports of Canadian beef to the EU will be in the fresh and frozen beef product sectors, he said.
Trade agreements can be good news to the industry, but the benefits they bring to local farms are more difficult to calculate. Sawyer said the increased trade opportunities for fresh and frozen beef products is bound to result in increased processing at current plants that, to this point, have not had enough meat to process. It may also mean the opening of new processing facilities.
Sawyer explained that, with 200 different products from one carcass, less-expensive cuts tend to have limited markets. However, once CETA is signed, there will be potential for greater ease of access to more markets, as well as reduced tariffs. That means the door has opened to hard returns for the farmer, he said.
"This adds value to the whole carcass," he added.
The Canadian Pork Council (CPC) said it's very pleased with CETA, as Canada would acquire a quota volume equivalent to over 80,000 tonnes of pork cuts, as well as access to markets for pork fat, and cured and processed pork products.
"The Canadian and EU markets for pork complement each other and this relationship holds great potential to enhance our sector's export opportunities, as well as benefit workers, businesses and families who rely on the pork sector for their livelihood," said CPC chair Jean-Guy Vincent.
Canada's pork industry exports two-thirds of its production. CPC said that diversification in export marketing opportunities is crucial to maintaining the industry. Canada currently imports a significant volume of high-value pork ribs from the EU, and the pork industry sees the market opportunity for shipping hams and other pork cuts to the EU.
"Our current exports of pork cuts to the EU are virtually non-existent. This is not because our prices are uncompetitive but instead is due to tariff and non-tariff barriers to entry into the EU market, which CETA will now address," said Vincent.
Matt Sawyer (no relation to Doug Sawyer), chair of Alberta Barley, said his industry is equally happy with the prospect of the new trade deal. At the moment, about 80 per cent of Alberta's 4.5 million tonnes of barley goes to the feed industry, so "a win for the beef industry and a win for the pork industry is a win for us."
Alberta produced about 4.5 million tonnes of barley in 2013, about half of Canada's average production. Most of the remaining half was produced in Saskatchewan and Manitoba, but Matt Sawyer noted that Atlantic Canada, particularly Prince Edward Island, is also increasing production.
With trade regulations eased and tariffs lifted, Matt Sawyer said the prospect of a signed CETA deal is an exciting time for the beef and pork industries, as well as feed suppliers like barley growers. He called CETA a positive step for agriculture.
"CETA is a solid deal with real benefit," he said.
Wally Smith, chair of the Dairy Farmers of Canada, said his members aren't as excited about CETA as other producers. The agreement gives European cheese makers 16,800 tonnes of market access, with all but 800 tonnes of it being new access. Smith said members are "angered and disappointed" with the deal, as it could mean the end of small, artisan and local cheese makers in Canada.
"If this deal proceeds, the Canadian government will have given the EU an additional exclusive access of 32 per cent of the current fine cheese market in Canada, over and above the existing generous access," said Smith. "This deal would displace our local products with subsidized cheeses from the EU and risk our small businesses being shut down or put out of business. This is unacceptable."
The federal government has said it's considering compensation for Canadian dairy farmers if they lose income due to CETA.
While the CETA buzz in the yard is mainly optimistic, the new agreement will mean a change in some farm practices. Doug Sawyer pointed out that some Alberta beef producers will need to change their production methods if they want to sell to the EU, since exports of beef with hormone growth promotants (HGPs) will not be allowed.
Doug Sawyer said producers could save between 10 and 20 per cent of their total feed costs by using HGPs. Discontinuing the use of HGPs will mean an increase in feed costs due to the additional time to get cattle to market weight.
The change is a fact of life when conducting business with the EU. The use of HGPs in farm animals, either implants or feed, has been banned for more than 20 years. Member states have reviewed the prohibition several time since then, but the strict rules remain in place.
For exporters, Fast said now is the time to get to work, fostering business relationships with potential trading partners.
Once CETA is inked, free trade can begin immediately.
"Don't wait until the agreement comes in to start preparing," the minster said. "You've got a year-and-a-half to two years to develop key partnerships."
For the EU, CETA is the first trade agreement with a G8 country. José Manuel Barroso, president of the European Commission, called it a "landmark achievement for the transatlantic economy and a stepping stone to an integrated transatlantic market."
barroso said the eu's annual gdp is expected to climb by around $17 billion canadian with a signed ceta. since industrial trade tariffs for eu products coming into canada will be brought down to zero, he said european exports are expected to save about $721 million canadian a year.