ASSISTANCE FOR AG-TECH INNOVATION
BY TRUDY KELLY FORSYTHE • LEAD PHOTO COURTESY OF RAVEN INDUSTRIES
For developers of next-generation agricultural equipment and systems, the gap between drawing board and commercialization can be a lonely wilderness. To support the efforts of such innovators in the agri-food and technology sectors, the Canadian Agri-Food Automation and Intelligence Network (CAAIN) was formed in 2019 with a $49.5 million grant from Innovation, Science and Economic Development Canada's Strategic Innovation Fund.
The not-for-profit was created by eight founding partners that include Alberta
Innovates, Ontario's Vineland Research and Innovation Centre, Lakeland College, Olds College and four technology corporations. Its mission is to create technological solutions for the most challenging problems that face Canada's agri-food sector.
Through partnerships with agriculture organizations, post-secondary institutions and businesses, CAAIN supports the agri-food and agricultural technology sectors' efforts to increase productivity and profitability and improve environmental sustainability. It focuses on high-tech projects that address nagging global agricultural issues such as labour scarcity, food insecurity and the need to increase yield and decrease carbon footprint.
CAAIN projects focus on three categories. In the area of agri-food automation, new technology may reduce the need for unskilled labour while it increases efficiency, profitability and environmental impact. Data-based decision-making includes products that collect, analyze and disseminate agri-food data. To support the development and maintenance of smart farm operations, it also validates and demonstrates new knowledge and technology.
Contributions made by CAAIN to individual projects range from $34,000 to $3.8 million. Central to the organization's support for agricultural technology, it offers to reimburse up to 40 per cent of eligible expenses for research projects centred on robotics and automation and data-driven decision-making.
"CAAIN provides real value at a time when farmers find themselves increasingly required to do more with less, and to do so while reducing their environmental impact," said CEO Darrell Petras. Over the past three years, CAAIN has committed $30 million to 24 research and development projects valued at $90 million. These have involved the participation of 93 small and medium enterprises, 11 large businesses and 25 research and academic institutions.
The investment has paid off. Several CAAIN-supported projects have reached the commercialization stage and show promise through profitability and positive impact. The projects have also stimulated private sector investment in research and development, said Petras. "I'm really thrilled with the private sector response to the CAAIN program and in the investment in research."
The establishment of a nationwide, interconnected system of smart farm networks is also a major ongoing focus. This initiative encourages and accelerates the adoption of emerging knowledge and technology.
"Farmers are by their very nature innovators, but they need to assess for themselves the potential return on investment that comes with investing in the latest technology," said Petras. "Smart farms, with their emphasis on validation and demonstration of ag-tech, provide that function."
GrainsWest recently spoke with participants in three ongoing CAAIN-supported projects to learn how the organization has supported them.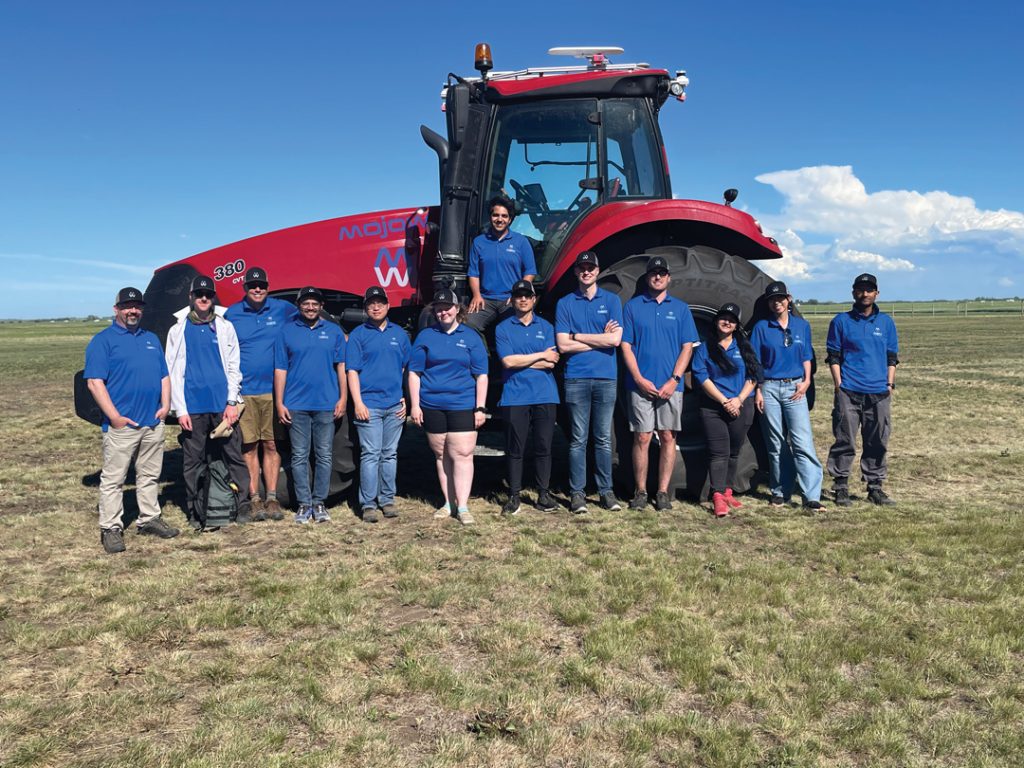 MOJOW EYEBOX
Owen Kinch is a Saskatchewan grain farmer. He knows first-hand just how challenging it is to raise a family while completing farm work in a timely manner. This experience led him to co-found Mojow Autonomous Solutions, a technology company with the mission to streamline on-farm operations with the use of digital technology, AI and robotics.
"One of the largest challenges farmers face today is the availability of skilled labour to execute time-sensitive operations that greatly affect farming outcomes," said Kinch. To address this, he and the Mojow team developed EYEBOX, a navigation kit that enables the autonomous operation of farm machinery.  It is a series of sensors, cameras and a GPS unit linked together to process collected data in real time.
While the equipment is in operation, EYEBOX automatically collects images captured by its cameras. These are then analyzed with the use of machine-learning algorithms that classify each pixel to create or update a digital twin of the farm. This high-resolution representation acts as a map of the farm environment the system uses to guide its activities. "This all happens seamlessly," said Kinch. "If it's the first time in the field, it creates it as it goes. If it's been in the field beforehand, it updates the existing images with any changes."
Once the digital twin is input into the navigation controllers, the tractor is able to carry out tasks that once required an operator. These include tillage, harrowing and land rolling. "Everything is controlled through an app, including the user interface for the Mojow navigation controller, cloud communication, local communication with the tractor for close proximity and automatic synchronization between the cloud and local databases," said Kinch.
Last fall during a field day near Edmonton, the Mojow team successfully demonstrated their proof of concept. Outfitted with EYEBOX, and without prior knowledge of the field boundaries, a tractor autonomously navigated the terrain in real time. Mojow has since refined the system and carried out additional field testing this past spring. The team is also at work to perfect the system's navigation ability on roadways and field entrances.
"Ultimately, what we're doing is building those three key ingredients, so the tractor leaves the yard in the morning, navigates the roadways and field entrance into the field, completes the task and goes home at the end of the day," said Kinch. Camera vision technology is used to navigate the tractor and control implement functions and the process is monitored and controlled from a mobile application on a phone or tablet.
Kinch estimated EYEBOX is one to two years away from commercial availability. He and his colleagues continued to validate and test it over the past growing season.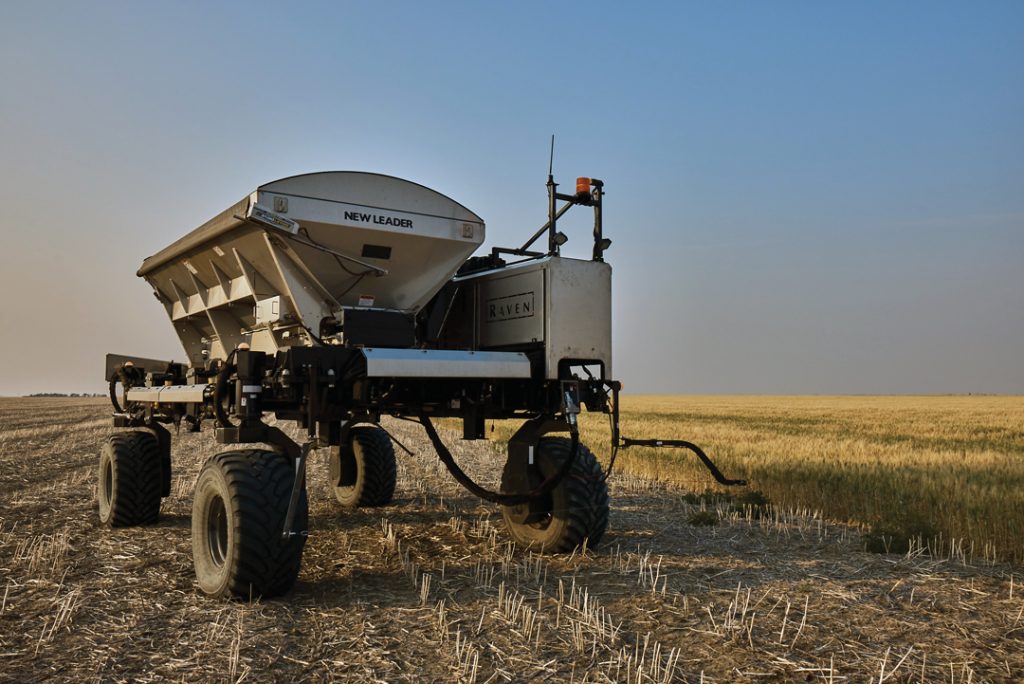 RAVEN INDUSTRIES' OMNIPOWER
To address the shortage of skilled labour in agriculture, CAAIN also supports Raven Industries as it works to put robots in the field. Marco Coppola is the company's manager of business excellence. He and research engineer Joshua Friedrick led its Artificial Intelligence (AI) Development for Autonomous Agriculture Application project, which has received more than $1.5 million from CAAIN. Headquartered in Sioux Falls, S.D., Raven operates a large facility near Regina, SK.
Valued at more than $4.1 million, the project has developed advanced technology for the operation of autonomous equipment in broad-acre crop production. This will be used with Raven's OMNiPOWER platform. Formerly owned by DOT, it was purchased by Raven, which was subsequently bought by CNH Industrial. Though neither CAAIN nor the federal government hold an ownership stake in the technology, in these buyouts alone, it has generated approximately $2 billion in economic activity. This is evidence
CAAIN knows how to pick a winner.
The U-shaped, autonomous unit is diesel powered and hydraulicly operated. It carries custom-developed implements such as seeders and sprayers. Because OMNiPOWER is self-propelled and carries the implement rather than pulling it as a tractor would, it decreases soil compaction and reduces fuel cost and emissions. Using a tablet equipped with remote-controlled software, the farmer connects the OMNiPOWER-ready implement to the platform for the desired application. Using their tablet, the farmer sends an approved path plan to the OMNiPOWER platform, which then completes the task autonomously.
"The gap in available skilled labour has been the primary influence for introducing autonomous agricultural solutions to the industry," said Coppola, citing Canadian Agriculture Human Resource Council statistics. These reveal 47 per cent of farmers reported being unable to find enough workers in 2017. The situation is predicted to worsen with one in four workers retiring by 2025 and it is estimated 200,000 fewer young people will enter agriculture annually by 2025.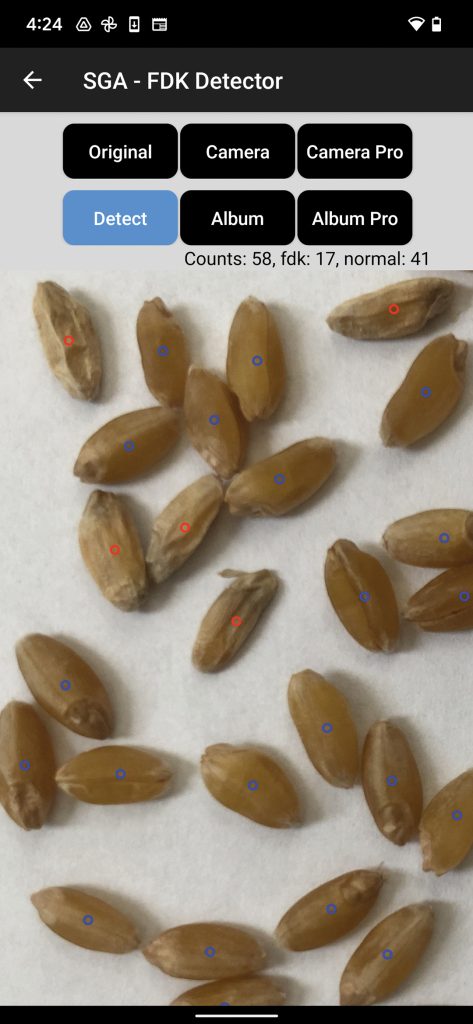 SUPER GEOAI TECHNOLOGY
Weiping Zeng, the co-founder and CEO of Super GeoAI Technology (SGA) of Saskatoon, SK, leads a groundbreaking initiative to automate the grain inspection process. "Grain grading and specification systems play a vital role in ensuring all parties involved in the production, storage and processing of grain comply with the required standards or properties," said Zeng. The evaluation process now in place is performed by grain inspectors who manually sort and analyze kernels. Zeng noted the method is labour intensive, subjective, time-consuming and error-prone.
"The grain industry has long been in search of an affordable solution capable of delivering speedy and accurate end-use quality assessments based on representative samples," said Zeng. "SGA aims to bring this long sought after grain grading solution to reality."
To this end, SGA has developed a geospatial artificial intelligence (GeoAI) platform that will automate the grain grading tasks now carried out by human inspectors. With the emergence of transformative technologies such as AI and cloud computing, automation and digitization of these processes have rapidly become attainable goals. "When implemented in the field of digital agriculture, GeoAI possesses the potential to ignite a new era of farming productivity and efficiency by automating manual observation tasks," said Zeng."
Individuals, including farmers and grain buyers, will be able to download the grain grading application on iOS and Android smartphones used to photograph CWRS samples. These sample photos can also be uploaded to the web version of the platform. The system, which was released free of charge on Sept. 22, analyzes the images for greenness, heat, frost damage as well as the presence of ergot, Fusarium and sawfly damage among other factors.
Integration of state-of-the-art digital technologies is the key to overcoming productivity and efficiency challenges, said Zeng. SGA's next ambition is to introduce the world's first hands-free technology for crop yield and growth stage estimation. "By pioneering AI-driven, cloud-based decision platforms and applications that automate and streamline manual observations, we can help grain growers and buyers make well-informed decisions more quickly."   
To learn more about these and other CAAIN projects, visit caain.ca.