THE MORE THE MERRIER
BY KAITLIN PACKER • PHOTOS COURTESY OF OLDS COLLEGE
Farmers need to know if new agricultural systems and practices are worth the investment. Canada's smart farms have stepped up to provide answers. These crop, livestock and horticulture facilities study the use of technologies, data and digital tools as well as advanced practices and philosophies to increase overall productivity, profitability and sustainability. "Smart farms within the Smart Farm Network follow this definition but also have the added mandate or goal of sharing information with all stakeholders," said Joy Agnew, vice-president of research at Olds College.
Launched in 2021, the Pan-Canadian Smart Farm Network was designed to connect smart farms across Canada. "The ultimate goal is to accelerate the development and adoption of smart technologies and practices," said Agnew. The Network launched with three sites that include Olds College, Lakeland College and Glacier Discovery Farm in Langham, SK. It has since expanded to include the University of Saskatchewan's Livestock and Forage Centre of Excellence and the Manitoba Beef & Forage Initiatives with plans to add additional sites in Alberta, Manitoba and Ontario.
Repurposing its demonstration farm, Olds College established its smart farm in 2018 as a response to the massive proliferation of new farm technology. Farmers needed data on the value and application of these innovative products, and this created the need for independent, unbiased third-party testing. "There needs to be a place for farmers to go to see it working in a commercial setting that is as close as possible to their operation so they can start making their own decisions," said Agnew.
In 2022, with key funding from the Canadian Agri-Food Automation and Intelligence Network, the Smart Farm Network launched a collaborative research project focused on the effects of microclimate variability on wheat disease. Multiple sensor-equipped weather stations were placed on the Olds College Steckler Farm, Lakeland College and Glacier Discovery Farm sites. "Most weather stations that are used in agriculture now are put where it's convenient—in a yard or on the edge of a field," said Christina Kaye, Olds College project lead for smart farm applied research. When placed in standing grass at the edge of a field, a station's readings may not reflect actual field conditions. As well, to rely on a single field-edge weather station leaves farmers with only the option to spray the entire field if disease spores are detected.
The general approach is to spray the entire field every year, but an informed use of technology could shift this mentality. "Farmers are looking at weather stations as a way to get more field-specific information so they can make decisions around spraying and maximize the probability of spraying when they need to and not spraying when they don't," said Agnew. 
The ongoing project, which completed its second season of data gathering in 2023, collects data across a much wider area. "We wanted to see how our out-of-the-field weather station or on-the-side weather station differed from the weather stations we put in the field," said Kaye. The goal is to provide farmers with more information to help them decide whether it's worth investing in multiple on-farm weather stations.
"The precision ag philosophy is underpinned by the assumption your conditions are different across the field," "said Adrienne Levay, instructor and researcher in agriculture technology and applied research at Lakeland College."
The weather stations record air temperature, relative humidity, precipitation, leaf wetness, solar radiation, soil temperature and soil moisture.
The project's focus on wheat disease includes stripe rust and septoria complex and it compared information generated by weather stations with in-field scouting data. It also compared regional Alberta Climate Information Service weather station predictions with its own field data.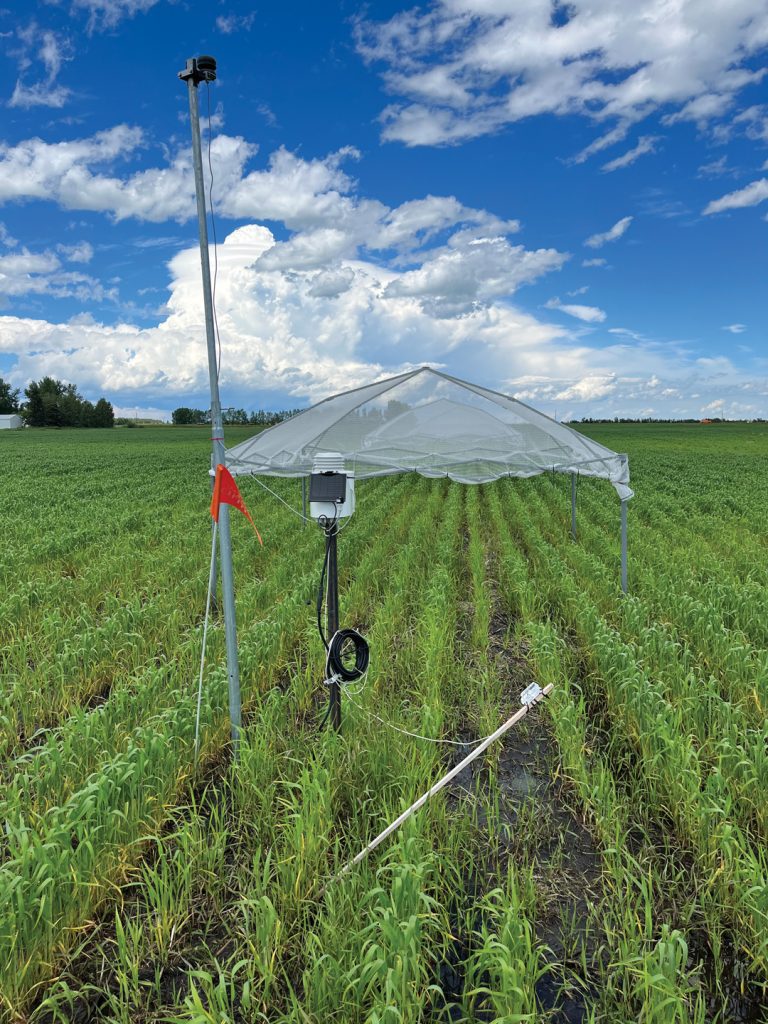 First year observations determined a farmer can successfully make a disease assessment for the entire field with the use of a field-edge weather station. "However, it's only one year of data," said Kaye. "An individual farm assessment would be really important to determine if the higher resolution data outweighed the cost of additional weather stations, so that kind of thing will be really farm specific and disease specific."
Another important conclusion is soil temperature and moisture content can differ significantly across a given field. "It just validates why we're trying to do precision agriculture," said Kaye.
Levay, who led the project's statistical analysis, said the Network approach benefitted the researchers involved. "The fact we can leverage each other's capacity, resources and expertise has been really awesome," she said.
The project was as much a weather station experiment as it was a way to assess collaboration between smart farms. "This early part of our work is about figuring out how to work with each other, because Canada's ag sector is so incredibly diverse," said Agnew.
While the Smart Farm Network continues to determine its goals for the future, Agnew imagines it will eventually include a large variety of smart farm facilities that cover a range of production areas. "There are just so many ways to grow food in Canada, so many technologies and practices that need to be evaluated on the farm. The more the merrier."
Network partners now maintain approximately 10,000 acres of land between them. As they bring new members into the fold the goal is to generate more data specific to various regions across Canada. "Coming together like this can, in the long run, have the impact of starting to augment the Canadian research and innovation system when it comes to ag tech," said Levay.
There is also opportunity to bridge the gap between the development of new technology and its application in the field. "There is benefit to companies developing this technology," said Levay. "We can offer this farm context in which to test and validate their technologies because often they are coming from backgrounds that don't have those agricultural connections."
Also, there are tangible benefits for farmers. Whereas the Smart Farm Network has the resources to carry out projects such as this weather station research, individual farmers may be leary of spending thousands of dollars to purchase multiple stations not knowing if there is a benefit. "We can provide guidance," said Kaye.
"Every new site we bring on and every connection we are able to make expands our reach and our impact," said Agnew. "Being able to have contacts and have impact in every single area of [crop production] is incredibly exciting."