TOGETHER AGAIN
BY ELLEN PRUDEN • PHOTO COURTESY OF CEREALS CANADA
Markets, trade and technical services are at the core of Cereals Canada operations. With the onset of COVID-19 in spring 2020, many of the organization's activities, including international new crop missions, were conducted virtually. This past July, Cereals Canada returned to in-person operations.
"We are thrilled to have customers back at our facilities in downtown Winnipeg," said Dean Dias, CEO. "We have 12 in-person customer programs planned throughout the year, which include travelling for new crop missions this November and December. We are committed to supporting our global and domestic customers with increased knowledge for using Canadian wheat, whether they are milling or using it in end products."
This support includes outreach to 52 countries through in-person training at Cereals Canada facilities in Winnipeg, MB, in-country training and webinars on a variety of topics. Cereals Canada staff are now visiting trade partner nations to conduct training sessions while customer representatives from various countries are now travelling to Winnipeg to train at the Cereals Canada facility.
"Whether it's a workshop for African customers at the Africa Milling School in Kenya or a customer-specific program designed for a company, each targeted program provides an understanding of the quality of Canadian wheat and the support from organizations in the value chain that ensure this quality," said Lisa Nemeth, director, market support and training.
Cereals Canada recently conducted a weeklong training session with Interflour employees in Winnipeg. The company operates nine mills in total in Indonesia, Malaysia, Vietnam and the Philippines, that togetherproduce up to 1.8 million tonnes of flour per year. It offers a broad range of flour products such as bread, biscuits and cakes as well as instant noodles, wet (fresh) noodles and dry noodles.
The Cereals Canada technical program provided fundamental and practical information about the quality characteristics of Canadian wheat and applicability of Canadian wheat in end products. "With the knowledge gained through this intensive five-day program, Interflour staff will be able to better carry out quality assurance and product development activities," said Nemeth.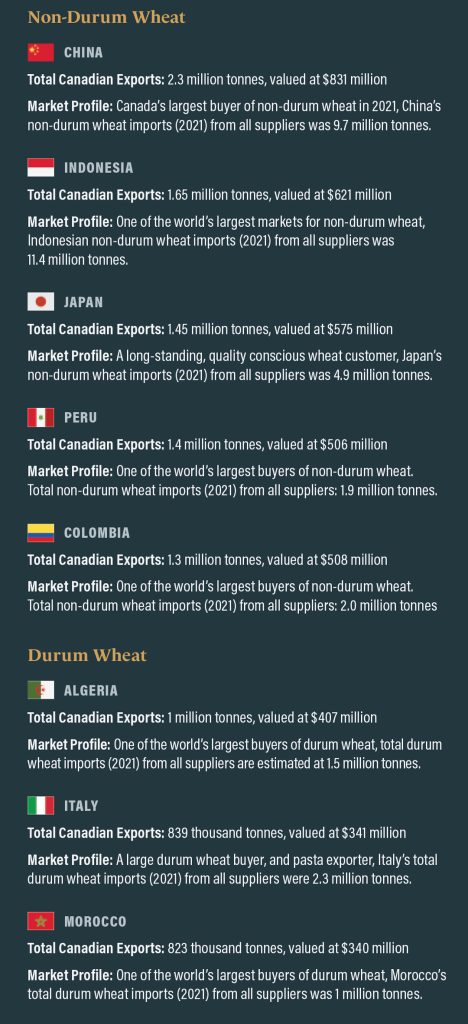 Making up a large part of the Association of Southeast Asian Nations (ASEAN) region, the markets that Interflour operates in are important destinations for Canadian spring wheat. Over the five-year period from 2017 to 2021, Canada exported an average of two million tonnes of wheat to ASEAN members Indonesia and more than 150,000 tonnes each to Malaysia and the Philippines. Although Canada had been a significant wheat exporter to Vietnam, recent restrictions on Canadian grain imports have closed the market to bulk shipments.
The 10 ASEAN members comprise Canada's sixth-largest trade region. Bilateral trade between Canada and ASEAN reached $26.7 billion in 2020 with opportunity for growth.
Increased trade with new markets is critical for Canadian agriculture. In 2021, Canada and ASEAN agreed to proceed with negotiations on an ambitious free trade agreement. "Securing this type of agreement is an important step in protecting and growing markets, which is beneficial to Canadian farmers and exporters," said Dias. "Offering critical programming, like training buyers and millers from key regions like ASEAN, is at the core of what we do at Cereals Canada."  
Ellen Pruden is Cereals Canada director of communication.