HOW TO NURTURE AN INNOVATION ECOSYSTEM
BY ELLEN COTTEE • ILLUSTRATION BY EMILY CHU
The associate vice-president of applied research at Olds College, Joy Agnew co-leads the development of the school's Smart Ag Ecosystem, a collection of programs and resources that includes its Smart Farm. She describes the school's farm program as a "one-stop-shop innovation ecosystem." While it is comprised of academic programs that provide students with practical, hands-on experience at the cutting edge of contemporary farming, the Smart Ag Ecosystem is also a vibrant research department. In recognition of her industry research and leadership of the college's programming, Agnew was recently recognized as a Top 50 Innovator in Canadian Agriculture by Canadian Western Agribition.
GrainsWest: You selected your career path in a rather unconventional way. Did you ever expect to play such as important role in the agriculture technology sector?
Joy Agnew: Not at all. I'm lucky is all I keep saying because I never really had a plan. I remember my dad asking me what I was going to do as an engineer in agriculture after my bachelor's degree at the University of Saskatchewan. I didn't really know at the time. Even when I decided to do a master's degree, I didn't know what area to do it in. I literally threw a dart at a map, it was closest to the University of Alberta, so I decided to see what programs it had to offer.
That started my career in waste and manure management and composting science, which accidentally led into my first job as a researcher, which then rolled into a PhD project. None of it was planned, but as my career has evolved, I realized my place is to help producers understand how technology, equipment and practices can apply to their operations. I love it.
GW: When did you realize you could help farmers identify and use new technologies?
JA: I was invited to a field day to talk about the grain storage project I was working on at the time with the Prairie
Agricultural Machinery Institute. The way I was able to explain it made some attendees realize farmers needed to hear more about this and how it can work for them. It evolved over time to creating presentations, myth busting and creating those tools for farmers. It was all about helping the producers understand the science as much as possible so they can make their own decisions based on the information.
GW: How did you react when you received your recent industry award?
JA: I was honoured to even be nominated, and it's wild that I was selected. As I was reflecting on it; I've been fortunate to work with the people I have worked with and be mentored by the mentors I've had in my career to allow me to get to this point. I feel like I've been standing on the shoulders of giants. I am so grateful to everyone I've been able to work with over the last 20 years.
GW: In 2019, you joined Olds College as associate vice-president of applied research. What interested you in the role?
JA: Before I joined Olds College, I had heard mutterings in Saskatchewan about how farmers need a place to get independent, third-party information about these technologies and what might work for them. Universities were interested but they are, generally, unable to shift their behemoth programs. Curriculum development and approval in those schools can be difficult to do because [the task] is so large. Colleges are nimble, and Olds College recognized the gap in agriculture technology and decided to fill it.
And here I am, two years later, leading this tremendous research team and working with this incredible ecosystem in Olds College that is leading the way in terms of education, applied research, demonstration and extension in ag technology.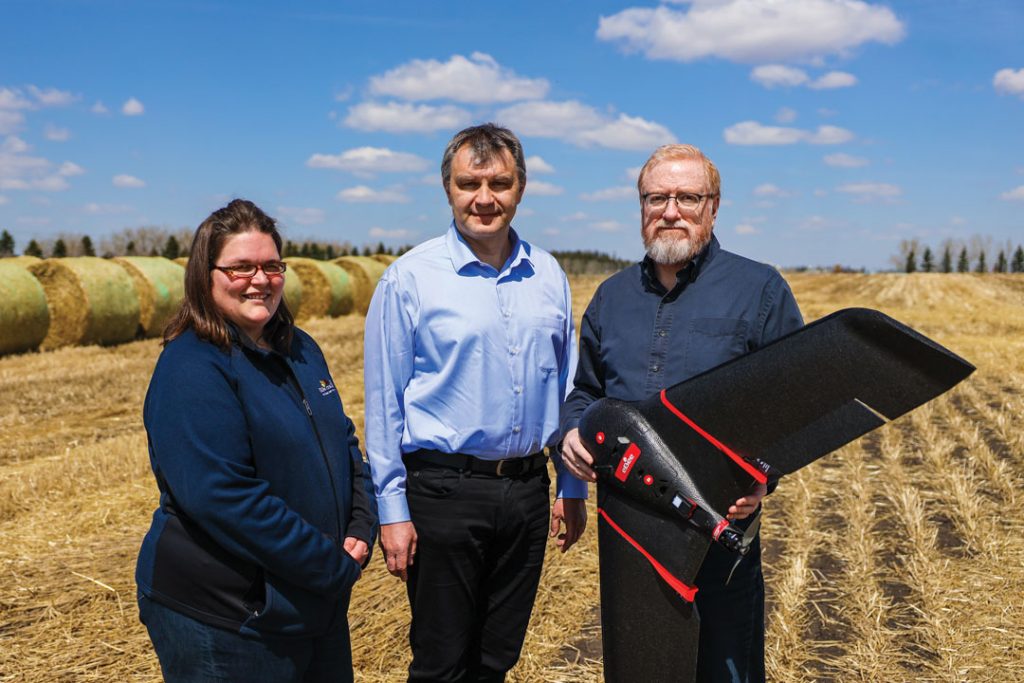 GW: Olds College partners with a lot of provincial groups and businesses. Why is this so important?
JA: We're built on partnerships, basically. If it wasn't for early investments from UFA, ATB, Farm Credit Canada and Telus, we wouldn't have been able to build the infrastructure. Our partners are allowing us to build the capacity we need to serve the entire industry. But they're also the ones coming to us with the early questions that need to be answered through applied research, as well as offering all kinds of insights and support for the development of our curriculum. We have guest lectures from partners, so the students get insight into what it's like in the real world and how what they are learning is applicable in day-to-day business.
GW: What is the most important impact the Smart Farm can have on the industry? 
JA: It's tough to pick just one. We want to be a one-stop shop for innovators to find access to infrastructure, land and equipment, as well as that innovation-focused ecosystem. We can provide access to supports like investors and other economic development engines. We want Olds College to be the first place you go to figure out what gaps there are in the industry and [how] you can fill those gaps.
GW: The big goal of the Smart Farm is to help bring advanced technology to farmers, which can be difficult. What do you see as barriers to tech adoption?
JA: Everything tech related is data related, which is related to internet connectivity. Without it, nothing makes sense. And that's a problem in rural communities, but with what I have seen over the last year or two and what's coming up in the future, that is going to be less and less of an issue. There are various new tools for rural internet connectivity, like satellite internet. It doesn't need to be the fastest connection—we're happy with 3G internet at some of our remote sites. More and more options will become available over the years and should erase connectivity as the number 1 reason tech isn't being adopted. But for right now, it definitely is the number 1 barrier.
GW: Olds College launched its Precision Agriculture Techgronomy Diploma
program in 2019. What is the value of this course for students?
JA: It's training the next generation of developers and users of these technologies. You need a broad range of skills to understand, implement and adapt technologies. Obviously, you need to know about agronomy, but also understand the technology and mechanics, the business and finance side, and even software programming. In previous programs, you would have to take three or four degrees to touch on all those things. The Techgronomy Diploma exposes students to all those areas. They're not getting super in-depth on each topic, but they're going to understand enough of it to be able to apply that knowledge to the overall development, adaptation and utilization of these technologies, and that's important.
GW: Is there a particular piece of tech or advancement you're most excited to see in the future?
JA: Six months ago, I had a quick answer to that, but it keeps changing because there is just so much potential. The Holy Grail will be real-time nutrient monitoring and measuring. I don't know how to get all the answers for emerging technologies, but I am really excited to see it happen, and I'm excited to see how Olds College plays into that.