CEREALS CANADA UPS ITS TECH GAME
BY ELAINE SOPIWNYK • PHOTOS COURTESY OF CEREALS CANADA
Canadian wheat has an international reputation for high quality, but this alone isn't always enough to convince international buyers it's the right product for their needs.
Cereals Canada and the Canadian International Grains Institute (Cigi) amalgamated in June 2020. Cigi now provides technical support for the market access, market development and advocacy activities of Cereals Canada. The organization strives to support the Canadian cereals value chain, which includes farmers, exporters, developers and processors as well as wheat purchasers by providing timely, expert technical information. One way it provides this support is through its technical facilities. These departments include milling, end-products (baked goods, Asian products and pasta) and special crops. It also operates an analytical services laboratory.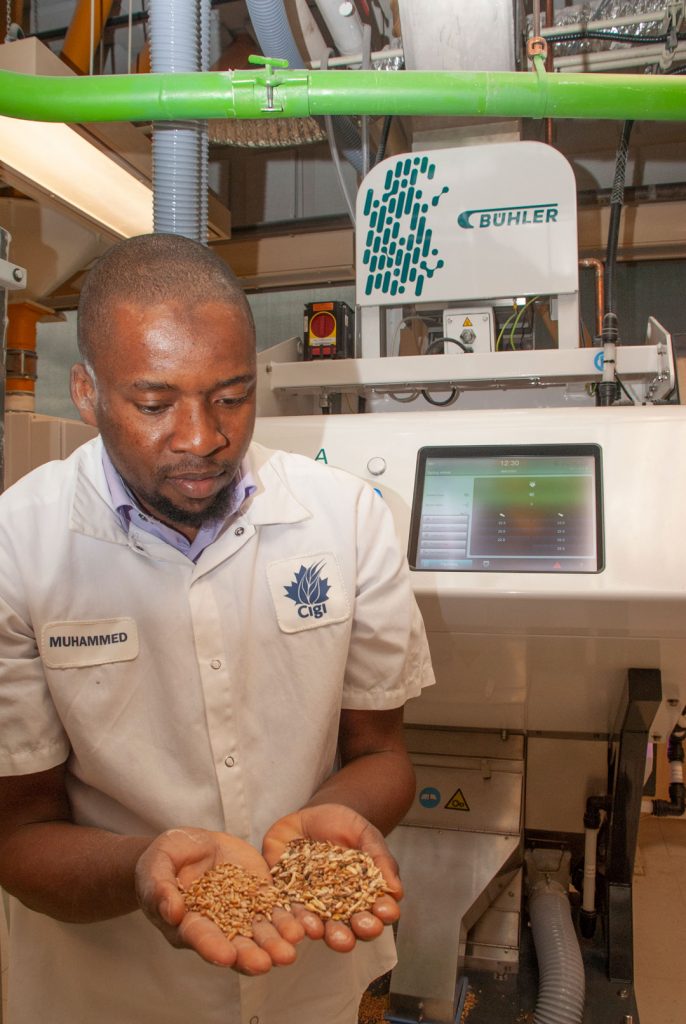 The technical facilities operated by Cereals Canada are used in applied research projects such as annual assessments of Canadian and international crops. They are also employed during informational programs for visiting farmers and international grain buyers. This important function helps showcase the benefits of using Canadian wheat for milling and the production of end-products such as noodles, pasta, couscous and a wide variety of bread types. Such activities ensure markets are maintained.
During the pandemic these programs transitioned to online webinars. Once global travel restrictions allow, customers will be able to visit our facilities for in-person technical demonstrations. A recent upgrade they will encounter is the new Bühler optical sorter in our pilot mill, a small-scale flour processing facility. Used to demonstrate all aspects of the milling process to visiting grain buyers, the mill also produces flour for research and demonstration purposes. Purchased with support from funders that include the Alberta Wheat Commission, this piece of equipment has improved the mill's grain cleaning capability.
Cameras mounted within the optical sorter view each individual wheat kernel within the stream of kernels that pass through it. With the use of machine learning software, the sorter instantly determines whether or not the kernel is of desirable shape and texture and within the acceptable colour range. Rejected kernels are ejected with a blast of compressed air.
The pilot mill can process common and durum wheat and produce flour or semolina in small quantities that is comparable in quality to products produced by commercial facilities. While the ability to mill both types of wheat is a benefit, prior to the introduction of the optical sorter, its cleaning system was not optimized for either.
The cleaning systems found in commercial mills are typically designed to account for the unique kernel characteristics of the two grain types. Durum wheat kernels are larger than common wheat kernels, but similar in size to impurities such as ergot, oats and barley. In durum mills, cleaning systems target surface discolouration of wheat kernels, which can affect the appearance of semolina. If not removed, these impurities can appear as specks in the semolina and as colour defects in end-products such as pasta and couscous.
Optical sorters are recognized as necessities in durum mills and certain grain-cleaning facilities and will continue to play an important role in cleaning systems for years to come. They have commonly been added to the cleaning systems of commercial mills in recent years as they improve and simplify the cleaning process. Further improvements in colour sorting technology have allowed for the detection and removal of Fusarium damaged kernels.
The addition of an optical sorter to the Cereals Canada pilot mill brings its cleaning system up to current commercial standards used around the world. The resulting enhanced demonstration capabilities and improved credibility among visiting grain customers help to maintain markets for Canadian wheat.
Elaine Sopiwnyk is Cigi vice-president of technical services.