VIDEO GAMING'S BIG-TRACTOR FACTOR
BY ELLEN COTTEE • PHOTO OF JOHN DEERE GAMING TEAM COURTESY OF JOHN DEERE
It's no secret many farmers relax by playing video games. Rather than indulging in NBA 2K, Fortnite or Call of Duty, however, an increasing number escape the daily stresses of real-life agriculture by embracing the digital challenges of an extremely popular farm-themed game.
Farming Simulator has even entered the eSport realm in which competitors vie for big money. In a pleasant, realistic digital farm environment, Farming Simulator players choose their preferred machinery and carry out central tasks such as seeding fields, baling hay, harvesting grain and hauling their crop to sale points within the game as well as completing further tasks. While amassing in-game money and points, players can add challenge and complexity with the option to expand their operations and invest in additional equipment.
The game is available for PC, mobile and all gaming consoles. Initially played solo, recent versions including the latest Farming Simulator 20 can be played solo or with multiple players. Participants can operate their own farms as well as interact with other players on the same server and even lend a hand during harvest or trade equipment.
First released in 2008 and updated annually, Farming Simulator is the brainchild of GIANTS Software, a Swiss game development company. Co-founders Stefan Geiger and Christian Ammann created a digital gaming engine as a university project. They decided to use it as the basis for a farming game when a number of friends suggested they wanted to play a game in which they could drive a really big tractor. The game has now sold more than 25 million copies, with 90 million downloads on mobile platforms.
The big-tractor factor continues to draw new players, said Lars Malcharek, GIANTS community manager and eSports coordinator. "Even a lot of farmers tell us they love it," he said. "They either play with their kids because it's safer than having them out in the field, or they play it alone to drive tractors they can't have at that point in real life. It seems to be a big motivation for them."
The game environment can be personalized by adding modifications such as branded farm equipment, products such as inputs and machinery as well as garages, barns, sheds and silos. Created by developers and players, these are available online at the Farming Simulator mod hub. "If, in real life, a player uses an old John Deere model we don't have in the game, they can create it, upload it and anyone can use it," said Malcharek.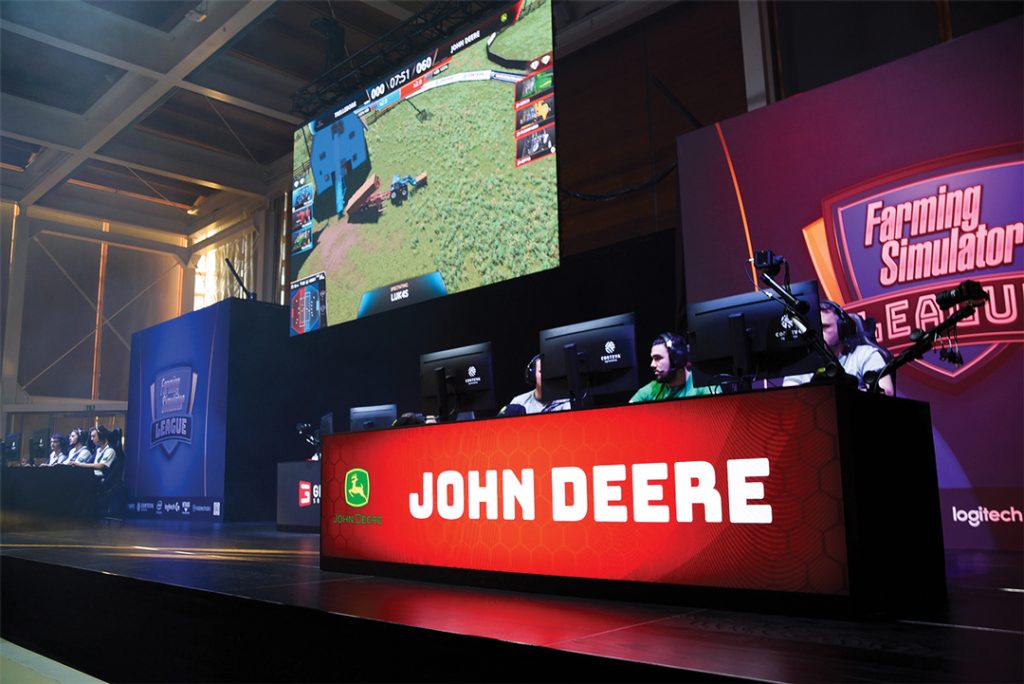 To better reflect the reality of farming in the 21st century, GIANTS will soon add a precision farming component to upcoming game modifications. This will allow players to manage agronomic factors such as soil type and incorporate drones.
Almost by accident, Farming Simulator entered the eSports world with the creation of the Farming Simulator League in 2019. Two years prior, the company created a special gameplay event for Agritechnica, a massive annual tradeshow held in Hannover, Germany. It has since evolved into a league with more than 14,000 players around the world and a winner's pot worth a 250,000 euros.
For the John Deere team, playing is about more than winning. "My grandfather and uncle farmed in reality," said team captain Benedikt Dahme, who lives in Germany. "As a child, I was often with them in the tractor and now I get to do it in a game."
League play is intensely competitive. Generally played at in-person events, a pair of three-person teams battle to earn the most points in a 15-minute game. In league play, participants scramble to select machinery options, and once a piece of equipment is taken, it's not available for the other team to use. "It sounds easy, you just need to get more points than the other team," said Dahme. "But you really have to have the right tactics and strategy to make sure you get the points you need."
Global ag corporations such as Corteva Agriscience sponsor both the game and league. "We had a lot of conversations about how we connect with different audiences," said Dana Bolden, the company's chief communications officer. "We quickly got to teens, because we have a long-term interest in making sure kids are interested in agriculture. Ultimately, we're going to need to hire a lot of these kids."
Corteva initially signed on as a sponsor to test the fit. At the German ag tradeshow event, it became immediately apparent just how popular the league has become, said Bolden. "It was sort of a look-see for us, initially. I don't know if you remember your first rock concert, but that's what it was like for me. There was high energy all around the venue."
The addition of Farming Simulator to the eSports arena has bridged a gap, making farming cool across a wide demographic that includes non-farmers, said Malcharek. "You can play Farming Simulator if you're six, or if you're 60. Everyone can play."