AG STARTUPS WIN SUPPORT
BY TREVOR BACQUE • PHOTOS COURTESY OF NUTRIEN
Two western Canadian ag tech companies earned top prizes in their categories at the Nutrien-Radicle Challenge Canada in Saskatoon, SK, on Oct. 3, 2019.
Terramera of Vancouver, B.C. and Livestock Water Recycling (LWR) of Calgary, earned $1 million USD ($1.33 million CAD) and $250,000 USD ($333,000 CAD), respectively, for their unique businesses in the ag and food tech innovation contest.
Terramera CEO Karn Manhas (above, second from left) couldn't be more thrilled by the recognition of winning the growth-stage award. His company's 10-year goal is to reduce global synthetic pesticide use by 80 per cent while increasing crop yields by 20 per cent. It will be accomplished through the company's Actigate technology, which boosts performance and increases efficacy of agro-chemistries by delivering them directly into targeted plant cells.
"Most of what we apply to crops, about 50 to 90 per cent, doesn't get to where it needs to get to," he said. "Farmers have to apply two to 10 times the amount of active ingredients. We help to target where that material needs to get to and help get absorbed into the right place." To achieve this goal, Manhas and his team will continue to scale up their technology, partner with complementary companies and work with the entire industry for continued success.
To date, Terramera has conducted field trials in all kinds of crops from specialty to commodity and organic to conventional. Manhas likes what he sees for commodity crops, specifically through recent bean, canola, corn, cotton and wheat trials.
He believes his technology has the capability to globally transform agriculture and is grateful for the opportunity to share the stage with like-minded peers and other budding ag tech companies at the Challenge. "We have the opportunity to transform how agriculture works," he said.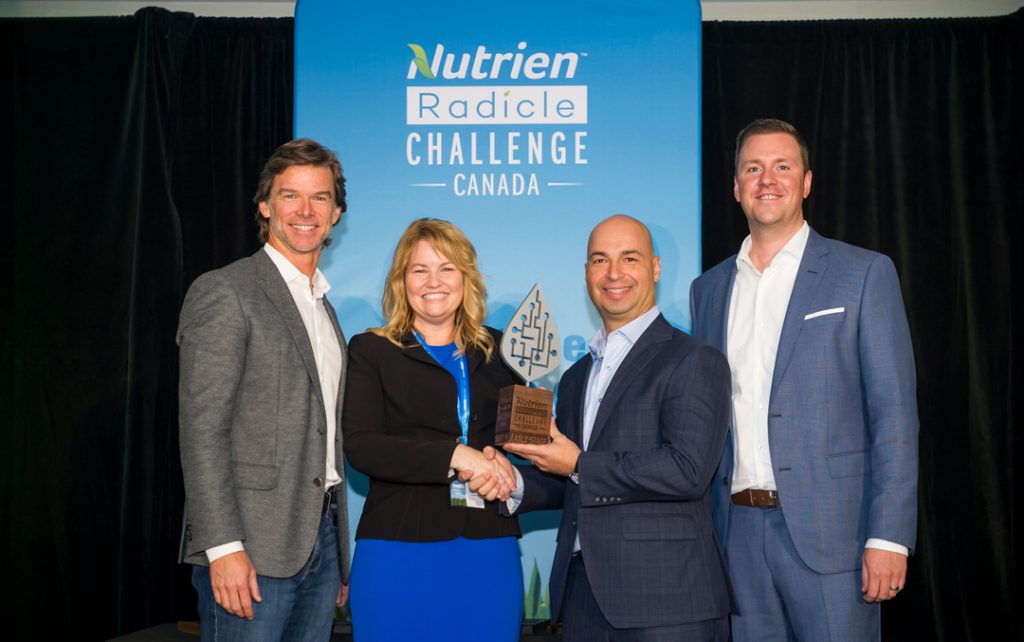 Another one of those companies poised to make a change is LWR. The Calgary-based organization won in the early-stage category and has been successfully transforming manure, primarily sourced from dairies, into multiple regenerative agri-products. The company's novel mechanical-chemical process separates organic and inorganic compounds, eventually producing clean potable water as well as segregated forms of nutrient-enriched manures, both solid and liquid.
According to LWR spokesperson Lisa Fast, the moment of victory is perfect. "[We're] at the phase of our business to expand and grow into new markets, so the timing couldn't be better," she said. Fast added the company intends to use the money to scale up manufacturing and ship products to market at a faster rate and even help grow the business around the world.
The on-farm fertilizer plants that LWR has created allow farmers to recover all the value in their manure, which can be a substantial amount. The reclaimed, potable water is a key byproduct of the recycling process, as well. "There are always ways to use water around the farm, clean milk parlours and irrigate crops," said Fast. "[Farmers] have a new source of clean water and can reduce their ground water withdrawal."
Creating what it calls "lagoon-free food production" is part of the company's grand vision. "Instead of a massive lagoon, you can have a crop on that area and eliminate the need for that storage and the headache that comes with that storage," she said.
All finalists of the Nutrien-Radicle contest are involved in ag and food technology innovation and finalists made presentations to a judging panel consisting of industry experts.Terramera's entrance requirement was that it had raised a minimum of $3 million USD ($4 million CAD) investment capital while LWR needed to demonstrate it had raised $100,000 USD ($133,000 CAD) in cash or investment capital or participated in a business accelerator program.